Dir/scr: Alain Guiraudie. France. 2016. 100 mins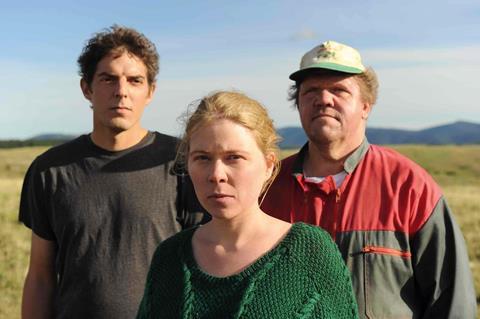 Unless you are Federico Fellini, then weaving a film around the creative paralysis of a filmmaker rarely seems a wise move. Alain Guiraudie puts his own highly idiosyncratic stamp on the premise in Staying Vertical as he follows a filmmaker sidetracked by a sea of troubles while seeking the inspiration for a new screenplay.
Staying Vertical is wildly eccentric, darkly comic and filled with you-don't-see-that-often moments which are liable to render it an acquired taste
Sex and death have been the recurring themes of Guiraudie's work and are in abundant evidence here along with the additional notion of the promise to be found in a new life. Exploring a bewildering range of issues from ideas of masculinity to assisted suicide and the fraying of societal ties, Staying Vertical is wildly eccentric, darkly comic and filled with you-don't-see-that-often moments which are liable to render it an acquired taste. The film's unpredictability and fondness for the fluid sexuality of its characters will seems as odd to some, endearing to others, making commercial prospects likely to match earlier Guiraudie features like King Of Escape (2009) rather than his breakthrough with the eye-catching Stranger By The Lake (2013).
There is a fairytale quality to Staying Vertical with filmmaker Leo (Damien Bonnard) like a lost knight riding into the unknown. Wolves play a key role in the film and there are distant castles that stretch into the sky. On a journey through the south of France, Leo is drawn to shepherdess Marie (India Hair) but when their liaison results in the birth of a son she is coldly indifferent to the child and he is left to take responsibility for the boy. Fatherhood is both the making of him and the thing that spins him even further from the axis of his life.
Guiraudie is on a par with Terence Malick in his feel for nature and landscape. The film unfolds beneath clear, starry skies and a sound mix that invites you to listen to the wind rustle through the trees or grass sway in the breeze. The combination of harsh rural plains, hard lives and bitter truths suggests a modern twist on the novels of Thomas Hardy or Marcel Pagnol. The tale of a filmmaker brought low by his encounters with the real world even suggests a link of sorts to Sullivan's Travels especially as Leo grows destitute, homeless and struggling to stand tall, or stay vertical, in a world that is conspiring to beat him down.
Damien Bonnard's lugubrious, lumbering Leo becomes an appealing figure as he sustains his curiosity about other people, grows protective towards his son and shows a generosity towards the desires of others. He is propositioned by virtually every major character, including Marie's dour father Jean-Louis (Raphael Thiery) and the elderly, Pink Floyd-loving Marcel (Christian Bouillette).
Even as the film strays into darker territory, Guiraudie retains a comic touch and a pivotal sequence involving assisted suicide and sodomy has elements of humour and tenderness to offset any sense of outrage.
Guiraudie is unafraid to tackle big themes from loneliness to the crisis of modern masculinity in a film that is tinged with a nostalgia for an earlier age and a way of life that is disappearing.
Production company: Les Films Du Worso
International sales: Wild Bunch, ndevide@wildbunch.eu
Producers: Sylvie Pialat, Benoit Quainon
Cinematography: Claire Mathon
Editor: Jean-Christophe Hym
Production design: Toma Baqueni
Main cast: Damien Bonnard, India Hair, Raphael Thiery, Christian Bouillette