Dir/scr. Georges Hachem. Lebanon/UAE, 2016, 110 mins.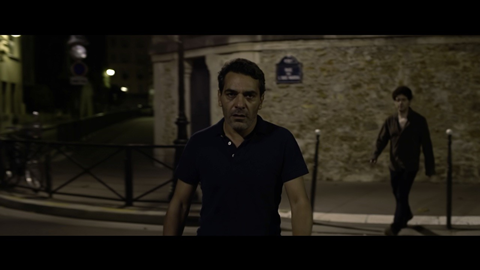 In Still Burning, French-Lebanese director Georges Hachem (2010's Stray Bullet) attempts to lay to rest the ghosts of the past in war-torn Beirut. This is a challenging and ambitious feature which relies heavily on the well-worn trope of a film-within-a-film, but its multiple layers eventually peel back to reveal Hachem's haunting secrets. With a disturbingly discordant noir-ish score which swells as the action ebbs, Hachem's film feels both pained and solemn.
This elegiac film is clearly a deeply personal affair.
The personal subject matter can swing radically between suspense and inertia, restricting Still Burning to specialised audiences, perhaps on the festival circuit. Too stylised to easily support its 110-minute running time - and most noticeably strained during a lengthy climactic scene between its two protagonists - Still Burning is nonetheless intriguingly mysterious, as it plays out an ambiguous love triangle and keeps its cards close to its chest throughout.
French director Andre (Wajdi Mouawad) is making a film in Lebanon, starring desirable French actress Camille Morin (Adila Bendimerad), who is also his lover. He is artistically blocked and has great trouble with a scene in which his leading lady is so overcome with lust for her lover, she spontaneously climaxes – twice. This is a motif which is repeated throughout the film, and seems to have great personal significance for Andre.
Back in Andre's feature, called Burning, Camille/Adila is playing Nadine, a live wire who is torn between her academic husband Elie (Rodrigue Sleiman) and her Muslim lover Mohammad (Rami Nihawi). The men are also close friends, and there seems to be some unexpressed desire between the two as they all grapple with the challenges and heightened emotions of living through the Civil War in Beirut.
Cut to Paris decades later, where Andre successfully premieres his film and spots a familiar face in the audience: it is Walid (Fadi Abi Samra), and the story of Burning is revealed to be based on his relationship with Andre and the woman they both loved, Amira . The pair then spends the night dealing angrily with unfinished business, at an extravagant party for the launch of the film and, later, in Andre's apartment as the ghosts of the past are finally exhumed.
Dedicated to "the memory of Walid", this elegiac film is clearly a deeply personal affair. Perhaps because of that, Hassan lacks a certain distance which might have helped to clarify the narrative. He makes strong directorial choices, in particular with the score, which never lets the viewer settle and thunders off in its own direction throughout. Still Burning is also replete with filmic references, which may endear it to cineastes, particularly fans of The Third Man.
Production company: Stray Bee Production
International sales: straybee.production@gmail.com
Producers: Georges Hachem, Hussein Gharib
Cinematography: Andreas Sinanos
Editor: Elias Chahine
Music: Zad Moultaka
Main cast: Adila Bendimerad, Wajdi Mouawad, Fadi Abi Samra, Rodrigue Sleiman, Rami Nihawi