Anthony Wong plays a paralysed construction worker in this notable Hong Kong debut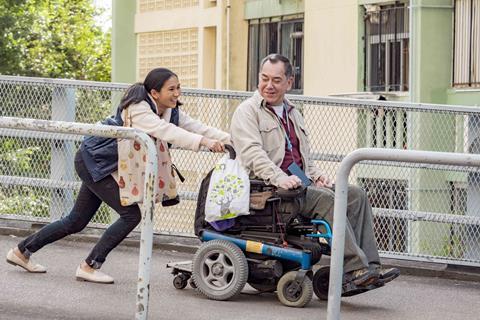 Dir/scr. Oliver Chan Siu Kuen. Hong Kong. 2019. 111 mins.
Sharp social observation slices through the sentiment of director Oliver Chan Siu-Kuen's debut feature, enhanced by affecting performances from Hong Kong veteran Anthony Wong and newcomer Crisel Consunji. This story about a disabled man and his Filipina maid may superficially look like a re-tread of French hit Intouchables, but Chan's deft writing and a strong local flavour make this a real Hong Kong treat.
Anthony Wong has never met a sentimental line that he can't dilute with a believably realist reading
Already garlanded prior to local release – Chan has just won best new director at the Asian Film Awards and her film is up for eight trophies at the Hong Kong Film Awards in April - Still Human's strength lies in its precision-tooled screenplay. Although gently episodic as opposed to purely dramatic, and with a story arc that is never fully believable, Chan's film still manages to cast a cool eye on Hong Kong's social hierarchies, illustrating how discrimination can kill the human soul. With a saccharine score marking the film's only dud note, Still Human, which was supported by the local government's successful First Film Initiative, looks set to score locally on its April 11 opening and perhaps on an international festival tour outside Asia.
We haven't seen much from Anthony Wong (Infernal Affairs) of late, but his presence is key to making Still Human a success, and his support was vital for Chan to get her film made. Still physically foreboding, albeit confined to a wheelchair, Wong has never met a sentimental line that he can't dilute with a believably realist reading. His working class hero Cheong-wing is a blue collar construction worker who was paralysed from the neck down in a catastrophic accident on a building site. He has limited use of his hands. Cheong-wing is a cranky old soul, barking away in Cantonese to his new helper from the Philippines, Evelyn (Consunji), even though she can only speak English.
The predictable part of Chan's scenario is how Evelyn, who scrimps for money in order to get an annulment from her abusive husband, inspires Cheong-wing to realise that his life isn't over, even if his wife and son are living half a world away. More unexpected and affecting, though – and perhaps helped on by Fruit Chan's producer duties – is the social issues which this film deftly highlights.
Cheong-wing lives in cramped conditions on a public housing estate which looks eerily similar to a prison. He's initially as deaf as the next Hong Konger when it comes to considering the feelings of his helper, although Chan's criticisms are clearly intended as constructive criticism. She uses sharp shots of humour, which mainly crop up in lost-in-translation gags as Cheong-wing tries to speak more English and Evelyn starts learning Cantonese. Meanwhile, she meets her fellow maids on Sundays, their only day off, and they sit on cardboard boxes on the street. They care for their employers, very much in some cases, but a successful future lies in not getting fired, playing dumb, and saying 'yes sir'.
While Wong's presence is formidable, Consunji more than steps up to the plate in a notable debut. The director clearly works well with actors, also drawing a nice under-stated support from Sam Lee as Cheong-wing's friend and neighbour as well as Cecilia Yip as his irascible sister. Production values are decent for the film's small budget, making it an easy watching experience. .
Production company: No Ceiling Film Production Company Limited
International sales: Golden Scene, felix@goldenscene.com
Producer: Fruit Chan
Screenplay: Oliver Chan Siu Kuen
Cinematography: Derek Sin
Editors: Oliver Chang Siu Kuen, Wilson Ho
Production design: Corrie Lau
Main cast: Anthony Wong, Crisel Consunji, Sam Lee, Jimmy Wong, Cecilia Yip