Dir/scr. Árpád Sopsits. Hungary, 2016, 123 mins.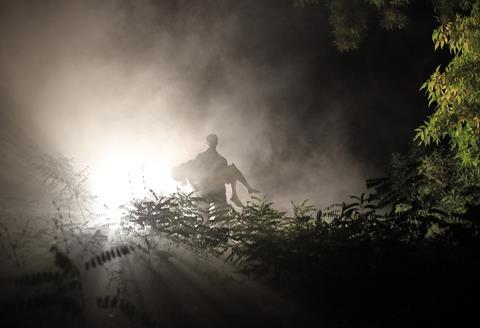 For his third feature, Hungarian director Árpád Sopsits (Videoblues, Abandoned) goes back in time to the notorious Martfű Murders in which six young women were killed in the decade between 1957 and 1967 while an innocent man languished in jail. Sopsits tangles his killer's sexual deviancy with the repression and political corruption rife in the Communist country still recovering from the Hungarian uprising of 1956.
There's an intriguing sense of time and place here
The result is a lengthy – in fact, over-long, at 123 mins – yet occasionally tense serial killer drama which should play well domestically when it releases through Big Bang Media on November 10. Sopsits has added a few sharp Hungarian ingredients to a familiar film format; they're engaging enough to potentially attract interest in neighbouring territories and in home-play for those with an interest in the genre.
The milieu, for one, is unusual, with the action taking place in the small town of Martfű where the shoe factory dominates local life. As the workers leave the plant in the evening – a nicely-shot sequence - the shy Réti (Gabor Jaszberenyi) waits for his girlfriend – if, indeed, that is what she is. As a screenwriter, Sopsits is a great withholder here – for the first part of the film, almost the seven years of Réti's imprisonment for her murder, there is no sign of any other hand at play. And there's a strong sense that he might have killed the lively factory worker.
Instead we meet the investigators whose complex interplay will have a huge impact on his fate, and that of the women of Martfű. Bóta (Zsolt Anger) is the boozy head investigator, bulky yet vulnerable, and never convinced of Reti's guilt. He's also attracted to Reti's faithful sister Rita (Szofia Szamosi). The local DA Katona (Zsolt Trill) is under pressure to get a conviction and he pushes the case through.
After a seven-year interval, however, factory worker Bognar (Hadjuk Karoly) begins to make his creepy presence felt, attacking a series of women including his own wife.
And when Katona's youthful protegee Szirmai (Peter Barnai) comes to town to investigate the most recent spate of killings, the prosecutor's office turns fetid, with everyone out to cover their own backs. Even the solid Bóta can be turned, vulnerable as he is over his sympathies for the '56 rebels.
Strangled can lean quite heavily towards melodrama: the handsome Peter Barnai has a tendency to over-do his character's youthful zealousness, and Réti is a particularly unsympathetic victim. The role of adoring sister Rita seems to have been inserted to provide at least one living female counterpart to the parade of victims, and even she is awarded a bra-ripping moment. In fact, tearing of women's undergarments resounds throughout Strangled: both as director and writer, Árpád Sopsits doesn't shy away from sharp close-ups which make it quite clear that Bóta is a necrophiliac with a taste for young girls.
But there's an intriguing sense of time and place here; events play out in a small place in an ostensibly simpler time, perhaps, but the political crosswinds are strongly felt and complex. Technical credits are solid in this historical drama. It's the kind of subject matter which has been appropriated for the small-screen of late, but there's a scope and ambition here which justifies a big-screen release domestically.
Production company: Focus Fox Studio
International sales: HNFF-World Sales, klaudia.androsovits@filmalap.hu
Producers: Gabor Ferenczy, Attila Tozser
Cinematography: Gabor Szabo
Editor: Zoltan Kovacs
Production design: Rita Devenyi, Árpád Sopsits
Music: Mark Moldvai
Main Cast: Karoly Hajduk, Monika Balsai, Peter Barnai, Zsolt Anger, Gabor Jaszberenyi, Szofia Szamosi, Zsolt Trill