A mysterious premise played straight is certain to divide viewers in this Critics' Week feature debut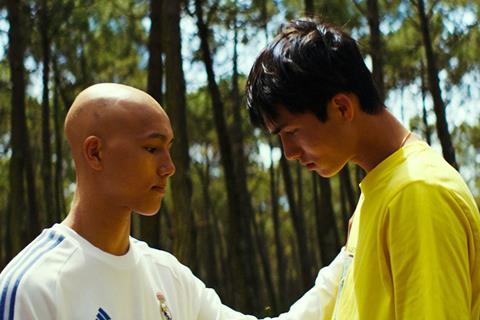 Dir: Simon Rieth. France. 2022. 104mins
Two French brothers are locked in an eerie symbiosis after an inexplicable but transcendent childhood accident in Summer Scars (Nos Cérémonies). Premiering in Cannes International Critics' Week, this first feature from co-screenwriter and director Simon Rieth follows several attention-getting shorts and fits into the informal French trend, of late, for blending naturalism with genre-tinged peculiarities. This is a carefully composed cinematic venture that will almost certainly divide viewers as it continues festival exposure.
The film's mysterious core premise is played absolutely straight and either you buy it or you don't.
The whoosh of breaking waves underscores the opening credits which give way to two boys staring at each other with sternly ferocious expressions as prelude to their miniature version of a grown-up combat ritual. It's the summer of 2011 in the region of Royan in Southwest France. There is no adult supervision and much of what the brothers do — clambering through fallen tree trunks in a forest, running for the sheer joy of it — is just outdoorsy fun. But some of what they do within the parameters of sibling rivalry is far more dangerous.
They play a game that is like the 'chickie run' in Rebel Without A Cause only without the cars — just their own bodies and misguided sense of derring-do. Failing to "brake" his own legs in time, Tony (Gregory Lu) goes over a very steep rocky cliff. When younger Noé (Benjamin Lu) makes it down to his side, Tony is splayed out dead — the only logical outcome of falling that distance onto that surface. After pleading with Tony not to leave him alone, Noé plants a sweetly boyish farewell kiss beside Tony's mouth.
But — not so fast. Tony is physically and mentally intact in a subsequent scene in the boys' bedroom in the house they share with their barely glimpsed parents who are given to violent feuds. Not long after, their mother announces she is taking the boys and moving out. As they drive away, Tony pledges his eternal love to childhood sweetheart Cassandra.
We encounter Tony (Simon Baur) and Noé (Raymond Baur) again a decade later as young men who have returned from Paris to bury their father. Both frequently shirtless brothers are lithe and muscled but Tony's head is nearly bald, with patches of hair like forgotten tiddlywinks. (The young adults are played by real-life brothers who have excelled as professional martial arts athletes and as fashion models.) Simon has alopecia in real life and ordinarily that would probably be his character's biggest problem in this film. We gradually learn there is something far more insidious afoot. Neither brother asked for it, but Noé truly is his brother's keeper.
Also back in town for the funeral is Cassandra (Maïra Villena), now studying art in Bordeaux. Tony knows how to hit on the local lasses who are only too happy to oblige. Noé is more shy around girls. Their parents weren't exactly role models for harmonious relationships and we gradually understand that Noé has increasing responsibilities that might dampen anyone's ardour. Still, both brothers fancy Cassandra and it's not immediately clear if she has a preference.
The film's mysterious core premise is played absolutely straight and either you buy it or you don't. Enormous thought obviously went into the way the tale unfolds and the director has visual inspiration to spare. The hitch is that while the brothers' predicament is interesting, they are not. The Baurs acquit themselves well as first-time actors (selected via Instagram during lockdown in 2020, the cast rehearsed for seven months) but neither possesses the ineffable oomph to remain compelling as their characters hang out with other relatively bland young people their age. Villena's Cassandra is a livelier screen presence.
Sparingly used digital effects elevate a few passages toward numinous beauty but mostly the proceedings consist of young men and women mumbling greetings, killing time, etc., punctuated by scattered bursts of unconventional behaviour, a smattering of which have stand-out power. The most memorable sequence emerges just minutes before the film ends.
Production Company: Les Films du Poisson
International Sales: Wild Bunch International, Solène Michel smichel@wbinter.eu
Producer: Inès Daïen Dasi
Screenplay: Simon Rieth, Lea Riche
Cinematography: Marine Atlan
Production Design: Margaux Memain
Editing: Guillaume Lillo
Main cast: Simon Baur, Raymond Baur, Maïra Villena, Gregory Lu, Benjamin Lu