Dir. Gabriele Muccino. Italy, 2016, 98 mins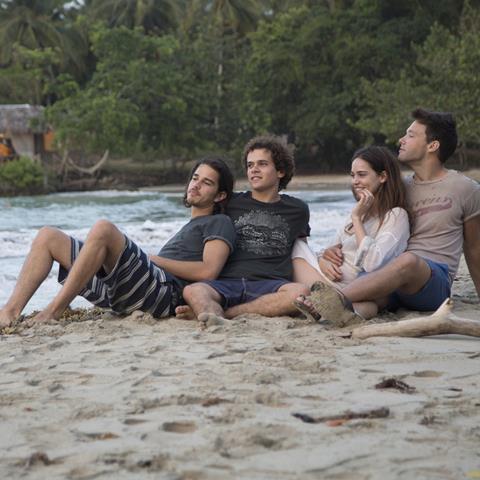 After a couple of medium-budget, star-cast mishits – sentimental soccer-mom-rom-com Playing for Keeps and the undistinguished Russell Crowe and Amanda Seyfried vehicle Fathers and Daughters – Gabriele Muccino returns to a smaller budget and canvas with the gratingly undercooked coming-of-age road movie Summertime (L'Estate Addosso). It feels like an attempt to transplant the sexy, bittersweet 'Italian touch' of his breakout movie, L'Ultimo Bacio (The Last Kiss) to the country where he has been working as a jobbing director since Will Smith offered him the Pursuit of Happyness in 2006; the result, however, is not so much a sun-kissed Rome-San Francisco twinning session as a laboured culture clash.
There's a distant echo of an interesting idea in Summertime which gets lost in a tide of cliche
Released in Italy by 01 Distribution soon after its Venice Festival 'Cinema in the Garden' berth, Summertime has, to date, notched up a handful of presales – to Cineart in Benelux, among others with English-language territories absent thus far, a situation which seems unlikely to change in the theatrical arena.
Marco (Brando Pacitto), the tousle-haired narrator with a touch of the Jesse Eisenberg about him, has just graduated from high school in Rome: at a loss for what to do next, he accepts an invitation from bestie Vulcano, who's studying at Stanford, to pay a visit. For some obscure reason, Vulcano has also asked Maria (Matilda Lutz), a girl from school who Marco can't stand, because, as his on-the-nose, on-the-plane voice-over tells us, "She was boring. Ordinary. They even claimed she was still a virgin".
For an even more obscure reason Vulcano can't tear himself away from his Palo Alto campus – so he sets up a homestay with his friends Paul (Joseph Haro) and Matt (Taylor Frey) in San Francisco, and, having set the story in motion, is never seen again. An equally lazy plot device has Marco and Maria attending an international school in Rome – thus allowing most of the dialogue to be in English.
What comes next plays in parts like a liberal civic education drama directed at Italian high-school students as the conventional, crucifix-wearing Maria discovers that her hosts are, shockingly, a gay couple. In San Francisco, of all places. She will of course, thaw, and change, just as Marco will shed his intolerance of her for an entirely different emotion.
Matt and Paul are thrown in to disrupt the linearity of this boy-hates-girl-then-doesn't plot motor, and for a while they do; these at least are proper characters, unlike the under-scripted Marco, and a backstory about how they met provides the film's only real dramatic traction, though it takes all the acting ability of Haro, Frey and Jessica Rothe (who plays Paul's sister Jules in the flashback sequences) to keep us from feeling we're watching an afternoon TV melodrama. Even less forgivable is the way the director feels it's okay to show a hot hetero sex dream sequence, but limits his gay protagonists to chaste bedtime chats and kisses.
There's a distant echo of an interesting idea in Summertime about how fluidity (of gender roles, career decisions, relationships) can become fixed before we quite know it, played out in the gaps of misunderstanding and rapprochement between and across the two couples, but it gets lost in a tide of cliché, from the horse-riding that represents financial consultant Paul's dream of getting away from the capitalist rat race, to the nightclub the four friends visit at one point – a jaw-dropping straight-person montage of gay San Francisco stereotypes.
All of this might be forgiven if the story were more compelling; but it runs out of steam around the hour point, leaving us to plod wearily towards a bonding trip to Cuba, (all old cars, cold beers and deserted palm-fringed beaches) to the peppy, feelgood, Coke-commercial strains of a soundtrack by Italian pop star Lorenzo Cherubini, a.k.a. Jovanotti.
Production companies: Indiana Production, Rai Cinema
International sales: RaiCom, sales@rai-com.com
Producers: Marco Cohen, Benedetto Habib, Fabrizio Donvito
Executive producer: Ferdinando Bonifazi
Screenplay: Gabriele Muccino, Dale Nall
Cinematography: Paolo Caimi
Editors: Alexandro Rodriguez, Valentina Brunetti
Production designer: Tonino Zera
Music: Lorenzo Jovanotti Cherubini
Main cast: Brando Pacitto, Matilda Lutz, Taylor Frey, Joseph Haro, Jessica Rothe, Scott Bakula