A mother and daughter reunite after 30 years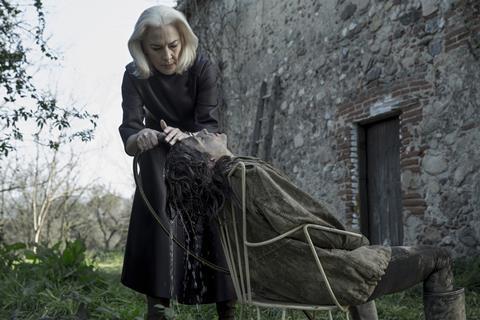 Dir/scr: Ramón Salazar. Spain. 2018. 113mins
It's hard to fault this exquisite two-hander which reunites a woman with the daughter she abandoned as a child 30 years before. When Chiara (Bárbara Lennie) confronts her mother Anabel (Susi Sánchez), it's not with recriminations but with a request: that they spend 10 days together, in an isolated house in the mountains.
Both performances are phenomenally good; the two women who at first seem like opposites are gradually drawn together
There's a wonderfully eloquent moment which introduces Anabel. Patrician, gilded and immaculate in evening dress, she glides towards the camera, flanked by marble columns and unimaginable wealth. Then her heel catches her skirt and she stumbles slightly. With an expression of such withering displeasure it could shatter a champagne bottle, she glances over her shoulder to check her misstep went unnoticed. Unlike Anabel, from the crystalline, dreamlike opening sequence until its devastating climax, Sunday's Illness doesn't put a foot wrong.
The film's world premiere in the Panorama section of Berlinale rather than in the main competition is perplexing, particularly given that writer/director Ramón Salazar's first feature, Stones (2002), earned a competition slot at the festival. Still, although the film is denied the higher profile launch pad that the competition would have provided, enthusiastic critical support and positive word of mouth should give it a leg up out of the festival circuit and into arthouse theatrical distribution. Although lacking the equivalent name recognition, with persuasive marketing the film could chime with the same audience that responded to Pedro Almodovar's Julieta.
The first encounter between estranged mother and daughter is blistering. Surrounded by the wreckage of a dinner party, Anabel gestures dismissively for a final glass of red wine. It is then that she recognises Chiara; until that point invisible as just another member of the waiting staff. There is a long moment of stricken silence, then Chiara drops a scrawled note on the table and wordlessly walks away. The scene is handled with impeccable economy, and sets the tone for an elegantly restrained film which leaves much unsaid and many questions unanswered.
Anabel's rarefied world, steeped in exclusive elegance, is strikingly realised; particular credit should go to Clara Bilbao for Anabel's absurdly chic wardrobe. It's a world which shares something of the chilly privilege of Luca Guadagnino's I Am Love. Transposed from her cosseted affluence to the rough-hewn mountain chalet where Chiara lives, Anabel seems agonisingly out of place. Meanwhile the sensual, restless Chiara eyes her mother and keeps her distance, but slyly tries to nudge her further out of her comfort zone.
Both performances are phenomenally good; the two women who at first seem like opposites are gradually drawn together by something primal and unbreakable. When they embrace, Anabel's white hair and Chiara's black together look like yin and yang, two halves of a whole.
Through details like Chiara's wry jokes, her lies and the culling of a wounded bird, plus an occasional, almost subliminal, rumble on the soundtrack, Salazar seeds the film with a needling threat of violence. But, as the two women cautiously circle each other, it becomes clear that most of the damage has already been done. The location – almost eerily beautiful – has a mythic, fairytale quality. These are the kind of forests and lakes that swallow up family members, never to be seen again.
Production company: Zeta Cinema
International sales: Zeta Cinema infocine@zetaaudiovisual.es
Producer: Francisco Ramos
Cinematography: Ricardo De Gracia
Editor: Teresa Font
Production design: Sylvia Steinbrecht
Music: Nico Casal
Main cast: Bárbara Lennie, Susi Sánchez, Miguel Ángel Solá, Greta Fernández, Richard Bohringer