Morgan Spurlock is back, with another meta-concept for his fast food follow-up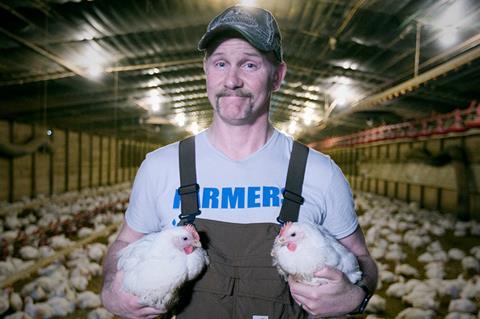 Dir. Morgan Spurlock. US. 2017. 93mins
Returning to the subject matter that inspired his breakout success, Morgan Spurlock takes aim at the fast-food industry one more time in Super Size Me 2: Holy Chicken!, which features a cheeky conceit which is intended to be slyly subversive but ends up feeling cynical. Deciding to launch his own chicken restaurant to expose the industry's deceptive advertising tactics and unhealthy menu items, Spurlock again proves to be fascinated by the art of salesmanship, but too often Super Size Me 2 feels like its own hustle, peddling a slick, self-promotional investigation into a world that's already fairly well covered.
Super Size Me 2 delivers details in a flashy style that never cuts very deeply or seriously shocks us
Premiering in Toronto, Super Size Me 2 will attract fans of Spurlock, one of the most recognisable faces in documentary filmmaking. The movie's breezy infotainment style should find buyers, and the movie ought to be as easily digestible on the big or small screen.
It's been 13 years since Spurlock's Oscar-nominated documentary chronicled his one-month McDonald's-only diet in order to catalogue all the harm it did to his body. In this sequel, Spurlock is curious how much the fast-food industry has improved its fattening content, and so he hits upon the idea of starting his own chicken eatery, talking to advertising firms and chicken farmers about how best to sell unhealthy food to consumers by tricking them into thinking it's fresh and organic.
In a sense, Spurlock is getting in bed with the enemy, which makes Super Size Me 2 feel akin to 2011's The Greatest Movie Ever Sold, in which he made a whole film about courting brand sponsorship to pay for his movie. Super Size Me 2 has a similarly meta idea, as the director and star learns all the tricks the industry uses so that he can fool the public as well.
Spurlock specialises in such high-concept documentary hooks, but the problem is that, as our guide through the film, he's often far too pleased with his own delightfulness to allow the material to have the central focus.
In the original Super Size Me, Spurlock was a relative unknown, and so there was pleasure in getting to know this affable everyman as he wrecked havoc on himself by downing cheeseburgers. But as Spurlock's career has evolved, his onscreen persona has grown far more cutesy and self-regarding, which has proved less charming.
That liability severely hampers the sequel, which often thinks it's blowing the lid off the chicken industry's unfair, monopolistic business practices and the stark reality of how consumable chickens are raised. Super Size Me 2 delivers these details in a flashy style that never cuts very deeply or seriously shocks us. One could argue that Spurlock's polished approach will help reach people who tend to be scared off from meticulous, sober documentaries, but after a while the glibness seems lazy.
The film is stronger when Spurlock takes a backseat and lets his collection of experts explain exactly how fast-food restaurants have changed their look in the years since his first film. All that emphasis on wood panelling and earth-tones is no accident, and it's fascinating to learn just how much detail goes into restaurant layout — all in service of fooling customers into thinking they're eating healthily.
Super Size Me 2 ends with the unveiling of Spurlock's fast-food chicken restaurant, which looks like a modern eatery but calls attention to all the deception that goes on at McDonald's and elsewhere. As is typical of the director's showy panache, the big finale celebrates its own snarky ingeniousness, while also trying to sneak in a little crowd-pleasing poignancy. But like a lot of fast food, Super Size Me 2 doesn't stay with you very long, leaving the customer unsatisfied.
Production companies: Snoot Entertainment, Public Domain, Warrior Poets
International sales: Cinetic Media, tristentuckfield.work@gmail.com
Producers: Keith Calder, Jessica Calder, Spencer Silna, Nicole Barton, Jeremy Chilnick, Matthew Galkin, Morgan Spurlock
Screenplay: Jeremy Chilnick and Morgan Spurlock
Cinematography: David Garcia-Vlasits
Editor: Pierre Takal
Music: Tim Garland, Jeff Meegan, David Tobin