A deaf mute woman is pushed to extreme action to save her Kazakhstan home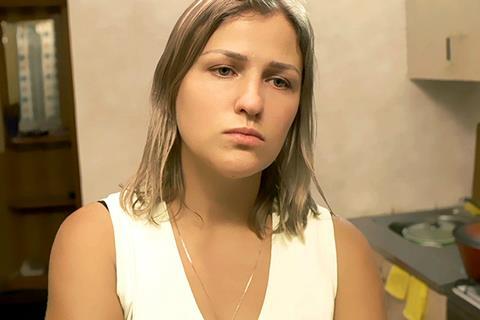 Dir/scr. Zhanna Issabayeva. Kazakhstan, 2017, 95 mins.
Actions speak louder than words in Sveta, by necessity; in the fifth title from Kazakhstan film-maker Zhanna Issabayeva (Karoy, Nagima and Bopem), Russian sign language flies from the hands of its deaf-mute characters without sound but with ample fury. And it signifies plenty, in a film that tracks its calculating protagonist's attempts to keep a roof over her family's heads by any means necessary.
If enlisting Laura Koroleva is the feature's first masterstroke, then Mikhail Blintsov's jittery, handheld camerawork proves its second
Deceit, theft, poisoning and even murder aren't out of the question in this potently grim and jolting drama, which proves intense, involving and utterly uncompromising in its view of human nature, its commentary on modern Kazakhstan and its astonishing central performance from non-professional first-timer Laura Koroleva.
Combine all of the above, and this assured, audacious, virtually wordless effort deserves diligent attention, and further festival berths are certain after its world premiere in Japan. A strong contender in this year's Tokyo competition, it's also strong in its desolate atmosphere and lingering impact. As The Tribe previously demonstrated, former Soviet states eschewing spoken dialogue in incendiary situations can make for particularly powerful, memorable and unsettling viewing.
Unlike Myroslav Slaboshpytskyi's acclaimed Ukrainian predecessor, Sveta uses subtitles to help relay its story — though the body language of its titular figure conveys just as much information as the movie's passionately signed exchanges. Full credit goes to writer/director/producer Issabayeva for unearthing the expressive, disarmingly naturalistic Koroleva, who gives an inexorably confident and discomforting portrayal worthy of accolades. There's much that's Shakespearean in the film's terse tale, steeped as it is in dastardly deeds for selfish ends; in the plotting, scheming, manipulating and slaughtering stakes, however, the bard's Lady Macbeth has an unnerving new successor.
Whether at work, at home or poised to attack a co-worker in the park, Sveta takes no nonsense from anyone. When she's first seen receiving a two-week warning from her bank about imminent foreclosure on her modest flat, her combative demeanour is matched only by her determination to find a solution.
Subsequently discovering that she's being made redundant from her garment factory job incites further anger and resolve, not to mention a cunning, distressing plan. Losing her foreman position to a single-mother colleague (Varvara Masyagina) despite her own seniority and education, all it takes is the forceful wielding of a rock to keep her employment (and procure some cash and groceries).
It doesn't take long for similar thinking to pop into her head regarding her overdue mortgage, with her husband's (Roman Lystsov) unwell, unit-owning, 92-year-old grandmother her next target. In a movie filled with standout scenes of the emotionally heightened, morally bleak and completely compelling variety, the couple's middle-of-the-night argument about Sveta's killer proposal sets both the tone and the bar.
Worse behaviour can only follow, along with a darker mood and ever-increasing tension. Indeed, given the pressure cooker-like environment at home — "no tenderness," Sveta gruffly instructs — it's impossible not to feel for the couple's young, also hearing-impaired children.
If enlisting Koroleva is the feature's first masterstroke, then Mikhail Blintsov's jittery, handheld camerawork proves its second, keeping audiences as close to Sveta's perspective — and, in the process, her ruthless mindset — as possible. The pairing is purposefully disturbing; all the more so for the script's refusal to vehemently condemn its anti-heroine. There's no doubting the abhorrence festering at the character's core, yet there's also no avoiding the reality that tough, uncaring times beget tough, uncaring actions. Giving voice to that harsh truth isn't new or unique, but Sveta's searing efforts may still render many into shocked silence.
Production company / contact: Sun Production, issabayeva@mail.ru
Producer: Zhanna Issabayeva
Cinematographer: Mikhail Blintsov
Editor: Azamat Altybasov
Production designer: Dzhalalatdin Ibragimov
Costume designers: Inga Zadarnovskaya
Main cast: Laura Koroleva, Roman Lystsov, Nataliya Kolesnikova, Alim Mendibayev, Marat Abishev, Alena Ugryumova, Dmitriy Ryazanov, Varvara Masyagina