A German high school student seeks revenge on those who would bully her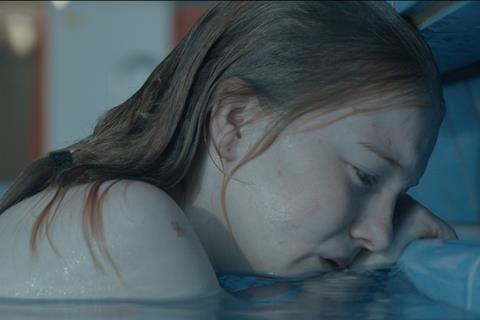 Dir/scr. Luzie Loose. Germany. 2018. 102mins
Swimming, a Berlin-set example of the coming-of-age-as-hell film may not be entirely fresh territory. Its story of tortured, erotically-tinged female friendship will remind some viewers of Pawel Pawlikowski's My Summer of Love, while the theme of high school bullying and revenge has been a staple of cinema all the way from Carrie to the international art house. Even so, this strongly-executed debut from German writer-director Luzie Loose has distinct character, plus perhaps more dramatic ideas than the film can easily accommodate. But Swimming benefits from strong lead performances and a marketably zeitgeisty theme – phone-footage bullying.
The film's more frustrating aspects simply arise from Loose having a full complement of ideas
Swimming shows Loose to be a strong next-generation addition to that vague conglomeration of German talent that's been dubbed the New Berlin School. Her cool, confident style suggests a promising successor to the likes of Maren Ade and Valeska Grisebach, although her somewhat brasher, potentially commercial style - and a few punchy clubbing sequences – showcase a sensibility perhaps closer to Victoria director Sebastian Schipper. At any rate, Swimming will get her noticed, and provide a further spotlight for her already experienced young leads.
Stephanie Amarell, who made her debut in Michael Haneke's The White Ribbon, plays Elisa, a shy mid-teens girl who's feeling the stress of her parents' divorce as she moves with her mother from a comfortable middle-class home to more spartan accommodation in Berlin's Neuköln district. Suffering intermittent fainting fits, she's mocked and rejected by her school peers, but finds respite in using her dad's camcorder to film the world around her.
When her classmates film her after she's passed out in the school showers, her one friend, former neighbour Constantin (Bjarne Meisel), isn't much help - but then she's rescued by another class outsider, hip, attractive, aggressively confident Anthea (Lisa Vicari). An aspiring actress, Anthea has her own problems, but for now, she's the dream friend that Elisa needs – and she intends to help Elisa get even with her tormentors, working through a hit list of students ripe for a taste of their own digital medicine.
Meanwhile, Anthea introduces Elisa to Berlin nightlife, teaches her confidence and makes her a little more like herself – although the friendship will eventually reach breaking point. And of course, relations become increasingly frayed between Elisa and her long-suffering mother (a strong performance in a slightly thankless role by Alexandra Kinder).
Things become a little cluttered dramatically, with Loose never quite finding focus in the sub-theme suggested by the title: it involves that most obvious of school bullying dramas, the swimming pool trauma, as well as a ritual challenge among the students; a difficult swim across a local river. And, amid the finely observed nuances of emotion and classroom pecking-order politics, the revenge plot fades in and out of focus.
Yet the film's more frustrating aspects simply arise from Loose having a full complement of ideas. And Swimming is given a strong focus by the exuberant and spiky Vicari, and a complex, nuanced Amarell, whose look of youthful vulnerability – somewhat à la Sissy Spacek – goes together with a hard, determined edge that emerges consistently throughout.
A clean, restrained shooting style opens up in mid-film as the girls explore the thrills of Berlin hedonism, complete with moments of ecstasy-laced euphoria, while some underwater sequences are unnervingly kinetic. DoP Anne Bolick also astutely balances widescreen photography with the boxy ratio of the girls' phone and camcorder footage.
Production company/international sales: Kurhaus Production, office@kurhausproduction.de
Producers: Philipp Maurice Raube, Lennart Lenzing, Christoph Holthof, Daniel Reich
Cinematography: Anne Bolick
Editor: Marco Rottig
Production design: Leonie Lieberherr
Music: Andreas Pfeiffer
Main cast: Stephanie Amarell, Lisa Vicari, Alexandra Finder, Jonathan Berlin, Bjarne Meisel