Dir: Mark Ruffalo. US. 2009. 98 mins.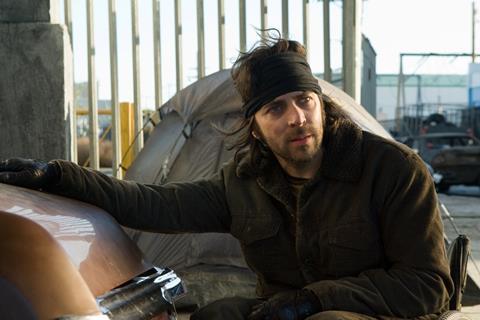 Satirising our need for saviours, no matter what shape they come in, Sympathy For Delicious quickly goes off the rails with its parable of a homeless, wheelchair-bound DJ who becomes a sensation after he discovers he has the power to heal others. Mark Ruffalo's directorial debut spoofs religious fervour and rock-star excesses, but lead actor Christopher Thornton's muddled screenplay struggles to hit its targets.
This loopy satire is an odd duck that presents serious marketing challenges, although Ruffalo's string of indie-film credits could help garner some art-house interest.
Dean (Thornton), a homeless paraplegic living in Los Angeles, idly dreams of becoming a renowned DJ. His fortunes finally change when he realises that he can cure people's ailments by touching them, making him initially the hero of a local mission and then a sideshow attraction for a punk-rock band which recruits him for the publicity.
In the early going, Sympathy For Delicious appears to be a gritty underdog tale about a young man looking for a better life. But after Ruffalo reveals Dean's miraculous power, the film suffers from consistent tonal problems, unable to draw much blood in its attacks on the inanity of the music business or on people's blind devotion to self-proclaimed prophets.
Thornton's first produced screenplay could perhaps be commended for its audacity, merging black comedy with sincere questions about the importance of faith, but the writing lacks the sophistication necessary for such lofty goals. Ruffalo's debut behind the camera is equally shaky, as he elicits campy, awkward performances from a supporting cast that includes Laura Linney and Orlando Bloom.
To sign up for Screen's weekly Reviews Newsletter with all the week's new releases, international openings and full festival reviews delivered free to your mailbox every Friday, please click HERE
Production companies
Corner Stone Entertainment
Super Crispy Entertainment
Worldwide sales
William Morris Endeavor Entertainment
+ 1 310 285 9000
Producers
Christopher Thornton
Mark Ruffalo
Scott Prisand
Matthew Weaver
Andrea Sperling
Screenplay
Christopher Thornton
Cinematography
Chris Norr
Production designer
Michael Grasley
Editor
Pete Beaudreau
Main cast:
Christopher Thornton
Mark Ruffalo
Juliette Lewis
Noah Emmerich
James Karen
John Carroll Lynch
Robert Wisdom
Laura Linney
Orlando Bloom