Alan Bennett's monologues are remastered by Nicholas Hytner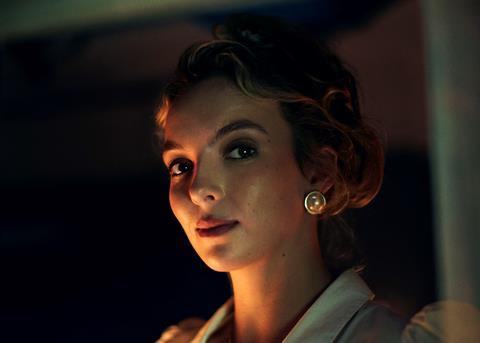 Talking Heads should come with viewer advice: don't binge. Don't even think about it. This lockdown restaging of Alan Bennett's classic direct-to-camera monologues from the late 80s and a decade later starts tonight on BBC1 with the first two 30-minute episodes (although some run to 40 mins-plus). Imelda Staunton opens the show, taking the part first played by Patricia Routledge in A Lady Of Letters, and gives such a tour-de-force performance that naturally you'll want to click onto the next – Sarah Lancashire in a brand-new, inky-dark episode as a housewife with unnatural urges (An Ordinary Woman). After transmission, the entire 12-episode series goes straight onto box set, but these maudlin, piercing, funny/sad vignettes are best savoured, not splurged. Bennett's world is an uncomfortable place to linger.
Imelda Staunton is not the only actor here who has never been better.
Talking Heads was made under lockdown conditions at Elstree Studios (the home of UK TV soap EastEnders) with Nicholas Hytner overseeing the revamp, co-producing with Kevin Loader. Of course, some are dated - who writes letters any more, anyway? Harriet Walters' jolly-hockey-sticks upper class swindled widow is a creature of 1988, but, as directed by Marianne Elliott, she's as alive as she first was when played by Stephanie Cole in Soldiering On. Jodie Comer, the youngest actor here, plays an aspiring performer in Her Big Chance, the part taken by Julie Walters in 1988. She fearlessly goes after the role in a way that makes it clear how much she deserves to be in this stellar company, which also includes Kristin Scott-Thomas (The Hand Of God), Maxine Peake (Miss Fozzard Finds Her Feet) and Tamsin Greig (Nights In The Garden of Spain). Monica Dolan tackles the other newly-written piece, The Shrine.
Hytner himself directs the first two episodes as well as The Shrine. Aside from the actors, he has also attracted the cream of theatre directing talent from Elliott to Jonathan Kent and Josie Rourke behind the camera. Their well-honed ability to help pace and deliver sustained performances shows: these are tough, unforgiving monologues often couched in extreme close-up and the type of opportunity a theatre actor relishes but rarely gets to deliver on television. Staunton is not the only actor here who has rarely been better.
Many will remember the original series most fondly for Maggie Smith's portrayal of an alcoholic vicar's wife in A Bed Among The Lentils. Lesley Manville takes it on here with gusto. The men get their usual token showing with Martin Freeman assuming the role of a repressed gay man played by Alan Bennett himself in A Chip In The Sugar. Lucian Masmati plays the terrifying park keeper in Playing Sandwiches (once performed by David Haig). In a way acknowledging that some things should not be repeated and cannot be bettered, there's no version of Thora Hird's classic A Cream Cracker Under The Settee. She won the Bafta in 1989 for her performance, up against Smith for Lentils and Routledge for A Lady Of Letters. It will be no surprise to see the performances delivered in this lockdown remastering acknowledged in in the same way come Bafta 2021.
Remaking the series was an inspired move by Hytner. This entertaining, yet depressive, Northern England-set (presumed to be Leeds) series is perfect to shoot in lockdown conditions, but also a powerful opportunity to give some resting actors the chance to remind the viewer just how good they really are. Siphoned off individually, they're a showcase for the talent involved, whether that be the actor or the bare-bones, sympathetic direction. Parsed together, they're playwright Alan Bennett at his darkest and most incisive. The human condition nakedly in front of you, holding your gaze brazenly – playing you for a laugh only to punch you hard as you catch your breath. One at a time, remember: lockdown is a bleak enough place without spending too long in the company of these strangely compelling creatures.
Production company: London Theatre Company for BBC One
Worldwide distribution: BBC Studios
Writer, creator: Alan Bennett
Producers: Nicholas Hytner, Kevin Loader
Executive producers: Nick Starr, Anthony Jones, Piers Wender
Cast: Jodie Comer (Her Big Chance; dir Josie Rourke). Monica Dolan (The Shrine; dir Nicholas Hytner). Martin Freeman (A Chip In The Sugar; dir Jeremy Herrin). Tamsin Greig (Nights In The Garden Of Spain, dir Marianne Elliott). Sarah Lancashire (An Ordinary Woman, dir Nicholas Hytner). Lesley Manville (Bed Among The Lentils, dir Nicholas Hytner). Lucian Msamati (Playing Sandwiches, dir Jeremy Herrin). Maxine Peake (Miss Fozzard Finds Her Feet, dir Sarah Frankcom). Rochenda Sandall (The Outside Dog, dir Nadia Fall). Kristin Scott Thomas (The Hand Of God, dir Jonathan Kent). Imelda Staunton (A Lady Of Letters, dir Jonathan Kent). Harriet Walter (Soldiering On, dir Marianne Elliott)