Elle Fanning plays a talent show wannabe in the feature debut of actor Max Minghella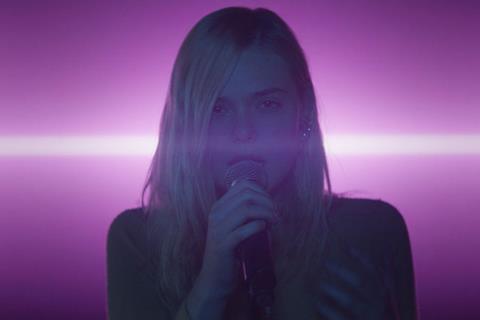 Dir/scr: Max Minghella. UK. 2018. 92mins
For a movie which takes as its core the sure-fire crowd-pleasing device of an underdog triumphing at a talent show, the feature debut from actor Max Minghella is a curiously unsatisfying experience. The central elements are strong: Elle Fanning, playing Violetta, an introverted teen from a religious Isle Of Wight background, breaks out of her character's strait-jacket of sullen adolescence and nylon sportswear. And the music choices – some of them at least – are fist-pumping bangers. But the screenplay seems a little thin, full of frayed threads which are never properly woven into the story.
Fanning does decent work and her singing is more than up to the job
In a market somewhat crowded with female popstar narratives, Teen Spirit may struggle to make its mark when pitted against more fully realised stories like A Star Is Born or bolder filmmaking like Her Smell. What it has in its favour is the potential to appeal to younger audiences, both in its choice of actor – Fanning is genuinely appealing – and in the familiarity of the singing competition backdrop. The Minghella name, following the success of The Handmaid's Tale, will also draw attention to this title.
Violetta is the only child of a strict single mother who has raised her to contribute to their life. She slogs on their run-down smallholding, works shifts at a bowling alley and sings at the kind of grim bar where lonely men with fatty livers go to stare into the bottom of their pint glasses. Its at the pub that she meets Vlad (Zlatko Buric). Formerly a famous opera singer, the Croatian immigrant now lives mainly in his memories — and in his car. But he recognises her talent, and she recognises a sympathetic spirit; albeit one who looks as though he smells like a pub carpet.
In a montage heavy approach, we learn various things: the early selection stage of the TV series "Teen Spirit" is coming to the Island for the first time; Violetta likes to dance wildly in her bedroom to music; she occasionally hangs out with a horse. This last element is weirdly underdeveloped – just a couple of shots of Violetta hugging a horse cut into montages, then one scene in which Violetta is bereft because her mother is selling it. But we know so little about her relationship with the animal, her anguish doesn't feel that it has been earned.
Also unexpectedly missing, despite the fact that Minghella was raised on the Isle Of Wight, is a persuasive sense of place. Instead, we get a lot of murky interiors, shot with a gauzy quality that makes it look like they were filmed through a pair of tights.
Likewise Violett's rivals in the competition, who, with one exception, are largely reduced to a few shots of sparkly wigs and side-eye. Vlad, meanwhile, is only slightly more developed. He has a daughter, we learn, but are given nothing about why they lost touch. Vlad becomes Violetta's manager, and, through the medium of montage yet again, coaches her through the various stages of "Teen Spirit".
Throughout all this, Fanning does decent work. Her singing is more than up to the job and she blossoms from the 'caterpillar' who is tempted by a record deal with Rebecca Hall (playing a cross between Simon Cowell and satan). Her final performance, a cover of Sigrid's Don't Kill My Vibe, blows the roof off. But one great song is ultimately not enough to power a whole film.
Production company: Automatik, Blank Tape, Interscope
International sales: Mister Smith Entertainment info@mistersmithent.com
Producer: Fred Berger
Production Design: Kave Quinn
Editing: Cam McLauchlin
Cinematography: Autumn Durald
Music: Marius De Vries
Cast: Elle Fanning, Zlatko Buric, Rebecca Hall, Millie Brady, Elizabeth Berrington, Ursula Holliday