Dir: Dave Green. US. 2016. 112mins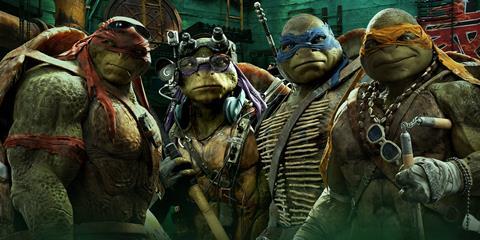 Moderately tasty junk food, Teenage Mutant Ninja Turtles: Out Of The Shadows is still practically filet mignon in comparison to the indigestible 2014 reboot that introduced these oversized reptiles to a new generation of moviegoers. Packed with better action sequences and a smidgen more emotional resonance, this sequel may be more engaging than its predecessor, but the franchise remains a rather clattering and crude affair. At least Out Of The Shadows feels less indebted to the bombastic aesthetic of series producer Michael Bay than the previous instalment.
This sequel is noticeably sweeter and brighter than its predecessor
Opening across much of the globe by June 3, this Paramount release will hope to improve on the $493 million worldwide gross that Teenage Mutant Ninja Turtles collected two summers ago. With the whole gang back together — including the Turtles' human friends played by Megan Fox and Will Arnett — it's hard to imagine audiences suddenly losing interest, although Out Of The Shadows could face competition from the likes of Warcraft and, later, Independence Day: Resurgence. Poisonous reviews didn't dissuade viewers in 2014, so it wouldn't have much effect now, either.
Rendered through motion-capture technology, the Turtles — Leonardo (Pete Ploszek), Raphael (Alan Ritchson), Donatello (Jeremy Howard) and Michelangelo (Noel Fisher) — still live in Manhattan's sewers, protecting the city at night but afraid to go out during the day lest they frighten humanity by the fact that they can talk and stand upright. But they must set aside their anonymity once their old nemesis Shredder (Brian Tee) begins constructing a device that will create a wormhole in the space-time continunum that brings a dangerous weapon to Earth.
The 2014 film was helmed by Jonathan Liebesman, who conceived it in the same over-caffeinated, eardrum-shredding style as Bay's ultra-macho Transformers movies. Blessedly, new director Dave Green (Earth To Echo) works to locate the heart in this tale of misfit characters struggling with typical dysfunctional-family dynamics. Nothing that happens in Out Of The Shadows could be described as moving, but the filmmakers emphasise the differences between these four turtles, showing how each is grappling with insecurities that threaten to undermine the team.
As a result, this sequel is noticeably sweeter and brighter than its predecessor. Whether it's the improved facial renderings of the Turtles or tauter action sequences, Out Of The Shadows gets a little closer to being a compelling experience, as opposed to one merely meant to keep younger viewers distracted on a hot summer day.
With that said, Out Of The Shadows is both needlessly complicated and barely narratively interesting. Introducing more characters from the Turtles universe, which began as a comic book in the mid-1980s, the new film gets sidetracked juggling so many elements. Hardcore fans may be excited that the heroic vigilante Casey Jones and the brutish bad guys Rocksteady and Bebop make their debut in Out Of The Shadows, but anyone not invested in Turtles lore will be hard-pressed to care.
The voice actors do what they can to bring a little pathos to these big-hearted reptiles. Arnett is less actively obnoxious this time around as a conceited cameraman who has become a local celebrity after taking credit for the Turtles' heroics during the previous film. Meanwhile Fox, who's not forced just to be the fetching sex symbol she was in the 2014 original, shows her comfort with these big-budget blockbusters, even if she's still made to wear body-hugging outfits in every scene.
But the film's strangest sight is that of Oscar-nominee Laura Linney playing a generically hardnosed police chief who thinks the Turtles are monsters who must be stopped. Apparently, the actress is responsible for investing Out Of The Shadows with some gravitas — which is something no one has ever required of a movie about Teenage Mutant Ninja Turtles.
Production companies: Nickelodeon Movies, Platinum Dunes, Alibaba Pictures, China Movie Media Group, Gama Entertainment, Mednick Productions, Smithrowe Entertainment
Worldwide distribution: Paramount Pictures, www.paramount.com
Producers: Michael Bay, Andrew Form, Brad Fuller, Galen Walker, Scott Mednick
Executive producers: Denis L. Stewart, Grant Curtis, Eric Crown, Napoleon Smith III, Josh Appelbaum, André Nemec
Screenplay: Josh Appelbaum & André Nemec, based on the Teenage Mutant Ninja Turtles characters created by Peter Laird and Kevin Eastman
Cinematography: Lula Carvalho
Production design: Martin Laing
Editors: Jim May, Debra Neil-Fisher, Bob Ducsay
Music: Steve Jablonsky
Website: www.teenagemutantninjaturtlesmovie.com
Main Cast: Megan Fox, Will Arnett, Laura Linney, Stephen Amell, Noel Fisher, Jeremy Howard, Pete Ploszek, Alan Ritchson, Tyler Perry, Brian Tee, Stephen "Sheamus" Farrelly, Gary Anthony Williams