A septuagenarian Spanish woman discoveres a new lease on life in David Martin de los Santos's touching debut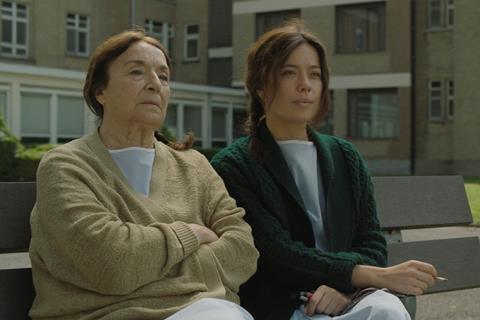 Dir: David Martin de los Santos. Spain. 2020. 109mins
An elderly expat Spaniard in Belgium is seeing out her final years in a somnambulant daze, when a chance encounter sparks a surprising new lease of life. David Martin de los Santos's disarmingly touching first feature arrives at Transilvania in between festival showings in Tokyo and Seville (where star Petra Martinez won best actress) and a Spanish release in October. Its Andalusian setting, brazenly slow pace and uneventful plotting make it a good fit for Latin destinations thereafter.
Martinez, well into her seventies when she shot this, gives a strong, minimalist performance
A recent heart attack isn't the only reason Maria (Martinez) is in a permanent fug. Husband Jose (Ramon Barea) is decent enough but a bore, fixated on the routine of family and finances and with little genuine interest in his wife. There appears to be no intention of ever going home. And Maria herself seems to have lost touch completely with her own personality and desires. This is a life on autopilot.
As Maria convalesces in hospital, the bed next to her is occupied by twentysomething Veronica (Anna Castillo), also Spanish and in Belgium as a seasonal worker but hoping to become a photographer. Doctors are running tests after she fainted in the street. If Maria is dourly self-contained, Veronica is open, spontaneous, amusingly carnal – she's not shy of audibly masturbating just feet away from the old woman – and a carefree picture of seeming good health.
It appears, then, that de los Santos is setting up a generational friendship. But then he pulls the rug from under characters and audience alike. And so, with an amusing note to her husband instructing him, merely, to water the plants, Maria embarks on a sort of odyssey back to Spain, ostensibly in search of Veronica's family but, ultimately, herself.
Maria is not a talker; the odd folk she meets in the deserted, former salt mining town of Veronica's birth are not talkers; next to nothing happens here. Yet she reveals layers of resourcefulness; whether she's trying to find food and lodgings in a ghost town, or tracking Veronica's threadbare connections, she doggedly, sweetly sticks to her task. And ever so slowly the shackles fall away.
Martinez, well into her seventies when she shot this, gives a strong, minimalist performance – her face largely impassive, but with a fleeting glint in her eyes and a tiny twist at the edge of her mouth that exude a warmth that Jose probably hasn't noticed for years. It's interesting that far younger people – Veronica, an amiable, slightly hapless bar owner (Florin Piersic Jr) and Veronica's former boyfriend (Daniel Morilla) do see something in the senior with which to engage.
Though appealing, the film could have given more – on the connection between Maria and Veronica as economic migrants, decades apart, or a hint of the life – and woman – that Maria left behind. Perhaps the latter is there in her one self-indulgence: for someone with a heart condition, she eats an awful lot of cake.
Production company: Lolita Films
International Sales: 34T Sales. info@34-t.com
Producers: Damian Paris, Jose Carlos Conde
Screenplay: David Martin de los Santos
Production design: Javier Chavarria
Editing: Miguel Doblado, Lucia Palacio
Cinematography: Santiago Racaj
Main cast: Petra Martinez, Anna Castillo, Florin Piersic Jr, Ramon Barea, Daniel Morilla