Dirs: Clay Kaytis and Fergal Reilly. US/Finland. 2016. 98mins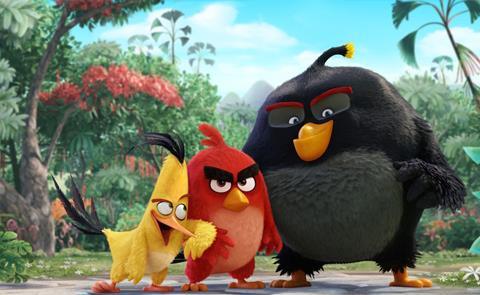 As silly and disposable as the video game that inspired it — but nowhere near as addictive — The Angry Birds Movie is fitfully funny but tends towards a madcap mixture of comedy and action which never develops much forward momentum. The joke-a-minute approach misses more than it hits, although the bright animation and adorably-rendered characters are decent compensation. Still, the film, which is clearly geared to children, mistakes whirlygig energy for genuine inspiration. Tots will be sufficiently distracted by all the movement, but at a time when Pixar and other companies are making first-rate films, why flock to Birds?
The Angry Birds Movie seems to have invested most of its energy into justifying its existence, resulting in a film that's breezy but also far too safe and conventional.
Hitting several territories starting May 11, The Angry Birds Movie boasts a voice cast that includes comics Jason Sudeikis, Danny McBride and Frozen's Josh Gad. The interesting question will be whether the ubiquitous Angry Birds game remains as much of a selling point now, several years after it was a red-hot commercial commodity. Nonetheless, with only Alice Through The Looking Glass competing for the family market — and assuming that most in the target audience have already seen The Jungle Book — The Angry Birds Movie should be a robust box-office performer as we head into summer movie season.
The film is set on a remote island populated by flightless birds living in harmony. Our unlikely hero is Red (voiced by Sudeikis), an easily-irritated bird who after an altercation is ordered to attend anger-management classes. There, he meets the vain Chuck (voiced by Gad) and the temperamental Bomb (voiced by McBride). Red is a loner and doesn't want to befriend these two lovable oddballs, but soon they must work together to defeat a passel of pigs (led by the fiendish Leonard, voiced by Bill Hader) who have invaded the island to steal the birds' eggs for nefarious reasons.
The original Angry Birds, which launched in 2009 and introduced the principal characters we see in the film, is more of a puzzle-solving game than a narrative, and so screenwriter Jon Vitti (a writer on The Simpsons and two of the Alvin And The Chipmunks films) has to invent a backstory to explain the feud between the birds and pigs, as well as flesh out Red's reasons for being so angry. This adds a little emotional depth to The Angry Birds Movie, but considering that the film's comic antics and teachable moments are aimed at young children with short attention spans, this isn't enough of an anchor for a simplistic story.
As Red, Sudeikis brings some of the same smart-ass demeanour he's exhibited in Horrible Bosses and We're The Millers. But those were raunchy R-rated comedies, and in this family film he struggles to find the right balance between the sardonic and the sweet. Unfortunately, Red isn't a very memorable protagonist, leaving Sudeikis dependent on the quality of his latest one-liner to keep the character appealing. (Tellingly, Red gets as many laughs from his silent, slow-burn reaction shots as from what comes out of his mouth.)
The film's frantic rat-a-tat-tat procession of comic bits affects the other actors as well. As directed by Clay Kaytis and Fergal Reilly, who are making their feature debut, The Angry Birds Movie doesn't have characters so much as it contains a multitude of one-note caricatures — the touchy-feely counsellor, the blowhard judge, the dopey mime — and so Gad and McBride, like Sudeikis, have to sell mediocre jokes through sheer force of their personalities.
To be sure, The Angry Birds Movie is often superficially appealing — you can easily enjoy the candy-coloured animation and the entertaining voice cast (which also includes, briefly, Sean Penn, Peter Dinklage and Maya Rudolph). But the lack of inventiveness is decidedly distancing, as is the calculated attempt to appeal to different demographics. (Gags range from fart humour to obvious references to The Shining.) The Angry Birds Movie seems to have invested most of its energy into justifying its existence, resulting in a film that's breezy but also far too safe and conventional.
That's certainly true when Kaytis and Reilly flirt with potentially darker material. Once Red realises that the pigs have made off with their eggs, he's aghast, unable to comprehend the kind of monsters who would steal the birds' unborn children. That's a chilling thought — especially considering that Leonard and his cohorts plan to eat the eggs — but the movie's otherwise fun-loving tone clashes awkwardly with this sinister plot twist.
Furthermore, once Red and the other birds slingshot themselves into the pigs' kingdom — recalling the video game's central motif — they topple buildings and send characters scurrying for their lives, an image that's uncomfortably reminiscent at times to so many post-9/11 scenes of urban devastation from live-action blockbusters. These moments are so ostensibly harmless that it won't ruffle too many people's feathers, but it does suggest a project that doesn't quite understand its core audience, throwing spectacle and jokes at us without discretion or enough wit.
Production companies: Columbia Pictures, Rovio Animation
Worldwide distribution: Sony Pictures, www.sonypictures.com
Producers: John Cohen, Catherine Winder
Executive producers: Mikael Hed, David Maisel
Screenplay: Jon Vitti, story by Mikael Hed, Mikko Pöllä and John Cohen
Production design: Pete Oswald
Editors: Kent Beyda, Ally Garrett
Music: Heitor Pereira
Website: www.angrybirds-movie.com
Main Voice Cast: Jason Sudeikis, Josh Gad, Danny McBride, Maya Rudolph, Keegan-Michael Key, Kate McKinnon, Sean Penn, Tony Hale, Ike Barinholtz, Tituss Burgess, Hannibal Buress, Jillian Bell, Ian Hecox, Anthony Padilla, Billy Eichner, Danielle Brooks, Bill Hader, Peter Dinklage