Dir: Federico Veiroj. Spain-Uruguay-France. 2015. 80 mins.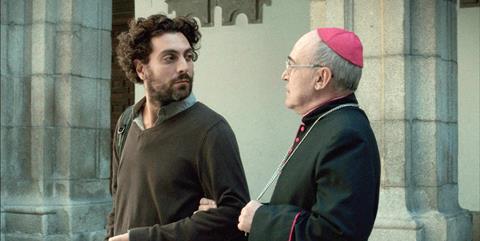 One man's attempt to commit apostasy – formally reneging Catholicism by applying to have his name cancelled from the ecclesiastical register – forms the background to the small, quirky third film by Uruguayan director Federico Veiroj. But though formal recognition of the right to 'de-baptise' has become a civil liberties call to arms in several Christian countries, including Spain, where the story is set, The Apostate is not really an issue film. It's an ironic, deadpan portrait of a wandering, demotivated late-twenty-something, whose need to undo the choice that was imposed on him as a baby is part of his struggle with a childhood he still hasn't emerged from.
Like the film, the soundtrack doesn't quite know where it's going, but it takes us on a curious and often engaging stroll
A film of meandering charm, marred only by the occasional self-indulgently kooky sequence, The Apostate has some of the spirit of an early Nanni Moretti film, though without quite so many gags. More than anything, though, it seems like a reboot of Acne, the director's own debut film about the pains of adolescence. The Apostate is Acne 2, a coming of age film about a man who has managed (like many of his generation) to keep his own adolescence on ice for over a decade. The issue for audiences will be whether the more surreal moments, a smattering of romance and the film's odd, against-the-grain soundtrack of solemn music by Prokofiev and others are enough to lift what is, when you scratch the surface, a slight film about a mooching, introverted egotist.
Like Acne, The Apostate starts well. We see shaggy-haired eternal student Tamayo (Ogalla), whose grubby school backpack is the symbol of his blocked development, entering a church and asking the elderly priest who baptised him years before for his baptism certificate. When it becomes clear that he needs this for a formal act of apostasy, the moon-eyed Tamayo is sent for a meeting with man-of-the-world Bishop Jorge, whose genial attempts to dissuade him rope in St Augustine and other doubters who later become pillars of the faith. Tamayo's attempts to resist such blandishments will lead him into a Kafka-lite maze of church bureaucracy.
But The Apostate soon pulls back from this saga, losing its way a little, to dwell on Tamayo's home life – his over-close rapport with his cousin Pilar (Larralde), which is rather too obviously balanced by a more healthy, moving-on kind of relationship with a pretty neighbour (Lennie) whose son he tutors; or his mother and father, one barely concealing her disappointment in her under-achieving son, the latter a shadowy figure whose dodgy invoices Tamayo helps to launder in some way that is never specified.
Painful memories of his past as a school bully also flit by, but the jaunty, irony-veined tone removes sting as well as drama. Music helps to give an infusion of the latter, but it's odd enough to keep things well in the post-modern camp: there are fragments of stirring Spanish film music, setting of songs by Lorca, orchestral music by Prokofiev, a post-punk song by Basque group Lisabo. Like the film, the soundtrack doesn't quite know where it's going, but it takes us on a curious and often engaging stroll.
Production Companies: Ferdydurke Films, Cinekdoque
International sales: FIGa Film, contact@figafilms.com
Producers: Guadalupe Balaguer Trelles, Fernando Franco, Federico Veiroj
Screenplay: Álvaro Ogalla, Gonzalo Delgado, Nicolás Saad, Federico Veiroj
Cinematography: Arauco Hernandez Holz
Editor: Fernando Franco
Production designer: Gonzalo Delgado
Main cast: Álvaro Ogalla, Marta Larralde Pilar, Bárbara Lennie, Juan Calot, Kaiet Rodríguez, Andrés Gertrudix, Joaquín Climent