Legendary French animator Michel Ocelot returns with three stories that span different eras and locales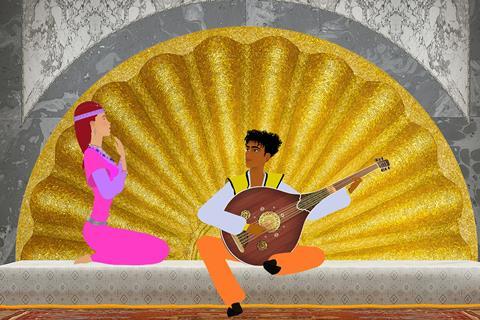 Dir/scr: Michel Ocelot. France. 2022. 83 mins.
A film by the legendary French animator Michel Ocelot comes with a set of expectations: the elegant, clean animation style with figures either silhouetted or shown face on or in profile against a richly ornamental backdrop; themes which are draw from fairy tales or folk legends; stories of derring-do and of romance triumphing against the odds. It's an unapologetically old-fashioned approach to filmmaking, but one which produces consistently beguiling results. His latest picture, a collection of three shorter stories tied together by the device of a contemporary narrator, is no exception. The Black Pharaoh, The Savage And The Princess is visually exquisite and could only be the work of Ocelot. The portmanteau structure, however, does mean that the storytelling can feel a little cursory.
These simple fables are so beautifully executed
Ever since his breakthrough picture Kirikou And The Sorceress, which won the Grand Prix at Annecy in 1999, Ocelot has been something of a household name in francophone territories. And it's here that this latest picture will find its most receptive audience — the film will be released in France by Diaphana in the autumn. Elsewhere, the picture will be warmly received by animation fans and younger family audiences at festivals and animation showcases. Theatrical interest is possible, although the film's three stories, from three different eras and three separate locations, may prove challenging to pin down in a marketing campaign.
In the first story, a young Sudanese nobleman, Tanwekamani, loves the beautiful Nasalsa. But her high family status dictates that she will only be permitted to marry a pharaoh. Not dissuaded, Tanwekamani sets out to conquer Egypt, which he manages through wisdom, humility and a certain amount of celestial palm-greasing to win favour with various gods. He returns a pharaoh, and claims the hand of Nasalsa, much to the annoyance of her mother, who had only made the marital stipulation in order to ensure that she herself stayed in power as long as possible.
Antagonistic and despotic parents are a running theme which threads through the stories. In the second, set in medieval France and told entirely in Lotte Reiniger-style silhouettes, a child alone in his father's castle strikes up a friendship with the prisoner locked in the dungeon. The boy takes pity on the man, who talks movingly of the daughter he misses in the world outside. But when his father finds out that his son aided a prison break, he condemns the child to death. Instead, his henchmen release the boy, who grows up to be "Wild Beau", a semi-feral champion of the poor and general thorn in the side of his autocratic tyrant of a father. Once again, virtue triumphs and is rewarded with true love.
In the third, set in Turkey in the 18th century, an enterprising doughnut seller (a former prince, fallen on hard times) wins the heart of a princess, and the pair build a love nest in an abandoned palace, only to be discovered and sentenced to death by her father, the sultan.
Even by the standards of fairy tales, there's a kind of basic moral absolutism to these segments which can make them feel a little two-dimensional and lacking in texture in terms of the storytelling. But these simple fables are so beautifully executed, both in the craft of the animation and the lush orchestral scores, that the sylph-like simplicity of the stories themselves hardly matters.
Production company: Nord-Ouest Films
International sales: Playtime, info@playtime.group
Producers: Christophe Rossignon, Eve Machuel, Philip Boeffard
Editing: Valentin Durning
Music: Pascal Le Pennec
Main voice cast: Aïssa Maïga, Oscar Lesage, Claire de la Rüe du Can, Didier Sandre, Serge Bagdassarian