Chiwetel Ejiofor directs and stars in this moving drama set in Malawi, destined for distribution via Netflix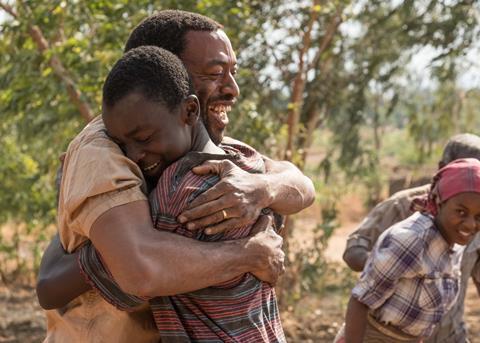 Dir: Chiwetel Ejiofor. UK. 2018. 113mins
Chiwetel Ejiofor delivers a heartfelt directorial debut with The Boy Who Harnessed The Wind, a true-life drama which is sometimes underpowered but patiently builds to a moving finale. This earnest tale succeeds thanks to its potent themes — including the tension between old traditions and new ways of thinking — and Ejiofor locates the story's emotional underpinnings without succumbing to cheap manipulation or mawkishness. Chronicling how an impoverished African family perseveres during hardship, The Boy speaks eloquently about the importance of education and the need for sons to surpass their fathers.
Ejiofor proves adept at dialling up the stakes and the character drama
After its Sundance premiere, this Netflix release is expected to hit the streaming platform later this year. Ejiofor's star power will bring attention to the film — he's both in front of and behind the camera in The Boy — and the inspirational subject matter could aid word of mouth.
Set in the village of Wimbe, Malawi in the early part of this century, The Boy stars newcomer Maxwell Simba as William Kamkwamba, a sweet 13-year-old with a gift for science. His loving farmer father Trywell (Ejiofor) struggles to pay for William's schooling, determined to give his son a better life than he has toiling in the fields all day. But after crippling floods and an equally devastating drought destroy the community's crops, the possibility that the village may starve to death becomes a terrifying reality — especially considering that the inept, corrupt government shows no desire to help.
Ejiofor based his screenplay on Kamkwamba's memoir (co-written by author Bryan Mealer), and The Boy has a wealth of intriguing elements, including the fact that William eventually saved his village by building a makeshift windmill that helped power a water pump to irrigate Wimbe's dry fields. But before we get to that crowd-pleasing moment, we first have to understand this African community's precarious economic situation, limited job prospects and fraught political climate. Ejiofor takes his time in not just establishing William's family dynamics — singer Lily Banda plays his restless older sister Annie — but also the mindset of a village that wants to consider itself modern but stubbornly remains rural and underdeveloped.
When the ground becomes too barren to grow crops, Trywell can no longer afford to pay for William's schooling, a decision that crushes the young man. Simba ably portrays William's frustrated intelligence, while also conveying his deep admiration for his father, who never had the chance to focus on schooling and is both proud and slightly resentful of William's natural intellect.
Shooting on location in Malawi, Oscar-nominated cinematographer Dick Pope does excellent work in capturing the beautiful, desolate environment, communicating to the audience how closely these people have been connected to the land over generations. Despite the adversities, these characters call this place home, and the filmmakers let the surroundings seep into the story, informing every dramatic twist and turn. That said, The Boy can be a bit dry as Ejiofor sets up his different conflicts, and some of the supporting performances fall too easily into types: the unsupportive school administrator, the long-suffering mother, the wise statesman. Overall, the film projects an air of solemn nobility which can be stifling, although the occasional injections of humour help alleviate the sombreness.
But after a slow start, the film finds its footing as the situation becomes bleaker and those who remain in Wimbe during the famine discover that they must contend with thieves and starvation if they want to stay. (Others in the village head north, with only the prospect that maybe life will be slightly less harrowing somewhere else as their incentive.)
Ejiofor proves adept at dialling up the stakes and the character drama, particularly when Trywell and William are at odds over whether William's proposed windmill can work. As an actor, Ejiofor always commands our sympathies, a skill that works well when playing a man who can be stubborn and short-tempered, preferring the tried and true of his farming life to attempting something new and different. But even Trywell can't stop progress. Part of The Boy's message is that this cautious father needs to step aside so that the future (in the form of his son's windmill) can help save this community. Ejiofor makes the character's change of heart touching, and when those blades on William's contraption at last start to turn, it's a stirring, hopeful sight.
Production company: Potboiler
Worldwide distribution: Netflix
Producers: Andrea Calderwood, Gail Egan
Screenplay: Chiwetel Ejiofor, based on the book William Kamkwamba and Bryan Mealer
Production design: Tulé Peake
Editing: Valerio Bonelli
Cinematography: Dick Pope
Music: Antonio Pinto
Main cast: Maxwell Simba, Chiwetel Ejiofor, Aïssa Maïga, Lily Banda, Lemogang Tsipa, Philbert Falakeza, Joseph Marcell, Noma Dumezweni,