Bill Pullman is the alcoholic chess champion enlisted to help the Americans tackle the Cuban Missile Crisis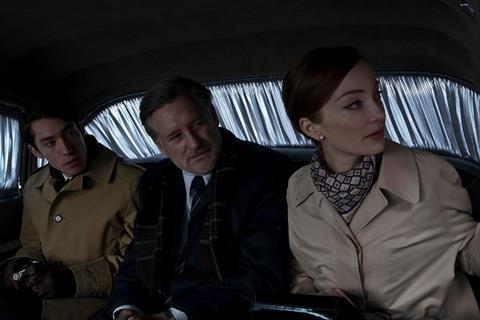 Dir: Lukasz Kosmicki. Poland. 2019. 110mins
This Cold War thriller by first-time Polish director Lukasz Kosmicki features a fruity premise and respectable talent on either side of the camera, led by Bill Pullman as an alcoholic former chess champion who is engaged to help the Americans tackle the Cuban Missile Crisis.
It's a decent idea to combine spy intrigue, the historical crisis and the renowned temperament of the chess elite
And yet the end result of what is a clearly enthusiastic enterprise is remarkably average. A clunky script and endemic hyperactivity in all departments results in the kind of film that is more guilty pleasure than edge-of-seat thriller. Co-financed by the Polish Film Institute and filmed in Poland, it may struggle to gain traction further afield; although Pullman's involvement may attract modest interest.
October 1962. The US and USSR are in stalemate over the Cuban Missile Crisis. The drunk, dishevelled Joshua Mansky (Pullman) is propping up a Brooklyn bar, far from his glory days as a Math professor and chess wunderkind, when he's approached by a woman far classier than the joint, American agent Eleanor Stone (Lotte Verbeek). After some token small-talk, she abducts the prof and flies him to Warsaw.
Here an international chess match between the US and the Soviet Union is about to take place, with the hope that some polite competition will diffuse the political crisis. The trouble is, the Russians are already playing dirty, and American's grand master has been murdered; hence Mansky, who is now charged with taking on the Russian champ Alexander Gavrylov (Yevgeny Sidikhin) while making contact with a defecting Russian with intel that will aid Kennedy's own chess match over Cuba.
It's a decent idea to combine spy intrigue, the historical crisis and the renowned temperament of the chess elite; and of course this brings to mind the contest between Bobby Fisher and Boris Spassky in 1972, itself seen as a clash of Cold War adversaries. Kosmicki and Marcel Sawicki's script pretty much puts paid to that potential, however. "This is the guy you want to win the Cold War for us?" grumbles US attaché Donald Novak (Corey Johnson) on viewing his reluctant guest inside a glass box that looks as though it's been built to house Hannibal Lector. "Plan B: we need you to be a patriot."
The chess matches are a botched business, presented with no logic or tension, leaving Pullman to offer off-the-shelf grimaces and gimlet-eyed stares as he and Sidikhin trade moves. In his bid to thwart the American, Russian General Krutov (Aleksey Serebryakov) first gets his minions to ply him with drink, before realising that Mansky is at his best when absolutely plastered. He then attempts to deny him, unaware of an alcoholic's talent for restocking his minibar; after that he engages a hypnotist, which may be the film's nadir.
To his credit, Pullman (filling in at short notice for an injured William Hurt) takes his opportunities for good work wherever he can, particularly when partnered with the acclaimed Polish actor Robert Wieckiewicz (Walesa: Man of Hope, In Darkness) as Alfred Slega, the general manager of the Palace, who secretly loathes the Russians and befriends the chess master. The pair's clandestine bender away from their minders, during which Slega recounts his bitter wartime experiences, is particularly effective. And Pullman responds by finding the humanity and moral fibre of his character.
Lotte Verbeek is, however, wasted as Stone, who might have been a worthy femme fatale but is reduced to enigmatic glances and a great deal of door-knocking on her charge.
Cinematographer Pawel Edelman (The Pianist) lends proceedings a moodily desaturated pallet (save for a brazenly bold red in an American flag). Establishing crane shots abound (frequently of the admittedly impressive Palace of Science and Culture in which the tournament takes place) while Lukasz Targosz's soundtrack signposts every single tip-toe in the plot.
Production company: Watchout Studio
Sales: Hyde Park International, Carl Clifton: carl@hydeparkentertainment.com
Producers: Daniel Baur, Krzysztof Terej, Piotr Wozniak-Starak
Screenplay: Lukasz Kosmicki, Marcel Sawicki
Production design: Allan Starski
Editing: Krzysztof Arszennik, Robert Gryka, Wolfgang Weigl
Cinematography: Pawel Edelman
Music: Lukasz Targosz
Main cst: Bill Pullman, Robert Więckiewicz, Lotte Verbeek, Aleksey Serebryakov, Corey Johnson, Nicholas Farrell, James Bloor, Yevgeny Sidikhin