Dir: Radu Mihaileanu. France-Romania-Belgium-Italy. 2009. 123 mins.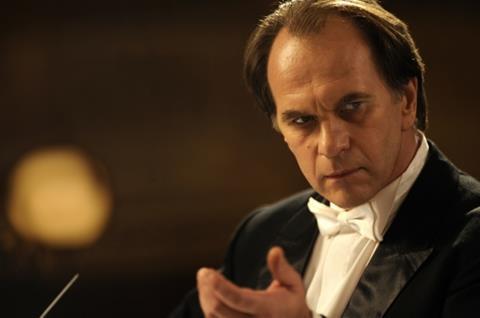 The Concert was a big seller in pre-production at the Cannes market in 2008, and it's easy to see why. The story is about a Russian conductor (Alexei Guskov) who is demoted to janitor under the Communists for his support of Jewish musicians. Years later, he intercepts an invitation for the Bolshoi Orchestra to play in Paris – and decides to accept, using the opportunity to reassemble his old orchestra, Buena Vista Social Club style, and finish the concert that was interrupted by the Communist authorities all those years before.
If only the payoff had come sooner…
However the finished product, finally emerging in Rome this week, is not quite what it should have been. Although it muddles its way through to an emotional punch, Guskov is miscast as the downtrodden hero and the film's tone overall is so broad that it spikes any emotion. The Concert's draggy middle section also loses the story's motivational thrust in a thicket of subplots, and opts for implausible melodrama just when we were starting to feel genuinely moved.
But Romanian director Mihaileanu (Train de Vie, Live and Become) has a knack for telling warm human stories about the disposessed, and two things save the day. One is Melanie Laurent, fresh from her breakout role in Inglourious Basterds, and the other is the stirring, tear-jerking, finely edited finale – all played out against the orchestra's rendition of Tchaikovsky's technically challenging Violin Concerto in D major.
Going out domestically through The Weinstein Company, this will get its first real test in Europe on its French release in early November. Its final emotional whoosh may just carry The Concert through to robust results, but it's by no means a surefire crowd pleaser in more cineaste territories.
The Concert opens briskly, establishing the fall from grace of Andrei Filipov (Guskov) from Bolshoi conductor to Bolshoi janitor in a neat montage that concludes with his interception of the invitation from the Chatelet Theatre in Paris for the Bolshoi Orchestra to play a concert in just two weeks' time.
We soon learn that Andrei's career was scotched one evening, mid-concert, after he defied Brezhnev's order to eject the Jewish members of the orchestra.
Together with his best friend Sacha Grossman (Nazarov), the old orchestra's bear-like cellist who now works as an ambulance driver, Andrei heads straight for his nemesis, Ivan Gavrilov (Barinov), a diehard Communist and former Bolshoi manager, who agrees (for mysterious reasons of his own that are rather too laboriously spun out) to help Ivan organise the concert with the sacked Jewish musicians posing as the official Bolshoi Orchestra.
Andrei will conduct Tchaiovsky himself – and he insists on having young French violinist Anne-Marie Jacquet (Laurent) as his soloist. We see from the start that there is a ghost from the past linking Andrei, Anne-Marie and her over-protective agent, Guylene (Miou Miou) – but it takes almost two hours to finally unravel it.
The first third of the film, mostly set in Moscow, zips along entertainingly, with the rounding-up-of-the-musicians sequence providing some nice moments. But on arrival in Paris, The Concert's difficult balance between near-slapstick comedy and sentimental intensity begins to wobble and drag.
Around the ninety-minute mark, though, Andrei finally lifts the baton and the concert begins. From here on in The Concert is pure weepie pleasure – and a brilliant, old-fashioned lesson in how a piece of music can be used cinematically to carry and mould an audience's emotions. If only the payoff had come sooner.
To sign up for Screen's weekly Reviews Newsletter with all the week's new releases, international openings and full festival reviews delivered free to your mailbox every Friday, please click HERE
Production companies
Oi Oi Oi Productions
Les Productions du Tresor
France 3 Cinema
Europacorp
Castel Films
Panache Productions
RTBF
Bim Distribuzione
International sales
Wild Bunch
(33) 1 5301 5030
Producer
Alain Attal
Screenplay
Radu Mihaileanu
Alan-Michel Blanc
Matthew Robbins
Story
Hector Cabello Reyes
Thierry Degrandi
Cinematography
Laurent Dailland
Production design
Cristian Niculescu
Editor
Ludovic Troch
Music
Armand Amar
Main cast
Alexei Guskov
Melanie Laurent
Dmitry Nazarov
Francois Berleand
Miou Miou
Valeri Barinov
Anna Kamenkova Pavlova