Lee Tamahori returns to New Zealand with this 1830s-set story of a man of God, played by Guy Pearce, and two warring tribes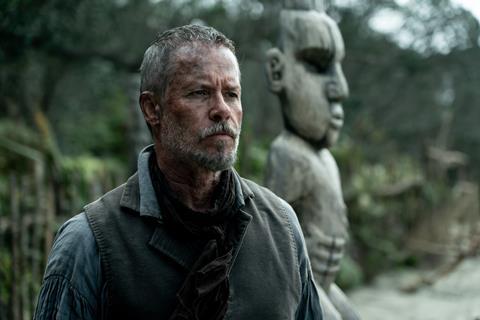 Dir: Lee Tamahori. Australia, New Zealand. 2023. 119mins
Life is tough in 1830s New Zealand; both for the newly arrived Western settlers, attempting to forge new communities in this alien landscape, and for rival Indigenous Maori tribes who, thanks to illicit new trade with white sailors, are replacing their centuries-old handmade weapons with muskets. Into this powder keg comes a man of god, newly arrived from England, who finds his faith — or what remains of it — severely tested by this new world. The Convert promises the potential for plenty of fire and brimstone but, despite some committed performances, lacks the dramatic passion that would have really left a mark.
Plays more like a morality fable than a passionate character drama
Premiering at Toronto, The Convert is a fictional narrative loosely based on Hamish Clayton's 2011 book Wulf, which frames events through the diaries of two English sailors moored off the New Zealand coast. It marks director Lee Tamahori's return to his native land, and to the big screen, after eight years; that, plus the presence of Guy Pearce and a focus on Indigenous issues, should spark wider interest. Its impressive technical credits are certainly well suited to big-screen play — although some routine plotting does serve to undermine its visual prowess.
When minister Thomas Munro (a gruff and grizzled Pearce, with British accent) makes land in New Zealand (named Aotearoa by its Indigenous people) after an arduous months-long sea voyage, the first thing he does is gallop up the beach on the back of his beloved pure-white horse. It's an unfortunate 'white saviour' visual in a production which is otherwise at pains to present an authentic portrayal of early 19th century Maori life. While the two warring tribes depicted in the film are fictional, attention to cultural and period detail runs through the film, helped by Indigenous casting, the involvement of producer Te Kohe Tuhaka (a Maori actor who also plays a small role), cultural advisor Brad Haami and a collective of Maori story producers; Tamahori himself is also of Maori descent.
The small ex-pat community of Epworth, who live on the beach where they landed (the film shot in Tamaki Makau-rau, the Maori name for Aukland, and Te Tai Tokerau) certainly hope Munro will be something of a saviour in his role as pastor in their freshly minted church; less of their souls, though, than those of the so-called local "savages" (from whom they lease the land). Munro immediately ruffles feathers when he turns up in the company of young Maori woman Rangimai (Tioreore Ngatai-Melbourne), whom he has rescued. Rangimai is the daughter of chief Maianui (Antonio Te Maioha), and looks to her father to exact revenge on rival chief Akatarawa (Lawrence Makoare), who killed her husband.
Munro himself is running from his own violent past, and on a personal mission to preach redemption and tolerance. Despite his many passionate speeches about peace and love, he finds it difficult to convince either the settlers — who have brought with them from England their corrupt, dishonest and self-serving ways — or the Maori, who believe that only blood can repay blood.
And there is plenty of it, with early skirmishes and simmering tensions made worse by the behaviour of the settlers (who have a blanket disregard for the people on whose land they now reside) and paving the way for a decisive tribal clash. Coming late in the film, this is an intense, visceral sequence. Swirling smoke obscures the lens of cinematographer Gin Loane, who moves nimbly amongst the clubbing and stabbing and devastating musket fire, putting us right in the middle of this fight. It's a propulsive moment, which underscores the shifting balance of this land, and comes in sharp contrast to the rather more static, observational framing and routine pace that has come before.
There is no denying that the film's point is roundly and repeatedly made; that Munro himself is the convert to the Maori's more principled way of life, and the settlers have much to learn from their Indigenous neighbours. In a neat, telling touch, Akatarawa wears an English military jacket; the suggestion is that some of the less honourable aspects of Western culture are leaching into this land and its people. It's one of the more subtle moments in a film that plays more like a morality tale than a passionate character drama; an approach that somewhat dilutes its impact.
Production companies: Jump Film & Television, Brouhaha Entertainment
International sales: Mister Smith Entertainment info@mistersmithent.com
Producers: Robin Scholes, Te Kohe Tuhaka, Andrew Mason, Troy Lum
Screenplay: Shane Danielsen, Lee Tamahori
Cinematography: Gin Loane
Production design: Nick Williams
Editing: Luke Haigh
Music: Matteo Zingales
Main cast; Guy Pearce, Tioreore Ngatai-Melbourne, Antonio Te Maioha, Antonio Te Maioha, Dean O'Gorman, Jacqueline McKenzie, Ariki Turner