Idris Elba and Matthew McConaughey unite for an adaptation of Stephen King's fantasy novels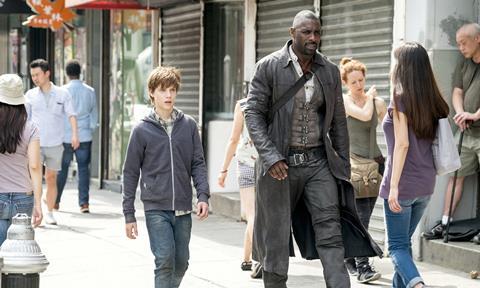 Dir: Nikolaj Arcel. US. 2017. 94mins
The Dark Tower is a wobbly construction — hardly a cinematic eyesore but also not close to being an awe-inspiring monument. Based on the Stephen King novels, this ungainly mixture of Western, fantasy, sci-fi, action, horror and fish-out-of-water comedy never finds its rhythm, delivering perfunctory blockbuster spectacle with dull competency and a smattering of familiar thematic and narrative tropes. Idris Elba makes for a dashing, haunted gunslinger assigned to safeguard the universe, but whether it's Matthew McConaughey's hammy turn as an all-powerful villain or the generic effects work, The Dark Tower proves to be a movie filled with faint ambitions and an even weaker pulse.
Arcel produces action sequences that are effective but recycle techniques from other directors without adding much that is new
Hitting US theatres August 4 and UK screens two weeks later, this Sony release will rely on Elba, McConaughey and King's names to lure audiences to a film with little buzz. Expect dismissive reviews and moderate theatrical grosses — although The Dark Tower may find a more welcoming reception in home video and cable.
The movie is actually told from the perspective of Jake (Tom Taylor), a troubled New York teen who is experiencing visions of a massive tower in the middle of a desolate location. It turns out he's not imagining things. Soon he's on the run from malicious creatures who want to kidnap him. The boy's visions lead him to another realm, where he meets Roland (Elba), the last of a league of gunfighters who protect the Dark Tower, a structure at the centre of the universe that helps ward off evil forces. The wicked wizard known as The Man In Black (McConaughey) is determined to kill Roland and enslave Jake so he can use the boy's supernatural powers to destroy the tower and bring chaos to the galaxy.
Directed and co-written by Nikolaj Arcel (A Royal Affair), The Dark Tower is a lean 94 minutes, but at the expense of character development or emotional engagement. The film plays out like an extended pilot episode for a forthcoming dramatic series: we mostly meet the central figures, get an idea of the landscape, and establish the stakes. But The Dark Tower spends so much time setting up the incredibly complicated rules of its fantasy world — including how people can travel from one portal to another — that exposition takes up more screen time than action scenes.
Elba exudes a taciturn cool that makes him a prototypical Man With No Name in the grand tradition of Clint Eastwood's steely antihero. The actor has a decent rapport with the rather inexpressive Taylor, becoming an unlikely father figure to a teen still grieving for his dead father. And when The Dark Tower moves the story from Roland's rugged outpost community to Jake's frenetic New York City, Elba shows his understated comedic side as this Wild West-attired gunslinger tries to adapt to the Big Apple.
Unfortunately, Elba's quiet command is the film's one bright spot. As the Man In Black, McConaughey tries to affect a snide, blasé tone, speaking softly as if to suggest that his character is so powerful and evil that he barely needs to expend any energy. It's a choice that proves distracting rather than inspired, never reaching the level of true menace that he effortlessly conveyed in Killer Joe. Additionally, he and Elba don't have much chemistry, severely dampening the impact of this supposedly ages-old conflict between their two characters.
Arcel produces action sequences that are effective but recycle techniques from other directors without adding much that is new. His rudimentary approach carries over to The Dark Tower's more potentially poignant material. As the cowboy and the teen learn to become a team, Roland teaches Jake the code of the gunslinger, but the emotional content of these scenes is so brusquely glossed over that it's impossible to care much about the connection the characters are forming.
Reportedly budgeted at only $60 million — low by studio standards for a summer action film — The Dark Tower boasts little visual pizzazz, and the film's collection of scary monsters and other special effects have a tell-tale cheapness to them that underlines the overall paucity of storytelling ingenuity. At the movie's conclusion, Arcel leaves room for the possibility of sequels. But the prospects for a Dark Tower 2 don't look so bright.
Production companies: Columbia Pictures, MRC, Imagine Entertainment, Weed Road
Worldwide distribution: Sony Pictures, www.sonypictures.com
Producers: Akiva Goldsman, Ron Howard, Erica Huggins
Executive producers: G. Mac Brown, Jeff Pinkner
Screenplay: Akiva Goldsman & Jeff Pinkner and Anders Thomas Jensen & Nikolaj Arcel, based on the Dark Tower novels by Stephen King
Cinematography: Rasmus Videbaek
Production design: Christopher Glass
Editors: Alan Edward Bell, Dan Zimmerman
Music: Tom Holkenborg
Website: www.thedarktower-movie.com
Main Cast: Idris Elba, Matthew McConaughey, Tom Taylor, Claudia Kim, Fran Kranz, Abbey Lee, Katheryn Winnick, Jackie Earle Haley