The second film from Chris Morris follows a Miami preacher who becomes the unlikely focus of an FBI terrorist sting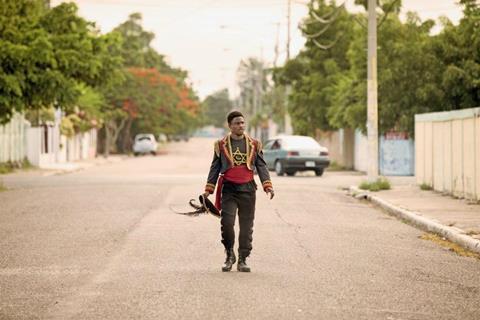 Dir: Chris Morris. UK, USA. 2019. 87mins
What starts out as an abrasive satire about US federal agents trying to make up their quota of neutralised homeland security risks ends as something unexpectedly profound and sad. The sophomore feature from Chris Morris is a weaponised comedy which concludes with real poignancy. Using the story of Moses (impressive newcomer Marchant Davis), a hapless and impoverished Miami preacher with a congregation of four who becomes the focus of an FBI terrorist sting, the film calls out the cynical manufacture of crises to serve as rungs on the career ladder. And it reiterates the fact that contemporary America is not an easy place to be a black man – particularly not one who believes he can talk to animals and destroy construction equipment with the power of his mind.
Brisk editing and a skittish handheld camera contribute to the sense of spare economy in a film which makes its point concisely and efficiently
The opening titles inform us that the film, which is co-written by Morris and Four Lions screenwriter Jesse Armstrong, is "based on a hundred true stories". It's a deliberately vague statement, but audiences wouldn't have to look too far to find resonances with a US law enforcement so preoccupied with the idea of a home-grown terror threat that it will create its own suspects, just so it can terminate them.
While Morris's profile is highest in the UK, where the film will likely find its most receptive theatrical audience, his stint as a director on the US series Veep will be a useful reference point for other territories. The film shares with the series a similarly tart and unvarnished view of the savage, sweary machinations of power and the expendable status of the powerless. Following the world premiere in SXSW, further festival screenings seem likely.
Moses – full moniker Moses Al Bey Al Shabazz, in what may be a nod to the name adopted by Malcolm X and his family – has constructed an ambitiously complex belief system which encompasses everything from the prophet Mohammed to 'Black Santa'. Moses preaches that a time will come when the "accidental dominance of the white race" will be at an end and that the cranes of gentrification will fall. Until that point, he is vehemently against guns but does allow the most militant of his followers to carry a toy crossbow.
After a botched operation fails to secure a prosecution, the FBI is looking for a new target. Ambitious agent Kendra (Anna Kendrick) mentions Moses and his race war rhetoric as a potential risk. Her boss (Denis O'Hare), keen to retire on a high, enthusiastically sets up a sting involving a fake IS benefactor offering money and guns. Moses has no interest in his own personal arsenal, but he is facing eviction from his farm so the money is tempting. But the money is contingent on accepting the guns.
What soon becomes clear is that Moses is not a legitimate threat. Mental health issues are inflamed by his refusal to stay on his meds. He believes that both God and the devil communicate with him through a duck. He is convinced that the CIA has a cache of dinosaurs which, when the time is right, he'll be able to summon with a blast on an air horn. Kendra tries to scale back the operation but the layers of deception and temptation have taken on their own momentum.
Brisk editing and a skittish handheld camera contribute to the sense of spare economy in a film which makes its point concisely and efficiently. And on the strength of the tragicomic climactic final scene alone, Davis's status as a talent to watch is assured.
Production companies: See-Saw Films, Archer Gray
International sales: FilmNation Entertainment info@filmnation.com
Producers: Iain Canning, Emile Sherman, Anne Carey, Chris Morris, Derrin Schlesinger
Screenplay: Chris Morris, Jesse Armstrong
Editing: Billy Sneddon
Cinematography: Marcel Zyskind
Production design: Lucio Seixas
Music: Jonathan Whitehead, Sebastian Rochford, Chris Morris
Cast: Marchant Davis, Anna Kendrick, Pej Vahdat, Danielle Brooks, Calah Lane, Kayvan Novak, James Adomian, Danielle Brooks, Denis O'Hare