Tom Holland, Robert Pattinson star in Antonio Campos's grim Netflix thriller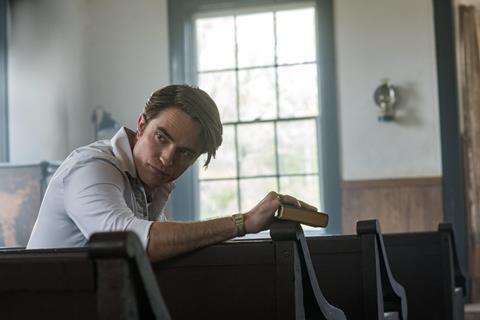 Dir: Antonio Campos. US. 2020. 139mins.
Early in The Devil All The Time, a father warns his boy that "there's a lot of no-good sons of bitches out there." That's certainly true of the characters who populate this pitiless, somewhat monotonous study of the darkness that lurks in the hearts of men. Christine director Antonio Campos introduces us to a world in which murder, violence, and suicide are commonplace, but he fails to find much new to say about this bleak thematic terrain. An adaptation of Donald Ray Pollock's 2011 novel, Campos' grim Netflix thriller is a cavalcade of bad behaviour disguised as flinty commentary on toxic masculinity and might-makes-right morality.
An assortment of wretched human beings who aren't particularly compelling.
Streaming on the service from September 16, the film will benefit from a starry cast that includes Tom Holland and Robert Pattinson. Tonally, the picture may remind viewers of similar meditations on violence such as No Country For Old Men, but the downbeat tone and expected mixed critical reaction should limit the potential audience.
Spanning the 1940s to the 1960s, and set in small towns in Ohio and West Virginia, The Devil All The Time chronicles a couple of generations of disparate characters who will find themselves intermittently touching each other's lives. Willard (Bill Skarsgard), a former soldier traumatised by the horrors he saw in World War II, raises his sensitive son Arvin (Holland as a young adult) to stand up to bullies, while Carl (Jason Clarke) and Sandy (Riley Keough) are a married couple traveling around picking up hitchhikers — only to take photographs of their unsuspecting victims before killing them. And orphaned Lenora (Eliza Scanlen) — who grew up with Arvin, who loves her like a sister — encounters a slimy reverend named Preston (Pattinson), who has conned his congregation into thinking he's a true believer.
In films like Simon Killer and Christine, Campos incisively explored the turbulent unease within his central characters, daring his audience to embrace prickly, sometimes self-destructive figures. In the past, the audacity of his vision and the magnetic allure of his actors' performances made his risk-taking stories deeply rewarding.
Unfortunately, The Devil All The Time simply feels mannered and self-satisfied, luxuriating in the story's nihilism and relentless dreariness. (Pollock narrates with the affected grizzled detachment of an Old Testament preacher or ageing outlaw.) Though richly shot by cinematographer Lol Crawley — who gives the backwoods settings an almost mythic grandeur — the film stubbornly refuses to hypnotise the viewer, leaving us with an assortment of wretched human beings who aren't particularly compelling.
Running well over two hours, The Devil All The Time eventually settles on Arvin as its default protagonist, a young man who knows he has a penchant for violence instilled in him by his father, but Holland fails to make that inner struggle resonate. Others in the ensemble, particularly Keough and Clarke, are hamstrung by the fact that they've played these types of degenerates before, so there's scant surprise in discovering just how unwholesome Sandy and Carl are. As for Pattinson, Preston is such an obvious heathen that there's nowhere for the actor to go except campy indulgence.
To be sure, Campos wants to critique America's brutal, aggressive tendencies. (It's no coincidence that the picture is bookended by World War II and the Vietnam War — symbols, respectively, of the country's triumph and humiliation.) Sexism and religious fanaticism are poxes on the land, and people choose taking their own life rather than face a regressive society. And similar to the work of Cormac McCarthy, The Devil All The Time has a particularly dim view of American men, who can only respond by lashing out in savagery — destroying others (and sometimes themselves) because they have no other way to process their emotions.
Campos doesn't seem to know how to transcend what's now cliched about such observations, and the film's overlapping character arcs — although intended to suggest that these luckless individuals are fated to run into one another — comes across instead as convoluted and self-important. And the picture's exaggerated worldweary attitude doesn't help matters. "Some people were born just so they could be buried," a tormented cop (Sebastian Stan) says near the end of The Devil All The Time, an indication of the pithy faux-wisdom Campos dispenses.
Production companies: Bronx Moving Co., Nine Stories
Worldwide distribution: Netflix
Producers: Randall Poster, Jake Gyllenhaal, Riva Marker, Max Born
Screenplay: Antonio Campos & Paulo Campos, based on the novel by Donald Ray Pollock
Production design: Craig Lathrop
Editing: Sofia Subercaseaux
Cinematography: Lol Crawley
Music: Danny Bensi, Saunder Jurriaans
Main cast: Tom Holland, Bill Skarsgard, Riley Keough, Jason Clarke, Sebastian Stan, Haley Bennett, Harry Melling, Eliza Scanlen, Mia Wasikowska, Robert Pattinson