Dir: Charlie McDowell. US. 2017. 101mins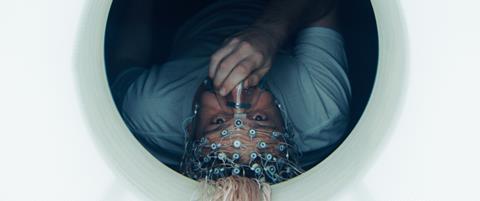 A killer premise leads to only so-so execution in The Discovery, an ambitious sci-fi drama which imagines what would happen if humanity learned definitively that there was an afterlife. In his follow-up to The One I Love, filmmaker Charlie McDowell again combines the fantastical and the emotional, using bold concepts to examine age-old questions about regret and alienation.
Combining parts of the mad-scientist movie, the horror film, the romantic drama and the sci-fi indie, The Discovery is initially absorbing.
A fine cast headed by Jason Segel and Rooney Mara operates on the same muted, forlorn wavelength, and while the movie overdoes the plot twists and existential musings, The Discovery is a diverting head-trip whose reach far exceeds its grasp.
Netflix will be streaming The Discovery on March 31, and the movie could find a cult audience — its self-consciously distant approach and twisty narrative are probably too esoteric for mainstream crowds. Still, Segel and Rooney are joined by Robert Redford, Riley Keough and Jesse Plemons in the ensemble, so discriminating art-house viewers may get on board.
The Discovery kicks off in a not-so-distant future in which a neuroscientist, Dr. Thomas Harbor (Redford), has proven that there is a world after this one. Two years later, though, humanity has experienced more than four million suicides, with everyone from celebrities to ordinary people deciding they'd rather dwell in this afterlife.
McDowell, who co-wrote the film, introduces us to Will (Segel), Harbor's estranged son, who visits his father's remote island fortress to plead with the neuroscientist to give up his continued quest to map the afterlife. Along the way, he meets a beautiful but troubled young woman, Isla (Mara), who wants to kill herself but is persuaded to help Will get to the bottom of what Harbor's discovery really is.
Combining parts of the mad-scientist movie, the horror film, the romantic drama and the sci-fi indie, The Discovery is initially absorbing. Working with cinematographer Sturla Brandth Grøvlen, McDowell drapes the widescreen images in a desolate, almost bleached-out look, all the better to suggest both humanity's bleak future and the subtly unsettling tenor of Harbor's big, empty mansion in the middle of nowhere.
The tense reunion between father and son — not to mention the prickly attraction felt between Will and Isla — gives The Discovery's apocalyptic premise a human dimension, and the actors bring a stripped-down realism that helps sell the film's admittedly farfetched conceit.
But soon, McDowell introduces a mystery component to the mix. In his studies of what the afterlife looks like, Harbor is trying to turn the electronic impulses coming from a recently deceased man into concrete video images. But what Will sees on the monitor is a puzzle: is it the dying man's last moments while alive? Or are these scenes from the new realm where he resides?
Will and Isla's search for answers — and their attempts to keep them from Harbor, who may be deranged after being cooped up in his mansion for so long — provides The Discovery its forward momentum. But the script is far better at establishing this brave new world than it is in unspooling its narrative surprises. Without revealing what occurs, let it be said that The Discovery settles for a somewhat conventional explanation for its central riddles, utilising familiar sci-fi tropes that, while still enjoyable, aren't quite as stunning or moving as McDowell believes them to be.
Nevertheless, Segel's melancholy Will is convincingly eaten up by unresolved feelings about his father and their shared family tragedies. Mara brings a tempestuousness to Isla that's spiky but also sympathetic. And although the 80-year-old Redford doesn't have the command he once did, his regal presence is enough to portray an obsessive doctor who, in his pursuit of uncovering what waits for us in the next life, has pushed aside everybody in this one.
Production companies: Netflix, Endgame Entertainment, Protagonist Pictures, A-LO Films
Worldwide distribution: Netflix, www.netflix.com
Producers: Alex Orlovsky, James D. Stern
Executive producers: Julie Goldstein, Lucas Smith, Mike Goodridge, Dimitra Tsingou, Hunter Gray, Charlie McDowell, Ian Bricke, Matt Levin
Screenplay: Charlie McDowell & Justin Lader
Cinematography: Sturla Brandth Grøvlen
Production design: Akin McKenzie
Editor: Jennifer Lilly
Music: Danny Bensi and Saunder Jurriaans
Main Cast: Jason Segel, Rooney Mara, Jesse Plemons, Riley Keough, Ron Canada, Robert Redford