A rich, gentle story about a lasting friendship with conventional arthouse appeal shares the Jury Prize at Cannes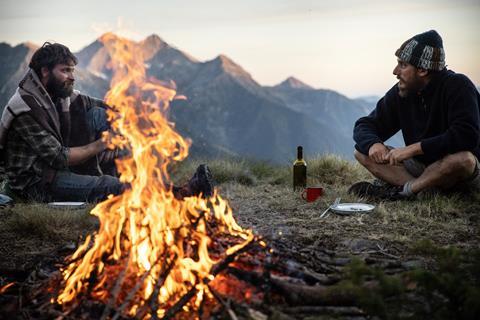 Dir/scr: Felix van Groeningen, Charlotte Vandermeersch. Italy/Belgium/France. 2022. 147 mins
A friendship between two boys, one from the mountain country of the Aosta Valley, the other who spends much of his life boxed in by the walls of his family's Turin apartment, is forged one glistening, endless summer. 12-year-old Pietro's family rents a house in a village where Bruno is the only remaining child; they bond while scrambling over rocks and tumbling through meadows. As adults, played by Luca Marinelli and Alessandro Borghi respectively, the friendship is a constant in lives which contrast in every other way. It's a rich, involving piece of storytelling from husband and wife filmmaking team Felix van Groeningen and Charlotte Vandermeersch.
It's a fairly conventional, risk-averse piece of filmmaking, but the film's gentle, meandering story works its way to a conclusion
Eight Mountains is a film which retains a novelistic leisure in its approach, a legacy from its source material, the Italian bestseller of the same title by Paolo Cognetti. Not everything works – the central metaphorical theme, the eight mountains of the title, is perhaps something which sits more comfortably in literature than in cinema; the score is a little overbearing. But the tone, a pleasing blend of Jack London and Elena Ferrante, should have considerable appeal for older arthouse audiences.
It's a collaboration which started out as a pandemic lockdown writing project for van Groeningen and Vandermeersch, who previously co-wrote the van Groeningen-directed The Broken Circle Breakdown together. With its themes of connection – with the natural world, with other people, with a simpler, more elemental way of life – the appeal of the material during the height of Covid claustrophobia is clear. The film's message, of opening one's eyes to the important things in life, of reappraising priorities, remains one which is likely to be identifiable. It should find an audience at further festivals and with fans of spectacular scenery and uncynical middlebrow tales of deep emotional connections between men of few words.
The Aosta Valley region, shot over a period of seven months to capture the full scope of its weather, is an arresting backdrop. It's the kind of vista which would normally demand widescreen photography, but the choice here is to capture it in a tighter, boxy aspect ratio. It works well, accentuating the steep angles, the breathless climbs, emphasising the drama of the landscape. The mountains are a forceful presence throughout, in a film which argues that they fundamentally change the personalities of the people who spend time with them. Pietro, for much of his early adult life estranged from his father Giovanni (Filippo Timi), belatedly realises that his had two fathers: the grey-skinned, short-fused father who toiled in Turin, and the father who, for a few weeks a year, scaled the peaks of the Aosta region, eyes brightened by rekindled curiosity about the world. Since Bruno only knew the second version of Pietro's father, his relationship with him was a deep one, he found in Giovanni a replacement for his own absent and dysfunctional father.
As adults, Bruno stays rooted to the mountain which shaped his family history, Pietro adopts a nomadic existence but finds himself drawn to hill country the world over. They're brothers in all but blood, and there's a touch of fraternal rivalry in Pietro's reaction when he discovers the bond between Bruno and his late father. The pair decide to honour Giovanni by realising his dream and building a summer house on a plot of land high on the flank of the mountain. There are a few too many musical montages set to accordion-heavy compositions by Daniel Norgren, with lyrics which are a little on the nose (themes are snow, climbing mountains, friendship). It's a fairly conventional, risk-averse piece of filmmaking, but the film's gentle, meandering story works its way to a conclusion which plays out in a minor key, suggesting that certain cycles are hard to break and that even a seemingly idyllic life comes at a cost.
Production companies: Wildside, Rufus, Menuetto, Pyramide Productions, Vision Distribution
International sales: Vision Distribution catia.rossi@visiondistribution.it
Producers: Mario Gianani, Lorenzo Gangarossa
Screenplay: Felix van Groeningen, Charlotte Vandermeersch, based on the book The Eight Mountains by Paolo Cognetti (published in Italy by Giulio Eianudi Editore)
Cinematography: Ruben Impens
Editing: Nico Leunen
Production design: Massimiliano Nocente
Music: Daniel Norgren
Main cast: Luca Marinelli, Alessandro Borghi, Filippo Timi, Elena Lietti, Cristiano Sassella, Lupo Barbiero, Andrea Palma, Francesco Palombelli, Elisabetta Mazzullo