Maite Alberdi follows up 'The Mole Agent' with this deeply moving story of a couple coping with Alzheimer's disease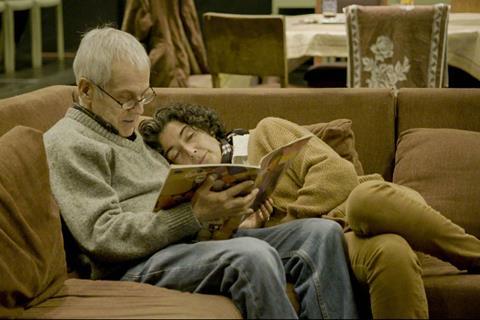 Dir: Maite Alberdi. Chile. 2023. 85 mins.
Heartbreak, hope and history play off each other to compelling effect in Chilean director Maite Alberdi's The Eternal Memory, an intimate, understated and often wrenching portrayal of a couple under pressure from Alzheimer's disease, which has won the top prize in the World Cinema Documentary section of Sundance. A follow-up to Alberdi's multiple-award winning, Oscar-nominated The Mole Agent, and an extension of a 2016 short she made about Alzheimer's, Memory inevitably teases out the meanings that ripple out from this family tragedy into the wider tragedy of Chile under the Pinochet dictatorship, and the dangers of political forgetfulness. But the connections never feel forced, and are always handled with the compassion, delicacy and psychological perspicuity that are the director's stylistic hallmarks.
Unusually direct, moving and deceptively simple exploration of love - and of film - as defences against forgetting
At times, The Mole Agent felt as though Alberdi's main interest was less in her off-beat protagonist than the elderly people he lived with in his care home. Shorn of the earlier film's witty contrivances and quirkiness, in a sense The Eternal Memory puts the hidden areas of those lives stage centre. But viewers should still be drawn to this unusually direct, moving and deceptively simple exploration of love – and of film – as defences against forgetting. MTV Documentary picked up worldwide rights at Sundance.
Paulina Urrutia and Augusto Gongora have been together for 25 years and married since 2016. Paulina is an actor and former Chilean Culture Minister. Augusto is a former writer and TV and radio journalist 17 years her senior, who was involved in bringing Pinochet's crimes to a mass audience in the 1970s and 80s. He was diagnosed with Alzheimer's in 2014, and the film is the fruit of Alberdi's four-year access to their relationship (Paulina and Augusto have made media appearances in Chile in recent years as a way of raising awareness of Alzheimer's, and The Eternal Memory can be seen as a part of that process.)
"I am here to remind you who Augusto Gongora was," Paulina murmurs to her husband in the darkness of their bedroom in an emotionally wrenching opening sequence, and the film tries to do the same thing for us. Moving between footage shot by Paulina herself, footage shot by Alberdi, and footage from history – both home video and newsreels – Memory is first and foremost a deeply personal, and occasionally painfully voyeuristic, portrait of their marriage as the disease inexorably and tragically exerts its hold over Augusto's mind and body.
At the start, they're a happy couple, deeply and enviably in love, learning to live with a problem; by the end, Paulina is overwhelmed with the idea that the visibly aged, increasingly bitter Augusto is forgetting who she is, and the enforced isolation of Covid-19 is doing nothing to help. They are still lovely people, but the laughter that accompanies the early scenes has gone, replaced by melancholy smiles as she tries, increasingly frustratedly, to jog Augusto into remembrance when he can no longer recognize his own face, let alone hers.
The Eternal Memory is also about Chile. Much of its force comes from the cruel irony that the professional life of the brave and exemplary journalist Augusto was dedicated to the preservation of the memory of crimes that the Pinochet sought to erase: in the 80s, he ran an underground news service and later contributed to a book called Chile, the Forbidden Memory, from which this film's title presumably derives. (He's no longer able to read, and perhaps the most touching moment of a film that is inevitably full of them has Paulina reading back to him the dedication he wrote to her on the book's publication.) The brutal murder of a close friend of Augusto's under the Pinochet regime forms one particularly dark thread, showing that a strong sense of injustice continues to burn inside Augusto even as he enters dementia.
But there is humour also, and a great deal of joy. To the amusement of Paulina and Augusto themselves, we see a glimpse of Augusto delivering a frankly dreadful performance in a Raul Ruiz miniseries; later, a shot from a holiday video shows Augusto slowly zooming in on Paulina's happy face, a bittersweet foreshadowing of what her camera is now doing to him, 25 years on. This is just one example of Carolina Siraqyan's superb editing; the music, however, though always apt and affecting, is laid on too often and heavily.
As the title suggests, the focus is entirely on memory. The messy, practical day-to-day realities of caring for someone with Alzheimer's are sidelined. But viewers who may be living with the consequences of the condition will find inspiration in Paulina. Steadfast, largely uncomplaining, and always positive, she embodies the truth that, despite the cliché, love is a very powerful thing indeed. It is in Paulina's fortitude, and in her determination to keep her love alive, that the hopefulness of The Eternal Memory is found.
Production companies: Micromundo, Fabula
International sales: Submarine schwartz@submarine.com.
Producers: Maite Alberdi, Juan de Dios Larrain, Pablo Larrain, Rocio Jadue
Screenplay: Maite Alberdi
Cinematography: Pablo Valdes
Editing: Carolina Siraqyan
Music: Miguel Miranda, Jose Miguel Tobar