Dir. Klaus Haro. Finland/Estonia/Germany, 2015. 99 mins.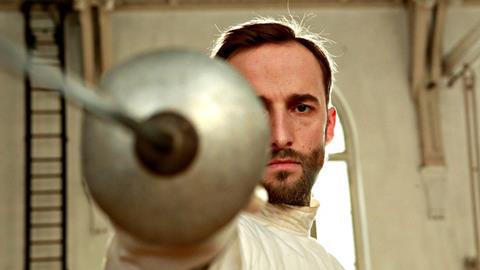 Klaus Haro's The Fencer – the director's fifth film to be submitted by Finland to the Academy Awards and the first to make the shortlist – is a solid, conventional drama, distinguished mainly by its milieu. Set in 1952 rural Estonia where a champion athlete has fled to escape the attentions of the Russian secret police, The Fencer plays an entirely predictable match right down to its final bout, but the period Soviet Block setting gives the game an interesting hook, and DoP Thomo Hutri's muted location shots prove atmospheric.
The Fencer plays out with few real surprises, but director Haro and screenwriter Heinamaa have settled on an appealing, conventional formula
The Fencer is a film built on solid narrative blocks and should travel well on VOD in international markets, burnished by its unexpected Oscar attention and Golden Globe nomination. Screenwriter Anna Heinamaa has adapted all the conventions faithfully to tell a heart-warming story loosely based on real-life, and although The Fencer isn't quite targeted at the art house market, it does have potential wider appeal on TV.
Mart Avandi is watchable as champion fencer Endel Nelis, a buttoned-up loner who must lie low in order to save his own life. (The real-life Nelis did, in fact, establish a fencing school which still exists today).
Nelis flees Leningrad for the small town of Haapsalu, Estonia, where he takes an under-the-radar job as a sports master at the local school. The town and its folk have been under the thumb of Russia since the end of the Second World War, but Nelis will, over the course of 99 minutes, inadvertently prod them awake.
Although he's clearly no fan of children at the outset, the stern Nelis soon starts a fencing club at the school. He begins to make friends, and enemies. Chief among the latter is the nasty apparatchik head teacher (Hendrik Toompere Sr).
But cute schoolgirl Marta (Liisa Koppel) is exceptionally charming, sulky teenager Jaan (Joonas Koff) is motivating, and fellow teacher Kadri (Ursula Ratasepp) is beguiling, so soon enough Nelis finds himself being charmed out of his shell into becoming a team player. And when the headmaster moves to have the club shut down, local peasants - led by Jaan's grandfather (Lembit Ulfsak) - band together to support the prof.
The next stop is, of course, back to Leningrad, and a National fencing competition which sets the rural Estonian no-hopers against the slick Russian pros – but what will happen to 'Comrade Nelis' if he takes part?
The Fencer plays out with few real surprises, but director Haro and screenwriter Heinamaa have settled on an appealing, conventional formula, reminiscent in some ways of the old-style Miramax Oscar bids such as Il Postino. In that sense, Hutri's drab Soviet palette and Jaagup Roomet's period sets are a great, atmospheric help, although Gert Wilden's score can veer towards being too emphatic.
Production company: Making Movies Oy
International sales: Little Film Co, robbie@thelittlefilmcompany.com
Producers: Kaarle Aho, Kai Nordberg
Screenplay: Anna Heinamaa
Cinematography: Tuomo Hutri
Editors: Ueli Christen, Tambet Tasuja
Production design: Jaagup Roomet
Music: Gert Wilden Jr
Main cast: Lembit Ulfsak, Mart Avandi, Ursula Ratasepp, Ann-Lisett Rebane, Piret Kalda, Liisa Koppel, Kirill Karo