Dir. J Blakeson. US. 2016. 112 mins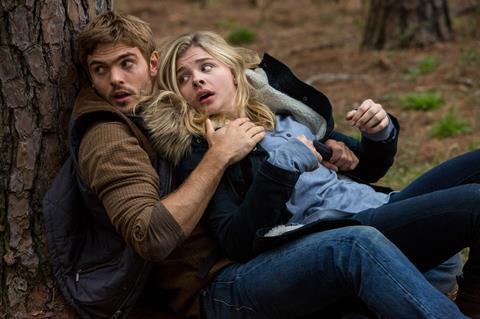 A series of attacks against humanity fuels The Fifth Wave, with the earth's populace struggling to survive an electronic pulse, natural disasters, avian flu, and, finally, the systematic picking off of all the stragglers left behind. In adapting Rick Yancy's young adult novel of the same name, the film also rides another wave. Retracing the footsteps of Twilight, The Hunger Games, Divergent, and The Maze Runner series, it joins the ever-growing list of efforts keen to jump on the teen-focused franchise bandwagon.
It feels padded, its focus on establishing a springboard for future sequels rather than satisfactorily exploring its own narrative
Shades of those four features colour this J Blakeson-directed feature, his second after 2009 thriller The Disappearance of Alice Creed. A dystopian premise, plucky heroine, and potential love triangle combine in a movie that's as generic as it sounds, complete with a just-as-standard alien invasion plotline thrown in. Should the target market warm to it — and given the recent trend, that's certainly possible, albeit with more modest success than its predecessors — a spate of sequels is likely. In print, The Fifth Wave is the first book in a trilogy, with the final installment set to be published in mid 2016. Sony has snapped up the rights to all three.
When we first meet protagonist Cassie Sullivan (Chloë Grace Moretz), she's running through the forest, then making her way cautiously through an empty convenience store. There, she finds a man holding a gun but begging her not to fire her own weapon. She might be compelled to shoot in what she thinks is a kill-or-be-killed scenario, but she's also troubled by her actions. In its opening scene, The Fifth Wave establishes its fascination with the impact of extreme circumstances upon the mindset of ordinary people. That's the feature's most interesting element, though any thoughtfulness quickly gives way to cliché.
Indeed, the earnest narration that follows sets the standard, as Cassie informs the audience in trite teen soundbites that her life is now far from normal. Via journal entries rendered on screen as flashbacks, she describes the day a giant floating spacecraft appeared over the planet, then fleshes out the subsequent waves of destruction. After surviving the chaos thus far, she settles into a refugee camp with her father (Ron Livingston) and younger brother, Sam (Zackary Arthur). Enter the army, overseen by Colonel Vosch (Liev Schreiber), who is eager to ship the kids off to another site - although Cassie gets left behind.
Trying to make her way to Sam proves difficult, resulting in a tentative alliance with a farm-dwelling college student, Evan Walker (Alex Roe), who could be a friend or a foe. Simultaneously, Sam is stationed in a squad of child soldiers led by Cassie's high school crush, Ben Parish (Nick Robinson). Told by the no-nonsense Sergeant Reznik (Maria Bello) that the extra-terrestrial invaders have burrowed into the brains of human hosts, these children are trained to hunt and kill, with the group also including requisite smart kid Dumbo (Tony Revolori) and the tough-talking Ringer (Maika Monroe).
The contemplation of lost humanity in times of war again rears its head in these military-set segments, courtesy of a twist few won't see coming; however The Fifth Wave never makes a genuine attempt to transcend its youthful sci-fi melodrama confines. Instead, the script by Susannah Grant (The Soloist), Akiva Goldsman (Insurgent) and Jeff Pinkner (The Amazing Spider-Man 2) patches together sequences of devastation, combat and rebellion which could have come from any similar offering, as well as a romance so cheesily written that it incites laughs.
And, like many films designed to double as opening chapters in ongoing screen sagas, The Fifth Wave always feels padded, its focus on establishing a springboard for future sequels rather than satisfactorily exploring its own narrative.
At least it looks the part, with technical efforts polished across the board. The routine images of spectacle — brief, bleak sights of planes falling out of the air and tidal waves enveloping cities — never brandish their special effects too blatantly, while Maze Runner cinematographer Enrique Chediak and Seventh Son editor Paul Rubell invest the film with a sense of energy that the screenplay lacks.
Less convincing is Moretz, saddled with another leading role that doesn't quite suit, like the maudlin If I Stay and horror remake Carrie before. Indeed, the appearance of It Follows breakout star Monroe doesn't help; where Monroe stands out, Moretz could be playing the same character from many of her past efforts. Much of the rest of the cast is wasted, particularly Livingston and Maggie Siff in thankless, blink-and-you'll-miss-them turns, though other supporting players will likely benefit from increased screen time should subsequent features get the green light.
Production companies: Columbia Pictures, GK Films, LStar Capital, Living Films, Material Pictures
Contact: Sony Pictures
Producers: Tim Headington, Graham King, Tobey Maguire, Matthew Plouffe
Executive producer: Richard Middleton
Screenwriters: Susannah Grant, Akiva Goldsman, Jeff Pinkner
Cinematography: Enrique Chediak
Editor: Paul Rubell
Production design: Jon Billington
Main cast: Chloë Grace Moretz, Nick Robinson, Ron Livingston, Maggie Siff, Zackary Arthur, Alex Roe, Maika Monroe, Tony Revolori, Maria Bello, Liev Schreiber