Marcus Vetter's fascinating documentary gives rare behind-the-scenes access to the World Economic Forum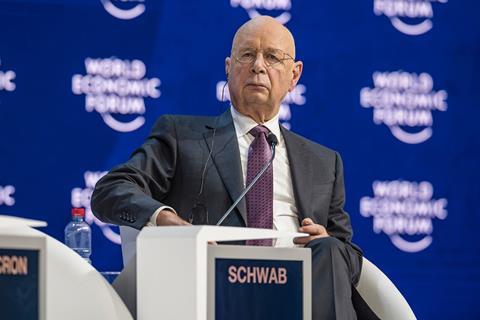 Dir. Marcus Vetter. Germany, Switzerland. 2019. 118mins
As the first independent filmmaker in 50 years to be granted behind-the-scenes access to the World Economic Forum, documentarian Marcus Vetter has achieved quite a feat before he's even set the camera rolling. That he has gone on to craft a fascinating and admirably balanced deep dive into the organisation that brings together the elite from the worlds of politics, big business and beyond is something to be celebrated, and which more than justifies its near two-hour running time.
Vetter strikes an admirable balance between more serious diplomatic moments and quirkier interactions
Shot across two years and featuring footage from the meetings at Davos in Switzerland in 2018 and 2019, this is a film that touches on a raft of global issues, from Brazilian deforestation and Brexit to the rise of populism and corporation tax avoidance. The Forum was released in Germany on November 6 ahead of its international premiere at IDFA and, with so many topics and so much of the world covered, it's likely to hold plenty of interest for documentary distributors further afield.
At the heart of the film is Professor Klaus Schwab, the 81-year-old whose brainchild the WEF was and who displays such incredible diplomatic skills that you wonder what he might have achieved as a head of a country. His aim is to further social cohesion across the globe by creating dialogue between those who might not otherwise listen to one another. There are plenty who are skeptical about how successful the WEF has been at improving the world, however, and they are given a voice here too. That includes Greenpeace International's executive director Jennifer Morgan, who talks about the "mega group-think" of elites that is "99 per cent status quo" rather than a movement for change.
Vetter uses Morgan's attendance at the WEF, along with the multifaceted subject of climate change, to help give his documentary structure. He also departs from the WEF's annual meetings in the film's mid-section to consider some of the projects it is helping to facilitate, including improving blood delivery logistics in Rwanda and pushing for sustainable palm oil in Indonesia.
If 2018, largely represents the status quo — with the likes of US President Donald Trump, French President Macron and then UK Prime Minister Theresa May in attendance — 2019 sees them stay at home, while populists like Brazilian premier Jair Bolsonaro and the next generation of activists, spearheaded by Greta Thunberg, have a more prominent voice. All the while, we see Schwab keeping the conversation wheels turning, or thoughtfully responding to Vetter's questions regarding the WEF's impact and its more controversial strategic partners. Schwab and his colleagues are grooming egos to an extent, but they also speak, as Morgan puts it, "Truth to power" — such as when Myanmar's premier Aung San Suu Kyi finds herself quizzed about the Rohingya refugee crisis and jailed journalists.
Vetter strikes an admirable balance, too, between these more serious diplomatic moments and quirkier interactions, whether its watching Schwab discuss who should be given the gift of a cowbell or a crystal or observing Bolsonaro standing like the loneliest belle at the ball at a drinks party before he falls into an unintentionally hilarious conversation with vice-president Al Gore. Edited with an eye on maintaining pace by Vetter and his team, Marcel Vaid's news-report style score is employed sparingly, but helps to drive the film along.
Production company: Gebrueder Beetz Filmproduktion
International sales: info@gebrueder-beetz.de
Producer: Christian Beetz
Cinematography: Georg Zengerling
Editing: Marcus Vetter, Ana R. Fernandes, Andre Nier, Michele Gentile
Music: Marcel Vaid