Dirs/scr: Chris Lofing, Travis Cluff. US. 2015. 81mins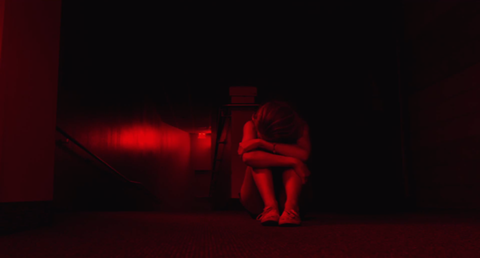 Recalling everything from Paranormal Activity to Prom Night to The Phantom of the Opera, high school-set found-footage horror yarn The Gallows offers up few new ideas and very few genuine scares. Though it carries the brand of horror-meister Jason Blum, this New Line production, with a cast that's little known even by horror standards, doesn't seem likely to rank among the Paranormal Activity producer's more lucrative ventures.
The killer, when eventually revealed, has few of the elements necessary in a genre icon
A wide US release – with a barely-earned R rating – on July 10 sets the film up as summer counter-programming, but worldwide distributor Warner may have to work against found-footage genre fatigue (Paranormal Activity: The Marked Ones grossed a modest $32.5m domestically last January as that franchise's fifth installment). Familiarity could be less of a problem in international markets (where The Marked Ones took $58.4m), though the cast and setting might be drawbacks.
A prelude to the main action shows parent-shot footage of a high school play – also titled The Gallows – in which a student is accidentally hanged. In what seems like an unlikely move, the same school decides to stage the play again 20 years later.
On the eve of the opening, and for various selfish reasons, four students – cute guy Reese (played by Reese Mishler), drama queen Pfeifer (Pfeifer Brown), Reese's obnoxious jock pal Ryan (Ryan Shoos) and Ryan's cheerleader girlfriend Cassidy (Cassidy Gifford, from God's Not Dead) – sneak into the school auditorium. (Use of the actors' real first names was meant to add to the reality feel.)
Soon, with Ryan's video camera recording everything, the kids find themselves trapped – with no mobile phone reception, of course – and stalked by a masked hangman figure.
Making their feature debuts, writer-directors Chris Lofing and Travis Cluff at least deliver a mix of paranormal and slasher tropes that, if not exactly original, hasn't been seen for a while. And they find some fairly spooky settings in the bowels of the school theatre.
But the human characters are hardly sketched and the shocks come mostly through the use of sound effects and smash cuts. The killer, when eventually revealed, has few of the elements necessary in a genre icon and when his motivation finally becomes clear it's too little, too late to elevate this strictly generic outing.
Production companies: New Line Cinema, Blumhouse Productions, Entertainment 360, Tremendum Pictures
Worldwide distribution: Warner Bros Pictures
Producers: Jason Blum, Guymon Casady, Dean Schnider, Benjamin Forkner, Chris Lofing & Travis Cluff
Executive producers: Dave Neustadter, Walter Hamada, Couper Samuelson, Brad Jacobson, Steven Imhoff, Steven Hrdlicka, Debbie Hrdlicka
Director of photography: Edd Lukas
Production designer: Stephanie Hass
Editor: Chris Lofing
Music: Zach Lemmon, 10K Islands
Website: http://thegallowsmovie.com/
Main cast: Reese Mishler, Pfeifer Brown, Ryan Shoos, Cassidy Gifford.