Edgar Nito's impressive debut is a brutally effective thriller set around Mexico's underground fuel pipelines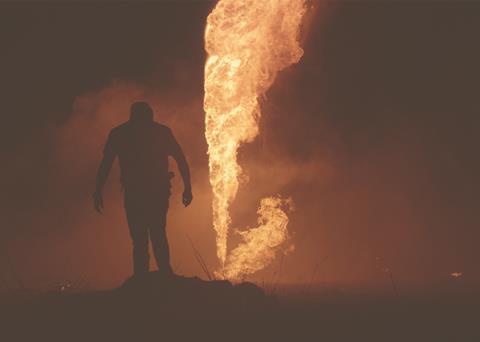 Dir: Edgar Nito. Mexico/Spain/US/UK. 2019. 93mins
A thriller titled The Gasoline Thieves screams for the adjective "high-octane", but it doesn't do the movie justice. To be sure, Mexican director Edgar Nito's pacey first feature trades in mounting tension, violence, and catastrophe. It's as a socially urgent character study of a naïf lured into deadly crime that the film excels, however. Much of the credit is owed to newcomer Eduardo Banda's moving performance as the unassuming 14-year-old protagonist Lalo, who becomes the third member of a crew that illegally but profitably siphons petrol from underground pipelines.
Edgar Nito has made an auspicious debut about a world that looks as if it's going to hell.
A strong contender for the Tribeca Film Festival's International Competition prize – and for decent international release thereafter – The Gasoline Thieves (aka Huachicolero) couldn't be more timely. Only three months have passed since a pipeline explosion at Tiahuelilpan in Hidalgo resulted in the deaths of at least 135 people. The rupture in the pipeline was attributed to fuel thieves. The cartels responsible for Mexico's fuel theft epidemic costs Pemex, the state oil company, an estimated $3 billion annually. It has caused other disasters, driven up gas prices, and increased the murder rate, especially in Guanajuato, where The Gasoline Thieves is set.
Lalo, who recalls the in-over-his-head young drug runner in Ken Loach's Sweet Sixteen (2002), lives one rung above poverty with his single mother (Myriam Bravo). He works part-time on the farm owned by his wizened neighbor Don Gil (Fernando Becerril), who is involved in fuel theft on a much more humble level than the local gangsters. The old man looks out for the boy to the end.
When Lalo asks his high-school crush Ana (Regina Reynoso) if she'll become his girlfriend, Lalo learns from her and her highly amused friends that wooing requires a charm offensive and the buying of gifts. The friends recommend that he buy Ana a smartphone. The film takes several anti-capitalist, anti-sexist potshots at selfie-taking and WhatsApp messaging as vices to which girls are especially susceptible. Though Lalo has saved money from his farm work, it's not enough to buy Ana a phone; his stash disappears anyway when his mother takes it to help pay for an operation for a desperately ill cousin. To make money fast, Lalo accepts an invitation from the twentysomething Rulo (Pedro Joaquín) to go with him and his older cousin Mariano (Pascacio López), the duo's cartel connection, on their nocturnal gasoline raids.
Nito and his co-writer Alfredo Mendoza give Mariano a socialistic speech in which he denounces the government and a political system designed to keep the people "stunted" and "poor", which justifies, he says, the huachicoleros' work as modern-day Robin Hoods. Mariano shows his true colours when, on finishing his lecture, he threatens to kill Lalo if he steps out of line – which, of course, he does. Mariano and Rulo's vile attitudes toward women meanwhile contrast with Lalo's tender puppy love for Ana, though time spent in their sleazy company starts to pollute him. That Rulo is Lalo's sexually predatory rival for Ana has enormous consequences for their individual fates.
Whereas some films of the third modern Mexican new wave have an international flavour, The Gasoline Thieves maintains a harsh indigenous look. Cinematographer Juan Pablo Ramírez captures the locals' dirt-poor circumstances through punctuating shots: a close-up of a mangy dog, a shot of Ana glimpsed through a dirty window. But Nito eschews observational realism. Carlo Ayhllón's pulsating original score and Ramîrez's mobile camerawork increasingly amp up the action. If some of the added soundtrack songs strike a discordant note, notably over a mid-film montage, that's a mere quibble. Nito has made an auspicious debut about a world that looks as if it's going to hell.
Production companies: Nobody, Various Lobos, Screen Division, Alliance Media Partners, Harriet
International sales: AMP International Ltd. Timo Suomi, timo@amp-film.com
Producers: Victor Léycegui, Amick Mahnert, Joshua Sobel
Screenplay: Alfredo Mendoza, Edgar Nito
Production design: Omar Conde
Cinematography: Juan Pablo Ramírez
Editor: Sam Baixault
Music: Carlo Ayhllón
Main cast: Eduardo Banda, Regina Reynoso, Fernando Becerill, Myriam Bravo, Pedro Joaquín, Pascacio López, Leonardo Alonso