A British drug lord attempts to do business with an American dynasty in Guy Ritchie's latest crime caper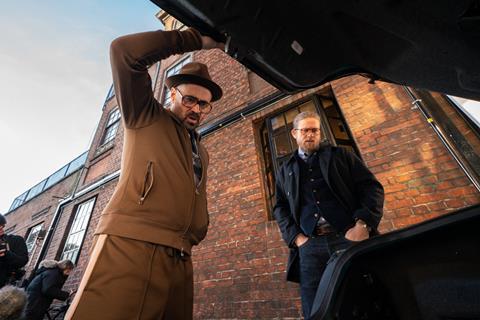 Dir/scr. Guy Ritchie. US. 2020. 113mins.
Charting a bloody turf war between London drug barons, The Gentlemen is a disposable crime caper on autopilot. Propped up by an all-star ensemble, particularly the sturdy Charlie Hunnam and scene-stealer Colin Farrell, Guy Ritchie reclaims the genre that brought him to fame but does little more than shuffle battered parts into an intermittently entertaining configuration. While recycling the familiar, leaning on stylised violence and unleashing a flurry of self-satisfied dialogue have long been the writer/director's specialty, this isn't a return to form. And, even though it arrives so soon after his blockbuster Aladdin remake, this certainly not a whole new world, rather a routine return to an easy, well-greased template.
A dressed-up rehash of the filmmaker's glory days
Still, thanks to original hits Lock, Stock and Two Smoking Barrels and Snatch, Ritchie's gangster fare has fans who will be pleased to see the filmmaker leave his over-amped versions of Sherlock Holmes and King Arthur behind. That — plus the lure of fellow stars Matthew McConaughey, Hugh Grant, Henry Golding and Michelle Dockery — will likely be enough to gain audience attention, although timing may help. Opening on January 1 in the UK and Australia, the film should entice a male-heavy demographic which has already seen Star Wars: The Rise of Skywalker weeks beforehand. (It releases on January 24 in the US.)
A feature which is as light on surprises as it is on profanity-free banter — swearing seems to have been mistaken for humorous swagger — The Gentlemen's biggest risk stems from its storytelling gimmick. Linear narratives have rarely appealed to Ritchie, so here the bulk of the story is relayed by scotch-swilling, cockney-accented private detective Fletcher (Grant) to enforcer Ray (Hunnam). Spinning a yarn about ex-Rhodes Scholar-turned-marijuana kingpin Mickey Pearson (McConaughey), who is spoiling to sell his lucrative British empire to American compatriot Mathew (Jeremy Strong), Fletcher tells the tale as if he's reading a screenplay. In fact, he has also written one.
Really, that just gives Grant an excuse to exclaim "smash cut" and other filmmaking terms while Ritchie's regular editor James Hebert and cinematographer Alan Stewart dutifully follow suit. It also gives the director license to jump frenetically between subplots while drip-feeding crucial information. There's much bickering, blackmail and brutality to tease; volatile up-and-comer Dry Eye (Golding) has designs on Mickey's business and wife Ros (Dockery), and boxing trainer Coach (Farrell) becomes involved when the teens he's teaching — rap crew Toddlers, who record their antics for YouTube — brazenly rip off one of Mickey's hidden dope farms.
As Lock, Stock and Snatch demonstrated successfully, and Revolver and RocknRolla far less so, Ritchie's crime films thrive or die based on how convincingly they reuse their by-the-numbers basics. In The Gentlemen's case, skewing millennial via the Toddlers can't push the movie into the upbeat, irreverent and relevant territory it covets — or make it feel fresh. A few energetic action scenes make a splash, a couple of comic lines hit their marks and the heavy use of tartan tracksuits visibly stands out, but this is still a dressed-up rehash of the filmmaker's glory days.
Although audience-friendly, Ritchie's cast is left shouldering an oversized load. Just landing on the right side of cartoonish, Grant is nonetheless lively, slippery and nicely served by his back-and-forth with the contrastingly stern Hunnam. As for Farrell in Vinnie Jones mode, he's the most in-sync with the dialogue's rhythm — a must in a film with plenty of it. But, as the token big-name US import, it's McConaughey who sums up The Gentlemen's fortunes best. He looks the suave part; however he also could have wandered in from any other glossy crime caper.
Actually, one late visual flourish perhaps encapsulates the movie even better, screaming its allegiance to formula in a striking yet oh-so-familiar image. Positioned from below, peering up at Farrell and Hunnam from a car boot, the shot is instantly recognisable — because, like too much in this slick but flimsy gangster piece, Ritchie keeps using variations of it across his filmography.
Production company: Miramax
US distribution: STX Films
Producers: Guy Ritchie, Ivan Atkinson, Bill Block
Screenplay: Guy Ritchie, based on a story by Guy Ritchie, Ivan Atkinson and Marn Davies
Cinematography: Alan Stewart
Editor: James Herbert
Production design: Gemma Jackson
Music: Christopher Benstead
Cast: Matthew McConaughey, Charlie Hunnam, Henry Golding, Michelle Dockery, Jeremy Strong, Eddie Marsan, Colin Farrell, Hugh Grant