Beatriz Sanchis' second feature follows two female runaways escaping their troubles in LA for the Mexican border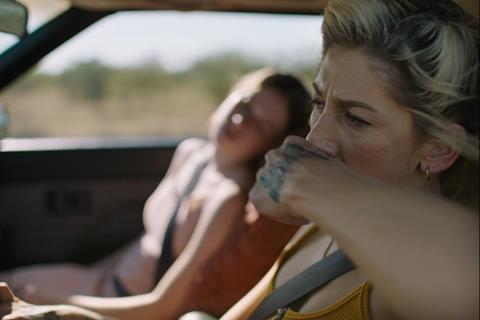 Dir: Beatriz Sanchis. Mexico/US. 2021. 94 mins.
The road movie and the coming-of-age drama are fused to mixed effect in Spaniard Beatriz Sanchis' second feature, the languidly told tale of a thirty-something and her teenage charge as they flee their old lives and head for the Mexican border. Following her internationally well-received debut They Are All Dead—a distinctive magical realist item for which Elena Anaya took the best actress award at Malaga 2014—The Gigantes has the feel, given the richness of its premise, of a missed opportunity, but remains a distinctive piece with enough interest to potentially generate international interest from indie-spirited festivals.
The landscapes are endless and stunning, and Sanchis has no problems milking the desert iconography for all it is worth.
There is not much magic about this latest project, but gritty realism abounds. Spiky of hair and heels and saddled with debt, JJ (Samantha Jane Smith, a non-professional who was a table dancer when Sanchis signed her up) decides to leave Los Angeles. In order to pick up a few dollars for the journey, she serves drinks at a birthday party for well-to-do but unhappy 14-year-old Esmeralda (Andrea Sutton). Other kids are noticeable by their absence at this event, and JJ ends up punching a guy's lights out for making a pass at her. Having witnessed the scene, Esmeralda steals money from her mother (Ana Layevska, who delivers a truly excruciating birthday speech) and hides under the bed while her mother and JJ's assailant have sex. Esmeralda, in other words, has good reason for wanting to leave.
After JJ and Esmeralda hit the road, The Gigantes turns into a different kind of film—drifting and episodic, and punctuated by onscreen titles that tell us how far they have travelled (the first one comically says "1 Mile"). Their second stop, at a surreal roadside motel apparently inhabited by beer-drinking Diane Arbus subjects, ends with a creepy muscleman trying to get physical with Esmeralda in a swimming pool. The girls make their escape, but, hearing from a friend that the police are onto them, JJ sells the car, and they make it over the border hiding in the back of a truck surreally carrying a massive statue of the Virgin Mary.
Nobody's asking for Thelma and Louise Part 2, but for a film about two runaways, one of them a teenager, there is remarkably little urgency about The Gigantes—and given their apparent lack of interest, even the local cops must be enjoying a siesta. Slowly—too slowly—it becomes clear that JJ is going back to patch things up with her ex and that Esmeralda's journey is to find her father, a failed film-maker.
The relationship does eventually spark into life, each vying for position as carer of the other as they start to understand their wounds. But until then, perhaps born out of the differences in class and age, there are too many oddly unrhythmical, faltering conversations as they struggle to come to an understanding, with the lengthy, reflective pauses hinting at a deeper significance that it's hard to find. To many, the ending will be morally unpalatable, straddled as it is somewhere between a bid for freedom by JJ and an almost criminal dereliction of duty.
On the characterisation side, it seems as though Sanchis is at pains to evade the clichés of the golden-hearted hooker or the cute child, but she swings things so far in the other direction that they become borderline unrelatable. The film's press book rather sniffily refers to JJ as "white trash", perhaps because she's tattooed, hard-smoking, and wears denim shorts and boots. By her own admission, her life is a "shit show": she is a complex, confused character, impulsive and more interesting than the script shows her. The fragile Esmeralda, at the age where she is exploring her sexuality, is also confused, but for different reasons: with the flat, passive delivery of her lines, she appears to already be traumatised.
The landscapes are endless and stunning, and Sanchis has no problems milking the desert iconography for all it is worth. Starting with its intriguing, bilingual title, which refers to the giant cacti they pass en route to Baja California, The Gigantes ticks pretty much all the iconographic boxes. Rolling shots of wheels passing over hot tarmac; dangerous men and kind-hearted women; terrific music, both US new country and Mexican rancheras (including a terrific rendition of the classic 'Paloma Negra' by Regina Orozco, with some Paris Texas slide guitar thrown in); and lots of dust. It is all handled well by D.P. Nicolás Wong Díaz, but the cumulative weight of The Gigantes' sense of style leaves it wanting at the human level, which is what matters most.
Production companies: Animal de Luz Films, Cazador Solitario Films, Cebolla Films, Godius Films, Índice.
International sales: Animal de Luz Films rogelio@animaldeluz.com
Producers: Inna Payán, Luis Salinas
Screenplay: Beatriz Sanchís, Marty Minnich
Editing: Beatriz Sanchis, Sergio Solares Alvarez, Sonia Sanchez Carrasco
Cinematography: Nicolás Wong Díaz
Production design: Luisa Guala
Music: Aaron Rux
Main Cast: Samantha Jane Smith, Andrea Sutton, Regina Orozco, Ana Layevska