Claire Foy steps into the shoes of enigmatic cyber-hacker Lisbeth Salander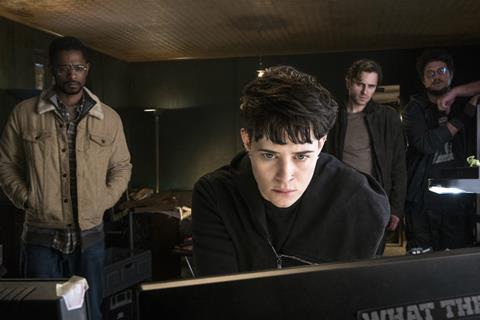 Dir: Fede Alvarez. US. 2018. 116mins.
The Girl In The Spider's Web is a dutifully stylish action-thriller that tries to shift Lisbeth Salander into the realm of James Bond, Jason Bourne and Batman. But although it's directed with slick skill by Fede Alvarez, the movie — inspired by late author Stieg Larsson's original novels and adapted from David Lagercrantz's 2015 book — ends up feeling like so many modern movie properties, which get revamped and rebooted due to corporate commercial interests that minimise what made the material special in the first place. Claire Foy proves to be a perfectly respectable Salander, but like Spider's Web itself, the elaborate effort put forth hardly seems worth it.
Foy capably portrays Salander's emotional reserve and razor-sharp smarts, but the performance mostly just recalls Rapace and Rooney Mara's similar wiry turns
After its premiere at the Rome Film Festival, Spider's Web will come to the US on November 9 and the UK on November 21. David Fincher's Oscar-winning English-language remake of The Girl With The Dragon Tattoo grossed $233m worldwide back in 2011, and that total may be too high a bar for this new instalment. Fans of The Crown will recognise Foy, but otherwise the ensemble lacks major box-office draws.
As the film begins, expert cyber-hacker Lisbeth Salander (Foy) is approached by a computer programmer, Frans (Stephen Merchant), who needs her help to retrieve from the US government a powerful weapons system that he now regrets designing for them. Salander successfully steals the programme, but her thievery attracts the attention of Needham (Lakeith Stanfield), an NSA agent who travels to Stockholm to get the weapons system back. But soon Salander discovers that it's not just the Americans who want this valuable and dangerous programme.
Alvarez (Don't Breathe) works with production designer Eve Stewart and cinematographer Pedro Luque Briozzo to ensure that nearly every shot in Spider's Web is striking, giving us an eye-popping palette of blacks, whites, silvers and moody greys. Less a detective thriller than Fincher's Dragon Tattoo — to say nothing of the original Noomi Rapace trilogy — Spider's Web ramps up the action set pieces and fancy gadgetry, giving Foy the opportunity to engage in myriad car chases, shoot-outs and fight sequences.
To be fair, this sequel tries to celebrate the character's status as a feminist hero, making her the film's clear centrepiece and relegating her journalist colleague and occasional paramour Mikael Blomkvist (Sverrir Gudnason) to the margins. On screen, Salander has always been a resourceful protagonist, but in Spider's Web she engages in the sort of high-octane adventure we're used to from Bond and Bourne. (Also, tellingly, several of the film's most important characters are women, including Sylvia Hoeks as Salander's enigmatic sister, who will factor into this hunt for the weapons programme.)
Foy capably portrays Salander's emotional reserve and razor-sharp smarts, but the performance mostly just recalls Rapace and Rooney Mara's similar wiry turns. And the movie's strategy to make the character more of an action hero only speaks to Spider's Web's nagging familiarity and limitations. Although Alvarez emphasizes Salander's noble quest to be a crusader for abused and victimized women — a mission that feeds into a tragic, ironic backstory we'll learn about in Spider's Web — the sequel's soulless execution and autopilot narrative twists neuter whatever emotional undercurrents might surface.
That said, Alvarez showcases his ability to craft some muscular set pieces, draping the proceedings in the same mournful spirit that has enveloped previous instalments. He's less confident, however, in drawing rousing performances from his ensemble. Blomkvist is meant to be more of a passive love interest, but nonetheless Gudnason is a dull presence. Hoeks' character will become one of Spider's Web's most crucial, but the actress doesn't bring much fire. Thank goodness, then, for Stanfield, whose boundless charisma and sly wit are huge assets, although the character isn't particularly memorable.
Lacking the freshness of the original trilogy or the meticulous, insidious tone of Fincher's film, Spider's Web mostly feels like a holding action to ensure that more sequels can be made in the future. That timidity flies in the face of this series' inherent edginess. The beauty of Lisbeth Salander's character is that she dons a lethal exterior to hide the tumult that's within her. The fatal flaw of The Girl In The Spider's Web is that, for all its superficial thrills and spectacle, there's nothing going on underneath.
Production companies: Scott Rudin Productions, Yellow Bird, Pascal Pictures, Cantillon Company
Worldwide distribution: Sony Pictures
Producers: Scott Rudin, Eli Bush, Ole Søndberg, Søren Stærmose, Berna Levin, Amy Pascal, Elizabeth Cantillon
Screenplay: Jay Basu & Fede Alvarez and Steven Knight, based on the novel by David Lagercrantz, with characters introduced in Stieg Larsson's Millennium Series originally published by Norstedts
Production design: Eve Stewart
Editing: Tatiana S. Riegel
Cinematography: Pedro Luque Briozzo
Music: Roque Baños
Main cast: Claire Foy, Sverrir Gudnason, Lakeith Stanfield, Sylvia Hoeks, Stephen Merchant