Brie Larson, Woody Harrelson and Naomi Watts headline this adaptation of Jeannette Wells' best-selling memoir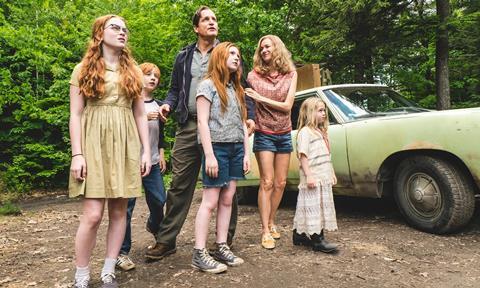 Dir: Destin Daniel Cretton. US. 2017. 127mins
Brie Larson and Destin Daniel Cretton, star and director, respectively, of 2013 festival favourite Short Term 12, re-team for the affecting, if less intense and occasionally meandering drama of The Glass Castle. But it's Larson and Woody Harrelson's portrayal of a loving yet fraught daughter-father relationship that forms the foundation of this dysfunctional family saga based on a best-selling memoir.
Larson never really gets to show off the acting chops that won her a haul of awards for 'Room'
Cast, story and literary pedigree should boost box office prospects when The Glass Castle opens wide in the US through Lionsgate on August 11 and in other territories, mostly through independents, over the early autumn months. The challenge for distributors will be to ensure that this relatively low-key tale doesn't fall into the gap between specialised and mainstream markets.
Cretton and Andrew Lanham (The Shack) adapted the eponymous 2005 memoir by American journalist Jeannette Wells about her seventies childhood in an eccentric family that often lived off the grid, without creature comforts but with plenty of familial love and an empowering sense of adventure.
After introducing Larson's Jeannette as a popular gossip columnist in eighties New York preparing to marry her financial advisor boyfriend (played by Max Greenfield, from TV's New Girl), Cretton cuts back to the young Jeannette living a mostly happy life with her charismatic father Rex (Harrelson), bohemian mother Rose Mary (Naomi Watts), two sisters and brother.
As the free-spirited family travels from town to town, we see the fun side of Rex and the roots of his special bond with Jeannette (impressively played as a nine-year-old by Ella Anderson, from TV's Henry Danger). But there are also hints that Rex's tough love attitude towards his kids will lead to trouble.
When the family settles in the declining West Virginia mining town that's also home to Rex's sinister mother (Robin Bartlett, from Cannes 2015 prize-winner Chronic), he begins to fall prey to his darker side. He lets the kids go hungry while he boozes and forgets his dream of building a solar-powered home – the Glass Castle – for the family.
Larson - who in this role never really gets to show off the acting chops that won her a haul of awards, including an Oscar, for Room - takes over playing Jeannette when the character becomes a teen and starts planning her escape to New York to chase her dream of becoming a writer.
In its final act, the film returns to eighties New York, where Rex and Rose Mary arrive to take up residence in a squat and try to reconnect with the now high-living Jeanette and her adult brothers and sisters.
The resentment-fuelled clashes that ensue are more forced than the often touching drama of the earlier scenes. And while the death-bed reconciliation between daughter and father is a genuinely emotional moment, it's also one of a number of sequences in the story that feel inevitable rather than organic.
Production companies: Lionsgate, Netter Productions
International sales: Lionsgate www.lionsgate.com
Producers: Gil Netter, Ken Kao
Executive producer: Mike Drake
Screenplay: Destin Daniel Cretton & Andrew Lanham, based on the book by Jeannette Walls
Cinematography: Brett Pawlak
Production design: Sharon Seymour
Editor: Nat Sanders
Music: Joel P West
Website: http://www.TheGlassCastle.movie
Main cast: Brie Larson, Woody Harrelson, Naomi Watts, Max Greenfield, Sarah Snook, Robin Bartlett