Dir: Florian Hoffmeister. 2016. Germany. 103 mins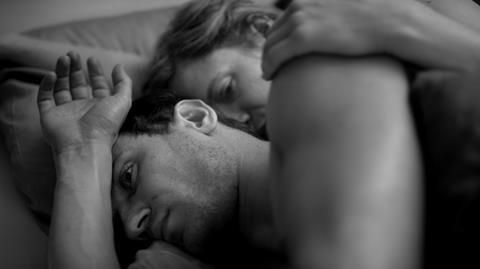 The global shifts in society following the 9/11 attacks are viewed through the prism of a strained marriage. Or at least, that's the idea. In fact, this adaptation of Katharina Hacker's 2006 German Book Prize-winning novel works better as an intimate study of a damaged relationship than it does as a broader social commentary. Even so, there are issues with plausibility which undermine the dramatic arc of Jakob (Sebastien Zimmler) and Isabelle's (Julia Jentsch) journey.
The always impressive Julia Jentsch is at her forceful best in a role which sees her slowly coming to the boil
The popularity of the novel, which has the same title as the film, is likely to be a major selling point for this production, along with the presence of Julia Jentsch in one of the two leading roles. With this in mind, and despite taking place in both Germany and the UK, this is likely to find a large audience within German-speaking territories. But while theatrical interest outside its immediate market might be limited, continued festival exposure seems likely. The film arrives in the main competition of Tallinn's Black Nights Film Festival following its premiere at the Munich International Film Festival.
This is the second feature from director Florian Hoffmeister, an acclaimed cinematographer who has worked with Terence Davies on The Deep Blue Sea and A Quiet Passion. His directorial debut was the Locarno Silver Leopard winner 3 Degrees Colder. Despite his experience as a DoP, Hoffmeister chose not to shoot the film himself; the photography, in striking black and white, is by Robert Binnall.
We are introduced to Jakob and Hans, his close friend and fellow lawyer, a few days before the 9/11. By chance, Jakob notices that Isabelle, his ex-girlfriend, appears in the video installation artwork to be shown in the gallery of one of Hans' former clients. Jakob and Hans make a deal to go to the opening, scheduled for September 11th. But while Jakob flies back early from a New York meeting to attend the event, Hans, who had also been in the US for work, never arrives.
The tragedy of Hans' death looms large over the relationship which is rekindled between Jakob and Isabelle. Their decision to marry is sudden, and given the circumstances, it seems to have been born as much out of a craving for a connection in an uncertain world as it is out of love.
When the couple relocate to London - out of a misplaced sense of guilt, Jakob has taken the job that Hans had been offered - cracks begin to show. An under-developed subplot about Jakob's new job, negotiating restitution deals, adds little to the story. And Isabelle's burgeoning friendship with a street drug dealer (Guy Burnet) who loiters around the neighbourhood and invades her personal space lacks the credibility to work as anything more than a somewhat laboured plot device.
Still, the always impressive Jentsch is at her forceful best in a role which sees her slowly coming to the boil as she is besieged by noise from her neighbours and by doom-filled news broadcasts from the radio.
Production company: unafilm
International Sales: unafilm office@unafilm.de
Producers: Titus Kreyenberg
Screenplay: Mona Kino
Cinematography: Robert Binnall
Editor: Kathrin Dietzel
Score: Adrian Corker
Main cast: Julia Jentsch, Sebastian Zimmler, Guy Burnet, Ole Lagerpusch