Dir. John Krasinski. US, 2015, 88 mins.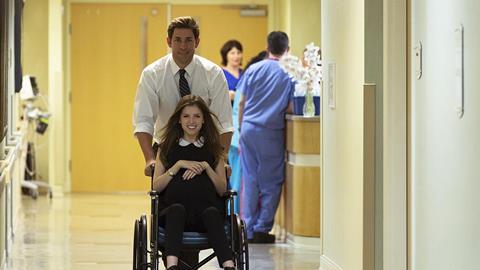 Actor John Krasinski goes behind the camera for a second time to deliver The Hollars, an affectionate look at an oddball family which is plunged into crisis when the matriarch (Margo Martindale) is diagnosed with a brain tumour. Krasinksi, also starring as the clan's commitment-shy youngest son John, aims for off-beat humour laced with high-stakes emotional drama. It's not that he fails, or that his film isn't desperately charming as it goes about its business, but this is very familiar American indie territory, and The Hollars stops well short of innovation.
There's a great turn from veteran acttress Margo Martindale which makes The Hollars worthwhile and delivers its emotional payoff.
An attractive cast – Richard Jenkins, Anna Kendrick and Sharlto Copley also assist – should ensure The Hollars finds an audience, most likely on VOD and TV play. For all the déjà vu of its squabbling family, jaunty folk music score and repeated scenes of people careening down hospital corridors in wheelchairs, there's also a great turn from veteran actress Margo Martindale which makes The Hollars worthwhile and delivers its emotional payoff.
In fact, when it comes to Martindale's character Sally and her relationship with her terrified, almost bankrupt husband Don (Jenkins), The Hollars can come across like an Anne Tyler book; there are hints of disappointment in their 38-year marriage but also an over-riding love. Their vulnerability is both pitifully human and easily relatable. Her bravado and, finally, raw terror, in the face of life-changing surgery is affecting, thanks to the strong performance Krasinski elicits from his leading lady, with ballast from the ever-reliable Jenkins.
Elsewhere, though, The Hollars can come across like every quirky indie film you've ever seen, and then some, revolving around reluctant, oddball men who "need to be pushed" into their adult responsibilities via births, marriages, and deaths, in rapid succession. (The use of sudden-onset-labour as a dramatic device needs to carry a caution, especially if it's used twice.)
John has left his home in Mississipi for the bright lights of New York where he has found a rich girlfriend in Rebecca (Anna Kendrick), but no job satisfaction in his quest to become a cartoonist. She's in advanced stages of pregnancy and makes pet clothes, but John can't commit to marriage. Racing back home to tend to his beloved mother, he runs into his ex-girlfriend Gwen (Mary Elizabeth Winstead), now married to Jason (Charlie Day), the nurse responsible for Sally's care.
South African actor Sharlto Copley, meanwhile, has the thankless task of embodying older brother Ron, a couple of raisins short of a fruitcake, who has left his wife and children because "I just wasn't ready,", lives in his parent's basement, and pees into a juice jug. Now the family must try to pull together, although for most of the film they bounce off in different directions - Ron to stalk his ex-wife, John to avoid his responsibilities, and Don to the bank manager to try to save his business from bankruptcy.
Actor Krasinski, fresh from 13 Hours, directs The Hollars from a script by Jim Strouse, his second turn behind the cameras after another title which launched at Sundance, Brief Interviews With Hideous Men, and his guidance is competent. Technical credits are solid enough, although the vision stops short of being cinematic.
Production companies: Sycamore Pictures, Sunday Night
International sales: WME
Screenwriter: Jim Strouse
Producers: John Krasinski, Tom Rice, Allyson Seeger, Ben Nearn
Executive producers: Michael London, Janice Williams, Mike Sablone, Jim Strouse
Cinematography: Eric Alan Edwards
Production designer: Daniel B. Clancy
Editor: Heather Persons
Music: Josh Ritter
Main cast: Sharlto Copley, Charlie Day, Richard Jenkins, Anna Kendrick, John Krasinski, Margo Martindale, Mary Elizabeth Winstead.