Dir: Cedric Nicolas-Troyan. US/UK 2016, 114mins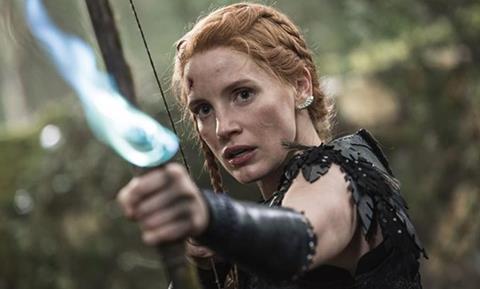 The Huntsman: Winter's War, a live-action fairytale and prequel of sorts to 2012's Snow White And The Huntsman, scavenges Frozen and Maleficent and feasts on the Lord of the Rings and the animated films Shrek and Brave, to serve up a shiny, sprawling, if profoundly silly, studio spectacular. Charlize Theron's evil Morwenna is joined by Emily Blunt as her frosty ice queen sister Freya, although any sense they might break into a rendition of Let It Go! is soon drowned out by James Newton Howard's swollen score.
The wheels really start to fall off the Huntsman's wagon when four digitally-shrunk British and Welsh actors turn up to make terrible dwarf jokes
Lavish costuming and attractive special effects coupled with an A-list cast which also includes Thor's Chris Hemsworth and Jessica Chastain should attract pre-teens and above when Universal starts its global rollout with an April 4 launch in the UK (the US opens on April 22, the same day as Matteo Garrone's far more sinister and sinuous Tale of Tales goes on release). Notices are unlikely to be heroic, and word-of-mouth could run tepid, but this film has an in-built audience - the original took just under $400m globally, Maleficent hauled in $758m two years later, and Frozen's $2.2bn would be a jewel in any ice queen's crown.
Frozen is clearly the main inspiration here, grafted onto a Huntsman's origins story – neither Kirsten Stewart's Snow White nor her director Rupert Sanders return, and the focus instead is on the hunky Huntsman, played again by Hemsworth with the focus on his fit, rugged physique. Cedric Nicolas-Troyan steps up from second unit and effects supervisor on the original to direct a busy screenplay by Evan Spiliotopoulos and Craig Mazin, taking over from Hossein Amini.
The writers, perhaps understandably, have decided death should hold no dominion over Charlize Theron's deliciously evil Ravenna, and have awarded her an embittered sister, Freya, played by Emily Blunt, who establishes a cruel ice kingdom where love is not allowed. The mirror is still lurking around, waiting for the right wall, and voiceover narration is both omnipresent and very necessary to de-Tangled this busy plot.
Freya's arctic realm is where the Huntsman's childhood plays out, kidnapped and enslaved to Freya's army but enraptured by his fellow fighter, the flame-haired Sara (Jessica Chastain, Brave's Princess Merida come to life). We have been told, though, that the Huntsman's wife is dead, and Winter's War skips back and forth between time zones to give us an origins story as well as a codicil to Snow White's happily ever after (her handsome prince, played again by Sam Claflin, does make a cameo appearance). Sometimes the journey is distracting, if not dizzying, especially when goblins and dwarves get involved and characters develop a habit of coming back to life.
Nicolas-Troyan presides over a technical team which provides the ultimate in modern, fluid effects – from Morwenna's sinister arsenal to Orc-like goblins, all presented in pristine, efficient 3D. Colleen Atwood goes to town on costumes for Morwenna and Freya in particular, and the overall vision is sumptuous.
The action itself is a little less smooth, however, and the wheels really start to fall off the Huntsman's wagon when four digitally-shrunk British and Welsh actors turn up to make terrible dwarf jokes. Their accents – from Sheridan Smith's cockney to Rob Brydon and Alexandra Roach's Welsh tones – may compliment Hemsworth and Chastain's bogus Scottish voicework, but it's a bizarre sub-plot, inspired no doubt by Hobbits but adding nothing to a film which already has far too much on its hands.
Theron and Blunt have fun with their parts, with the newcomer opting for a chilly, blank rendition of Freya's icy pain to contrast with Morwenna's fire and fury. Indeed, if judged by fluid effects work, Atwood's stunning costumes, and the fun of watching Theron and Blunt reach new heights of arch camp, The Huntsman: Winter's War is a triumph. By any other measure, though, it's a far more qualified prospect, even down to its bland theme song, performed by Halsey.
Production companies: Universal Pictures, Perfect World Pictures, Roth Films
International distribution: Universal
Producer: Joe Roth
Executive producers: Sarah Bradshaw, Palak Pater
Screenplay: Evan Spiliotopoulos, Craig Mazin, based on characters created by Evan Daugherty
Cinematography: Phedon Papamichael
Production design: Dominic Watkins
Editor: Conrad Buff
Costume design: Colleen Atwood
Music: James Newton Howard
Main cast: Chris Hemsworth, Emily Blunt, Charlize Theron, Jessica Chastain, Nick Frost, Rob Brydon, Sheridan Smith, Alexandra Roach, Sam Claflin