Dir. Jon Favreau. USA, 2016, 105 mins.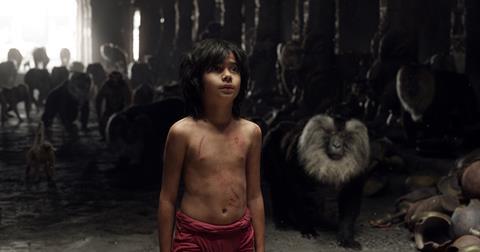 Transporting Rudyard Kipling's beloved The Jungle Book, its dense wilderness surroundings and anthropomorphised animals into the live-action realm seems a difficult task; however with Jon Favreau in the director's chair, a high-profile cast lending their voices to the tale's iconic talking creatures, and — most importantly — the latest in special effects wizardry turning the movie into a photorealistic spectacle, Disney makes it look easy. Nearly half a century ago, the studio turned the author's collection of stories into an animated hit. Given the visual wonder of its second adaptation, as well as the corresponding emotional resonance, it should easily be able to repeat the feat.
The level of detail on display is likely to evoke the same jaw-dropping reaction as James Cameron's Avatar.
Bowing in Australia on April 7 before reaching Europe and the US the following week, the timing of The Jungle Book's release should be its only concern, with the film slotting into cinemas between the superhero onslaughts of Warner Brothers' Batman v Superman: Dawn of Justice, Universal"s The Hunstman: Winter's War and Disney's own Captain America: Civil War. Comic book fatigue may give this feature an initial boost, though, with word-of-mouth doing the rest.
That is guaranteed to focus on one topic: the stunning sights Favreau, cinematographer Bill Pope (TV's Cosmos: A Spacetime Odyssey), production designer Christopher Glass (Arthur Newman), and the teams at WETA, Digital Domain and Moving Picture Company have created. Favreau has other effects-heavy films on his resume, 2008's Iron Man among them, but the fact that he was inspired by Avatar is telling here. The level of detail on display — making more than 70 animal species look just like the real thing, rendering thriving natural backgrounds with textures even the naked eye wouldn't see, using 3D imagery to largely add depth within the frame, and betraying the green screen-dominated production only in more static shots and dialogue-centric moments — is likely to evoke the same jaw-dropping reaction as James Cameron's box office topper.
Conjuring up a serving of visual magic is one thing, of course; bringing Kipling's characters and narrative to life is another. Screenwriter Justin Marks (Street Fighter: The Legend of Chun-Li) doesn't seek to reinvent Kipling's tales, or reiterate the animated feature's script, but to synthesize the two into a layered coming-of-age package. In fact, fans of both — including the darker themes at play on the page, and the enchanting tunes such as The Bare Necessities and I Wanna Be Like You that helped the first Disney film earn such endearing and enduring status — should be pleased. And, in a move that will ensure the faithful but fun movie still appeals to families, the bleaker content is handled with care and subtlety.
Once more, Mowgli (Neel Sethi) is a man-cub in an animal kingdom that first nurtures him, and then threatens his survival. Found as a baby by panther Bagheera (Ben Kingsley), he is left with wolves Akela (Giancarlo Esposito) and Raksha (Lupita Nyong'o) to raise as their own, an arrangement that works until sly tiger Shere Khan (Idris Elba) learns of Mowgli's existence. A standoff ensues, with the big cat bloodthirsty, the alpha dog and his pack protective, and the boy volunteering to leave to keep the peace. Fearing for his safety elsewhere in the jungle, Bagheera endeavours to escort Mowgli to the nearby man-village.
Swinging, swimming and scampering his way across colourful terrain, adventure peppers his journey — with Mowgli almost falling into the clutches of seductive python Kaa (Scarlett Johansson), befriending honey-obsessed sun bear Baloo (Bill Murray), and being brought before fire-coveting Bandar-log King Louie (Christopher Walken) — until Shere Khan crosses his path once again. In the process, the film contemplates the literal scars that mankind can leave upon nature, the true meaning of family and the voyage of self-discovery that all children must eventually embark upon, as pieced together with warmth and insight that's never too sentimental or obvious.
Newcomer Sethi, in his first feature appearance, is as instrumental as the movie's aesthetic and technical achievements in that regard — and in immersing audiences in The Jungle Book's many delights, too. Considering the motion-captured company he keeps, that's no small achievement. Murray's vocal stylings are an amusingly winning fit for everyone's favourite singing bear, and King Louie is the role Walken was born to speak, but Sethi holds his own as the human heart of the tale. And, while his cheeky yet charming escapades through an intricately realised, mythic world all prove more than enough to make eyes pop and hearts swell, so does another inclusion: The Jungle Book is also the last screen credit for the late Garry Shandling.
Production companies: Fairview Entertainment, Moving Picture Company, Walt Disney Pictures.
Distribution: Walt Disney Motion Picture Company
Producers: Jon Favreau, Brigham Taylor.
Executive producers: Peter Tobyansen, Molly Allen, Karen Gilchrist.
Screenwriter: Justin Marks
Cinematography: Bill Pope
Editor: Mark Livolsi
Production design: Christopher Glass
Music: John Debney
Main cast: Neel Sethi, Bill Murray, Ben Kingsley, Idris Elba, Lupita Nyong'o, Scarlett Johansson, Giancarlo Esposito, Christopher Walken.