Essie Davis brings rough-edged authenticity to a portrait of a mother in crisis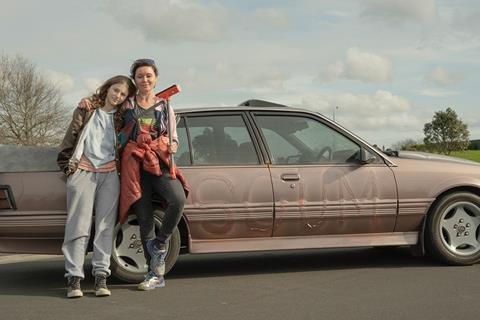 Dir: Gaysorn Thavat. New Zealand. 2021. 101 mins.
Recently released from prison and eking out a living cleaning car windows at a busy traffic junction, Bunny King (Essie Davis) can barely look after herself. But her aim is to regain custody of, or at least regular access to, her two children: sullen teenage son Reuben (Angus Stevens), and her young daughter Shannon (Amelia Baynes). The social services, however, have doubts. Davis brings a rough-edged authenticity to this spirited portrait of a mother in crisis. And while some of the decisions by first-time director Gaysorn Thavat reveal a lack of experience, the actor is as compellingly watchable as a car crash.
Ultimately, it's these catastrophically bad life choices which scupper the film's credibility
Davis's chameleon talent builds both her profile and her fanbase with each new film. And while The Justice Of Bunny King might not have the immediate impact of her wrung-out mother on the brink in The Babadook, or the highly-strung, over-medicated mum of a dying teen in Babyteeth, her involvement will be a draw both domestically – Madman Entertainment will distribute the film in Australia and New Zealand in July – and elsewhere. Whether it will be enough to persuade distributors in other territories to board the picture is less certain, but the film should secure further festival berths and could be suited to a streaming platform release.
Social services have set Bunny a list of requirements, the first of which is that she finds a home of her own, rather than a sofa in her sister's house bartered for childcare and extracurricular car-cleaning. Quick-witted and streetwise, Bunny is convinced that better times are just around the corner, but her impulsive acts have a tendency to sabotage her chances.
Brandishing her squeegee jauntily, hair raked back into a stringy ponytail, Bunny is at ease dancing between moving vehicles, trading banter with her fellow windscreen washers and hurling insults at aggressive drivers. It's when she has to deal with the authority of her social worker that Bunny gets twitchy and unpredictable, given to outbursts and ill-considered impulses. As the title suggests, Bunny has an entrenched sense of right and wrong, and has no compunction about exacting her own uniquely direct brand of justice if she feels that it is warranted. Thus she finds herself cast out onto the street after witnessing her brother-in-law behaving inappropriately with his stepdaughter (Jojo Rabbit star Thomasin McKenzie) and steaming in, guns blazing.
Music is used to put an upbeat spin on the gritty realities of Bunny's breadline existence – a device which is only partially successful – while a tonally uneven screenplay struggles to balance humour against the mounting tragedy of Bunny's bad decisions. Ultimately, it's these catastrophically bad life choices which scupper the film's credibility – with everything at stake in the custody process, it's hard to believe that even the most desperate mother would steal a car, abscond with a minor and hold a social worker at knifepoint.
Production companies: Firefly Films
International sales: Protagonist, info@protagonistpictures.com
Producer: Emma Slade
Screenplay: Sophie Henderson
Cinematography: Ginny Loane
Editing: Cushla Dillon
Production design: Rosie Guthrie
Music: Karl Steven
Main cast: Essie Davis, Thomasin McKenzie, Erroll Shand, Angus Stevens, Amelia Baynes