Dir: Lisa Cholodenko. US. 2009. 104 mins.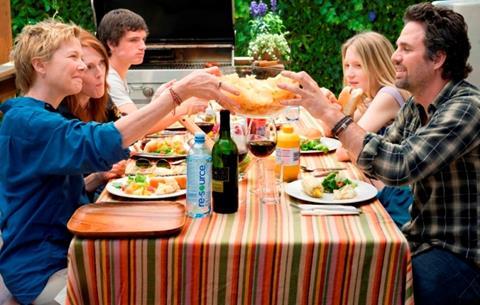 The Kids Are All Right is such a consistently amusing delight, one could almost miss director Lisa Cholodenko's serious intentions. A comedy about a lesbian couple's teenage children who seek out their biological father, The Kids Are All Right is cleverly peppered with laughs in its examination of the 'modern' family.
Without calling much attention to it, Cholodenko makes the case for the bonds of family, specifically the need for society to accept gay couples with children.
Cholodenko's earlier films, High Art and Laurel Canyon, were smallscale dramas which failed to crack $10m worldwide combined. But with The Kids Are All Right, she shifts gear to deliver a more mainstream relationship comedy starring indie-film royalty Julianne Moore, Mark Ruffalo and Annette Bening. Strong notices and word-of-mouth will certainly help this film in courting adult audiences; Focus Features stepped up to the plate well before Sundance had closed, paying in the region of $4.5m for North American rights and also snapping up the UK, Germany and South Africa in the festival's richest deal. If Focus can parlay positive buzz into award-season notices, The Kids Are All Right has the potential to be a crossover hit.
Jules (Moore) and Nic (Bening) are a couple living happily in Los Angeles with their children, 15-year-old Laser (Hutcherson) and 18-year-old Joni (Wasikowska). Curiosity gets the better of the kids, though, and they make contact with their anonymous sperm-donor father, who turns out to be Paul (Ruffalo), an immature, well-meaning man who agrees to meet the teenagers but soon becomes more deeply involved in the family.
Working with co-writer Stuart Blumberg, Cholodenko has filled her film with funny, relatable scenes about family and relationships, and much of the movie's pleasure can be derived from the expertly constructed one-liners delivered by a cast which plays the characters realistically, without straining for laughs. The easy, natural rapport exhibited between Jules, Nic and their children feels miles away from the forced, sitcom-style interactions one is accustomed to in family comedies. While that's a testament to the nimble screenplay, it's also proof of Cholodenko's insistence that her characters, no matter how foolish they behave, have a ring of truth to them.
Although The Kids Are All Right encompasses everything from bedroom farce to coming-of-age drama, Cholodenko pulls all its elements together neatly, calling to mind the best films of character-driven, studio-system directors like James L. Brooks.
But perhaps even more impressively, and without calling too much attention to it, The Kids Are All Right astutely makes the case for the bonds of family, specifically the need for society to accept gay couples with children.
The gay plotlines in both High Art and Laurel Canyon suggested the steamy, provocative side of lesbian attraction, but with The Kids Are All Right Cholodenko has brought her depiction of homosexuality into mainstream society, portraying Jules and Nic as just another married couple experiencing the typical ebbs and flows of a relationship. This may seem to be just a minor achievement, but it's that nonchalance that is in fact quite radical. The Kids Are All Right never for a moment feels like a dialectic on the topic.
But observations on the film's sexual politics should not overshadow The Kids Are All Right's likeable effervescence. While the film could be faulted for occasionally veering into overly silly terrain concerning how precisely Paul wreaks havoc on the family, Cholodenko's looser approach is so confidently executed it's hard to complain about some of its shortcomings.
The film's deceptively just-for-fun quality extends to the cast. Moore and Bening have been guilty in the past of producing overly studied performances, but they make Jules and Nic thoroughly convincing as an ordinary, devoted long-term couple. Bening is particularly terrific, showing again as she does in the forthcoming Mother And Child a skill for portraying prickly women who have shielded their emotions for so long that they risk losing their connection to those closest to them. In response, Moore gives one of her warmest and most vulnerable performances, playing the overly emotional yang to Nic's chilly yin.
Ruffalo is superb as a free spirit who has gotten through life on his carnal appeal, and the actor finds the right balance between oafishness and sincerity in playing the man who serves as a catalyst for the family's upheaval. And Mia Wasikowska and Josh Hutcherson turn in nice work as siblings facing questions of identity and maturity, which, like the film's final moments, are extremely touching without being heavy-handed.
To sign up for Screen's weekly Reviews Newsletter with all theweek's new releases, international openings and full festival reviews delivered free to your mailbox every Friday, please click HERE
Production companies
Gilbert Films
Antidote Films
Plum Pictures
US sales
Cinetic Media
+ 1 212 204 7979
International sales
Inferno Entertainment
+ 1 310 598 2550
Producers
Gary Gilbert
Jeffrey Levy-Hinte
Celine Rattray
Jordan Horowitz
Daniela Taplin Lundberg
Screenplay
Lisa Cholodenko
Stuart Blumberg
Cinematography
Igor Jadue-Lillo
Production design
Julie Berghoff
Editor
Jeffrey M. Werner
Music
Craig Wedren
Nathan Larson
Main cast:
Julianne Moore
Annette Bening
Mark Ruffalo
Mia Wasikowska
Josh Hutcherson