Comedian Pete Davidson stars in the latest from Judd Apatow based on his own life story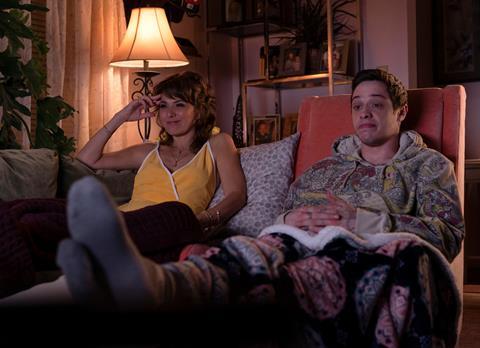 Dir. Judd Apatow. US. 2020. 137 mins.
Like protagonist Pete Davidson, on whose life it is loosely based, The King Of Staten Island is a loping, amiable, sweetly-funny film, and yet you sometimes wish there was a bit less of it. Three editors couldn't nudge this slacker movie below 137 minutes, and it comes as no surprise that Universal was so swift to shift Judd Apatow's summer release to streaming services, where it's lolling pothead pace will be best appreciated. With a charming, troubled and tattooed manchild anti-hero, Marisa Tomei as his put-upon mother, and some laugh-out-loud one-liners, this will play well to the Apatow/SNL fanbase, though it's no raunchy proposition. In fact, a third-act shift towards some raw and heartfelt material makes it an unusual entry in the comic director's canon.
Davidson makes a very of-the-moment leading man, with all his insecurities exposed in the comedy and around it too.
Pete Davidson is not a global name, but he does have significant recognition outside the US through both his work on Saturday Night Live and his lively romantic life. It's his own present and past he mines here, namely the death of his fireman father in a blaze (in real life, this happened at the Twin Towers on September 11, 2001.) It is, in The King Of Staten Island, the defining point in 24 year-old Scott's (Davidson) life and the foundation for his subterranean existence in his mother's basement in suburban Staten Island.
Tattooed to the eyeballs, suffering from Crohn's, ADHD and with a perfectly-honed sense of the inappropriate (the belief that it's OK to tattoo a 10-year-old child, for example), Scott smokes so much weed he doesn't think he can even get high any more. He looks like an "anorexic panda." He wants to open an ink parlour/restaurant called Ruby Tattoosdays but he's a terrible artist who experiments on his loser friends to ghastly yet amusing effect. This is, without a doubt, five-star funny material with a deciding grain of truth to it ("fight night" for tips in the restaurant where he works as a busboy, for example, could easily be real). In that vein, it's no surprise that the role of Scott's nurse mother is such a gift for Tomei because it's written with real love, and Bel Powley also makes the most of every affectionate minute she gets as Scott's Staten Island sneaky squeeze Kelsey. There's a real sense of place here, too, and pride in Staten Island, the "only place Jersey looks down on."
We join the dysfunctional Carlin family as Scott's younger sister Claire (Maude Apatow) is packing her bags for university, further upsetting an apple cart which has never been entirely stable. Margie (Tomei), who still quietly mourns her husband, works as an ER nurse, while not making meals for Scott and trying to tend to his many emotional needs and keep him on the straight and narrow. The pair have a lovely on-screen bond, a mirror of Davidson's own relationship with his mother, in whose basement he still lives.
Scott's attempts to tattoo that 10-year-old boy lead, however, to his mother meeting another fireman – Ray (Bill Burr) – and starting a friendship with the irascible yet weirdly decent divorced parent. It's a relationship Scott naturally wants to sabotage.
Apatow's amble through their lives is funny and warm, and the humour is gentle. Davidson makes a very of-the-moment leading man, with all his insecurities exposed in the comedy and around it too. The camera responds to his effortless charisma, although he's clearly no classical leading man.
If this isn't exactly changing the chassis on the romantic comedy, it's still smooth driving. But it's also a journey with no appreciable end in sight, either: somewhere around the two-hour mark, a sense of confinement sets in. The King Of Staten Island can't really be called self-indulgent – it's all about the self – but when it moves to the Staten Island Fire Department and Scott's father's old crew and their reminiscences, it's actually too personal to translate. These grizzled veterans are shot with golden-toned respect by Robert Elswit. But around the time Steve Buscemi pops up as the station leader who takes an avuncular interest in Scott, Staten Island has made the transition from personal comedy to personal tribute, and unfortunately lost its shaky grip on momentum and pacing on the way.
This makes it a pretty apt film for home viewing; something to dip in and out of, perhaps, while you're gaming, ordering pizza to your mother's basement, or having a lazy lockdown. Scott says that life moves so quickly he has to smoke weed to slow it all down. Which might, incidentally, explain a lot about The King Of Staten Island's innate doziness.
Production company: Apatow Company
Worldwide distribution: Universal/streaming services from June 10
Producers: Judd Apatow, Barry Mendel
Screenplay: Judd Apatow, Pete Davidson, Dave Sirus
Cinematography: Robert Elswit
Editors: Jay Cassidy, William Kerr, Brian Olds
Production design: Kevin Thompson
Music: Michael Andrews
Main cast: Pete Davidson, Marisa Tomei, Bel Powley, Bill Burr, Maude Apatow, Steve Buscemi
y