A former war photographer tracks the shameful ivory trade in a galvanising documentary which is a potent mix of film and message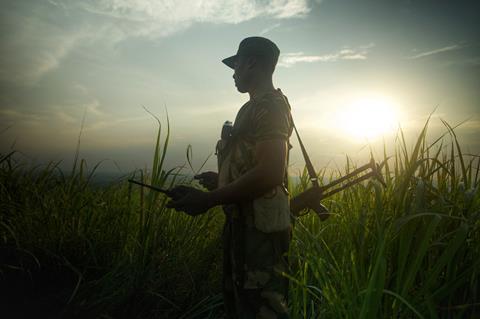 Dir. Kate Brooks. US/UK. 2017. 92 mins.
Former war photographer Kate Brooks embarks on a global odyssey in search of the truth in The Last Animals, and finds it to be consistently shameful wherever her camera touches down. Reporting on a bloody conflict zone in the ivory trade, for animals and humans alike, Brooks' powerful, urgent documentary awards viewers the heart-breaking opportunity to watch the northern white rhino become extinct in front of their eyes – from seven to three in the course of filming, with no chance of reproduction – and the African elephant being forced down exactly the same path at a frightening pace.
In the stunned silence that accompanies the end credits, it is to be hoped that audiences answer her call.
What distinguishes The Last Animals from other films on the subject (in particular last year's Netflix doc The Ivory Game) is the raw urgency of Brooks' direct conflict reportage: she is a war correspondent who lets us understand that what is happening here is nothing short of an all-out battle. This investigative mission, coupled with her painterly eye, elevates this doc – for the most part – into something filmic, often elegiac, and hopefully galvanising. After all, who are we, she asks, as guardians of this planet, if we allow the slaughter of these mystical, beautiful beasts to continue.
It may slip towards the end into outright advocacy (the appearance of Prince William is understandable given his vocal support of a total ban on ivory, if a little distracting). But, premiering at Tribeca, with repeat festival engagements at Hot Docs and Seattle, The Last Animals should attract other powerful backers, perhaps even an awards push with the right, committed distributor on board. Although it has a message, this is certainly filmic, and its arresting imagery connects the audience immediately with the struggle at hand, with particular value as an educational tool.
A partly-crowdfunded personal testament, The Last Animals hops around the world in search of the truth: Brooks starts out on the street in Vietnam, China and Laos where she can easily purchase elephant and rhino horn. She explains that, as a war correspondent, she "lost a lot of my colleagues and, at times, my faith in humanity". The sight of a herd of elephants during one of those times brought Brooks back from the brink of despair, and she resolved to pursue their case, she explains.
Demonstrating that, as nonsensical as it is to believe that rhino horn holds magical medicinal properties, it is equally wrong-headed to conceive of rhinos themselves as being aggressive beasts, Brooks takes the viewer to a rhino orphanage in Kenya, the baby animals setting the scene for her film to take flight. For the rest of its running time, The Last Animals will ebb and flow between the desperate fight to save the last surviving northern white rhinos – in San Diego zoo, a Czech zoo, and an African sanctuary – and the killing fields of Uganda, Tanzania and the Democratic Republic of Congo's Garamba National Park where elephant poaching is a sophisticated murder game involving helicopters and surveillance equipment and military-trained park rangers are being murdered while trying to protect the species.
This footage is interspersed with testimony from the University of Washington's Dr Samuel K. Wasser, a zoologist and DNA investigator who tracks the sources of the mountains of seized ivory. The truth, we begin to clearly understand, is that while talk of a 10-year timeframe for the wild elephant becoming extinct is horrifying enough, localised extinction has taken place already. The only answer is a total worldwide ban on ivory, the trade of which brings not just animal carnage but narcotics, human slavery, terrorism and murder in its wake.
Music and editing work fluidly in service of the piece. And, understandably, it proves impossible for Brooks to end her film without urging the viewer to help stop the slaughter. In the stunned silence that accompanies the end credits, it is to be hoped that audiences answer her call.
Production companies: Atlas Films, Foxtail Entertainment
International sales: WME Global. lcop@wmeentertainment.com
Producers: Kate Brooks, Stephanie Soechtig
Executive producers: Laurie David, Heather Reisman, Regina K. Scully, Mari Snyder Johnson, Nikita Kahn, Sam French, Michal Walrath, Michelle Walrath, Anita Gou, Matt J. Mallek, Daniella Kahane, Steve Milne, Christian Eisenbeiss, Al Edgington, Joe Labracio, Dawn Ostroff
Screenplay: Kate Brooks, Mark Monroe
Cinematography: Kate Brooks, Michal Krejci, Jason Longo, Ruben O'Malley, Jared Moossy, Joan Poggio, Stefan Scherperel, Andrew Thompson, Ryan Youngblood
Editors: Brian Anton, Brian Lazarte
Music: Paloma Estevez
Featuring: Patrick Duboscq, Dr. Thomas Hildebrandt, Dr. Paula Kahumbu, Jane Kennedy, Raymond J. Lesniak, Colonel Jacques Lusengo, Gretchen Peters, Taligo Tengu, Dr. Samuel K. Wasser, HRH The Duke of Cambridge, Prince William