Dir. Sean Penn. US, 2016. 131 mins.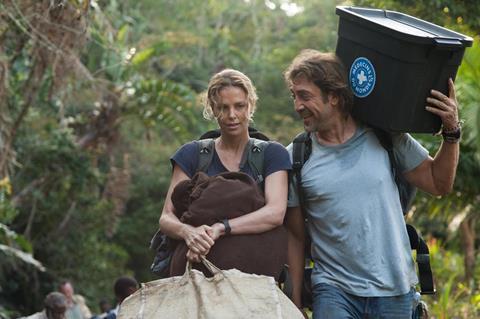 How do you make a movie that acknowledges human atrocity without scaring off viewers? One answer is to counterbalance the suffering with a love story, but The Last Face painfully illustrates the landmines that await the filmmaker who tries. Focusing on the ongoing crises in war-torn African nations, director Sean Penn's turgid drama hopes to make its grim commentary more palatable by offsetting it with the courtship between a dashing doctor (Javier Bardem) and an international aid organizer (Charlize Theron). But soon the tortured love affair overshadows the issues, resulting in a dully sombre tale whose self-importance feels out of sync with the film's dearth of insights about war, poverty or the problems inherent in trying to change the world.
It can't possibly be Penn's intention with The Last Face to suggest that Miguel and Wren can't find a happy ending because those darn displaced Africans keep getting in the way — but the movie comes perilously close to drawing that conclusion.
Playing in Competition at Cannes, The Last Face could benefit commercially from Theron and Bardem's star power, not to mention the name value of Penn behind the camera. But after receiving withering reviews out of the festival, The Last Face may face an uphill climb when it comes to enticing adult audiences.
Spanning roughly 13 years, the film stars Theron as Wren, a doctor and humanitarian who is looking back on the work she has carried out in places such as Sierra Leone and Liberia, tending to those displaced by war. But she is also reflecting on her failed relationship with Miguel (Bardem), and through flashbacks we learn how they fell for one another after meeting in Monrovia, soon working side by side to try to help the wounded and starving across Africa.
Working from a script by Erin Dignam (The Yellow Handkerchief), Penn uses Wren and Miguel's romance to put a human face on these senseless tragedies, while also letting his two characters serve as conflicting viewpoints on the best way to confront such a massive crisis: either by raising awareness through the media or by diving into the trenches and helping one person at a time.
But Penn, whose last directorial effort was 2007's Into The Wild, badly misjudges his film's balance between love story and political commentary. The Last Face represents the director's most ambitious effort and grandest canvas, and cinematographer Barry Ackroyd helps give the scenes, shot in South Africa, a sweeping scope and gritty you-are-there realism. And yet, the film is mostly unmoving, neither the romance nor the social consciousness succeeding in stirring our emotions. Even worse, Penn lets the plight of displaced Africans slip into the background, resulting in yet another well-meaning film that wants to address planetary ills by concentrating our attention on the good-looking outsiders who come in to save the day.
Theron passionately tries to bring some pathos to her role, capably navigating Wren's journey from naïve newcomer to battle-tested caregiver. In the years since winning an Oscar for Monster, she has only grown more commanding, landing at a mixture of sensitive and steely that gives her characters unexpected dimensions. By comparison, Bardem is too one-note as a hunky, sensitive doctor who lives rebelliously but cares deeply about his patients. It's a cliché instead of a character, and no matter what chemistry the two actors have, it pales in comparison to the melodramatic arc of their on-again/off-again love affair.
Because Penn is well-known for using his celebrity to bring attention to political causes and humanitarian crises, the assumption might be that The Last Face will stare unblinkingly at how civil wars are killing communities across Africa. Shockingly, his movie ends up being wholly unsophisticated in its depiction of these conflicts. Almost no African characters emerge as important to the narrative — the same could be said of nothing parts played by Adèle Exarchopoulos, Jared Harris and Jean Reno as random doctors working alongside the protagonists — and the locals' suffering is often just used as plot points to test Wren's idealistic belief in making a difference.
Perhaps Penn believed that Miguel and Wren's romance would be an accessible way into these tragedies, but the lack of specificity borders on the insulting. (That's even truer when those moments are offset by dreamy, Malick-like reveries of our lovebirds as they struggle to keep their passion alive.) It can't possibly be Penn's intention with The Last Face to suggest that Miguel and Wren couldn't find a happy ending because those darn displaced Africans kept getting in the way — but the movie comes perilously close to drawing that conclusion.
Production company: River Road Entertainment
International sales: Lionsgate International, internationalsales@lionsgate.com
US sales: CAA, filmsales@caa.com and rsutherland@caa.com
Producers: Bill Pohlad, Matt Palmieri, Bill Gerber
Screenplay: Erin Dignam
Cinematography: Barry Ackroyd
Editor: Jay Cassidy
Production design: Andrew Laws
Music: Hans Zimmer
Main cast: Javier Bardem, Charlize Theron, Adèle Exarchopoulos, Jared Harris, Jean Reno, Denise Newman, Oscar Best, Zubin Cooper, Sebelethu Bonkolo, Hopper Jack Penn, Merritt Wever, Tina Jaxa, Edner Nonez, Nigel Fisher, Ibrahim Mudawi