Forbidden love powers this spooky, religious-themed horror-drama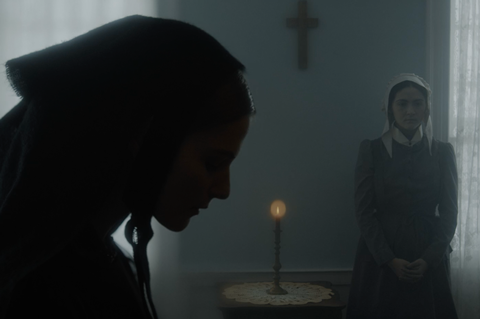 Dir/scr: Edoardo Vitaletti. US. 2020. 89 mins.
Intolerance and religious dogma prove chilling in The Last Thing Mary Saw, a finely modulated horror-drama from first-time feature filmmaker Edoardo Vitaletti. Stefanie Scott and Isabelle Fuhrman play young lovers in 19th century America who quickly discover that their illicit romance will cause ruptures within a God-fearing family determined to make examples of them. An appealing exercise in ghostly atmosphere, this Fantasia premiere will cater to genre fans who like their scares laced with unease rather than gore.
Vitaletti is less concerned with the intricacies of his love story than in ratcheting up the tension
Set in rural New York in 1843, the picture introduces us to Mary (Scott), who is being interrogated with a blindfold on, dried blood surrounding her eye sockets. In flashbacks, we'll find out what happened to Mary: she is part of a stringently religious family led by a dour matriarch (Judith Roberts), yet she risks provoking anger from her elders when she begins an affair with the comely maid Eleanor (Fuhrman). The family assumes it can cure Mary of this "sin" through severe punishment, but the two women hatch a plot to ensure their future happiness.
Cinematographer David Kruta and production designer Charlie "Chaspooley" Robinson imbue The Last Thing Mary Saw with the spooky aura of a folktale, emphasising the claustrophobic nature of the family home, where much of the picture is set, and the gloomy skies outside the domicile. The nighttime scenes are accented by candlelight, and Vitaletti (who also wrote the screenplay) lets the sense of oppressiveness hang heavy over Mary and Eleanor, who see little chance of escape.
The lead actresses are nicely muted, which is appropriate for a film about sexual repression. Even when the characters are allowed a brief moment for a passionate embrace, The Last Thing Mary Saw doesn't dwell on it, instead focusing on the emotional and physical torment they endure because of their relationship. But one can't miss the quiet defiance in their expressions, which suggests that they're strong-willed and resourceful enough to eventually fight back. Their revenge is doled out carefully, although (as the audience will learn) in this seemingly realistic world, not everyone who's dead necessarily stays that way.
In recent years, there have been several poignant films that dramatised restrictive lesbian romances, including Portrait Of A Lady On Fire and The World To Come, but Vitaletti is less concerned with the intricacies of his love story than in ratcheting up the tension once Mary and Eleanor clandestinely carry on their romance away from the family's judgmental eyes. There's precious little bloodshed in The Last Thing Mary Saw, but the picture has a queasy urgency that's just as unsettling — especially when a mysterious stranger, identified in the end credits only as The Intruder (Rory Culkin), descends upon the house, introducing the potential for violence into a story that's often driven by silent glares more than emphatic outbursts.
The period details are persuasive, and the writer-director has a real gift for capturing evocative faces. As The Matriarch, Roberts conveys an aura of fire-and-brimstone religious judgment, and her stillness is among the picture's most compelling elements. Wearing makeup that gives him the appearance of having a prominent red birthmark across his cheek and forehead, Culkin is sinister but also serene, almost as if the character emerged from the surrounding woods like a nightmare. On the whole, The Last Thing Mary Saw may be a little too slight in its storytelling and overly familiar in its depiction of the evils done in God's name, but Vitaletti and his cast are adept at creating a despairing, suffocating mood. Thou shalt fall under its clammy, elegant spell.
Production companies: Intrinsic Value Films, Arachnid Films
International sales: XYZ Films, Pip Ngo, pip@xyzfilms.com
Producers: Isen Robbins, Aimee Schoof, Harrison Allen, Madeleine Schumacher, Stephen Tedeschi Jr.
Production design: Charlie "Chaspooley" Robinson
Editing: Matthew C. Hart
Cinematography: David Kruta
Music: Keegan DeWitt
Main cast: Stefanie Scott, Isabelle Fuhrman, Judith Roberts, P.J. Sosko, Carolyn McCormick, Michael Laurence, Elijah Raymin, Stephen Lee Anderson, Tommy Buck, Shane Coffey, Dawn McGee, Daniel Pearce, Rory Culkin