Dir/scr: Jenée LaMarque. US. 2013. 90mins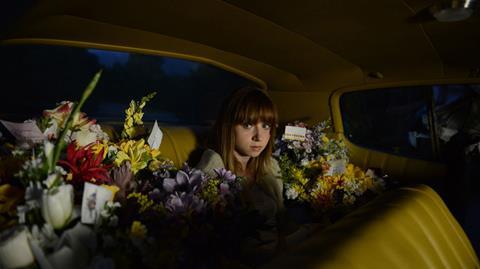 Zoe Kazan is a wonderful quirky delight in writer/director Jenée LaMarque's gently oddball film debut The Pretty One, a charmer of an indie comedy that has the sweet simplicity to break out. The film, which had its world premiere at the Tribeca Film Festival, is a low-key pleasure and a real audience-pleaser.
LaMarque shoots with a easy and knowingly oddball style and there are some sequences to cherish.
While at its core the film is about identity and loss, Jenée LaMarque's film is enveloped in a warm and often compassionate humour as it one young woman and her rather unusual way of getting over the loss of her twin sister. Shot with a warm burnished quality and cleverly using oddball production design, the film has a unique quality that dovetails nicely with Kazan's quirky persona here.
Audrey and Laurel (both Kazan) are identical but so very different. Audrey has left home and sells niche properties, while Laurel has stayed at home to look after her father, dressing in their dead mother's clothes and favouring a drab look. Audrey has all of the qualities that Laurel wishes she had – self-possession, style, confidence and independence.
When Audrey returns home of their birthday, her gift is a makeover for Laurel, who rather rashly decides to have her hair cut the way as Audrey. Things turn from bad to so very much worse when their car is smashed into on the way home, and Audrey dies in the crash. A fateful mix-up leaves Laurel faced with the chance to reinvent herself – and her life – as her beloved sibling.
She starts to live her sister's life – and try and deal with some of the problems left behind, learning more than a few lessons about how to live her life. She also takes a shine to her bearded next-door neighbour Basel (Jake Johnson, who stars opposite Zoey Deschanel in TV series New Girl and features alongside Olivia Wilde and Anna Kendrick in indie film Drinking Buddies) who is bemused at the change personality of 'Audrey'.
Zoe Kazan is a real delight here. Managing to make the sister's seem very different and also convincing (in a dark turn on paper) as a young women taking over her sister's life. It is the sort of plot line done many times before, but here it is played for genial laughs. It is a tough trick to pull off, but Jenée LaMarque's manages to make Laurel a sympathetic and engaging character. LaMarque shoots with a easy and knowingly oddball style – the look is Welcome To The Dollhouse meets Little Miss Sunshine – and there are some sequences to cherish, especially as Laurel and Basel get to know each other as they frolic by the next-door neighbour's pool
Production companies: Schorr Pictures, Provenance Pictures
International sales: Provenance Pictures, www.provenancepictures.com
Producers: Steven J Berger, Robin Schorr
Executive producers: Hector MaMarque, Jann LaMarque, Jenée LaMarque, Chris Ferguson, Corey Large, Alan Pao
Cinematography: Polly Morgan
Editor: Kiran Pallegadda
Production designer: Anne Costa
Music: Julian Wass
Main cast: Zoe Kazan, Jake Johnson, John Carroll Lynch, Shae D'lyn, Frankie Shaw, Ron Livingston, Luka Jones, Danny Pudi, Sterling Beaumon, Robin Reiser