Dir/scr: Kat Coiro. UK. 2012. 83mins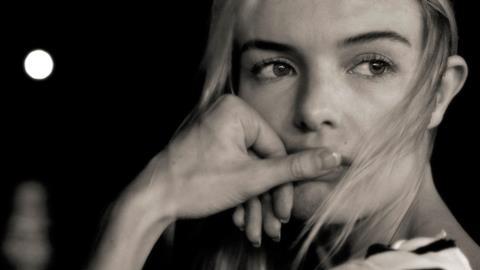 This elegant and beautifully staged Italy-set drama offers Kate Bosworth the perfect acting vehicle, playing a beautiful but emotionally troubled young woman who seeks to escape the mundanity of her marriage while on a trip to the Amalfi coast. The story of a woman at a crossroads in her life is delicately handled and makes great use of stunning locations.
There is something oddly magical about black-and-white tortured romance set against the beautiful backdrop of Naples and the Amalfi Coast.
Aimed very much as a fast and cheap production, the film re-teams writer/director Kat Coiro and actress Bosworth after the pair worked together on Coiro's debut feature L!fe Happens, and while modest in structure and content While We Were Here (a rather unmemorable and less than evocative title) does have a subtle impact. The film had its world premiere at the Tribeca Film Festival.
Jane (Bosworth) and her British husband Leonard (Iddo Goldberg, who starred in British TV drama series The Secret Diary Of A Call Girl) travel to Naples where he is working as a musician, but also hope to reinvigorate their disintegrating marriage. Their relationship is haunted by the fact they lost a child and she can no longer have children, plus there is an inability to discuss their feelings.
Jane is also attempting to finish transcribing recordings of her British mother (voiced on tape by Claire Bloom who is never actually seen) who talks about her experiences during World War II. Left to her own devices while Leonard is working she takes a trip to the nearby island of Ischia where she meets singlet-wearing 19 year-old American Caleb (Jamie Blackley), whose vibrancy and passion for life slowly entrances her.
His freewheeling romanticism provides the perfect antidote for her stilted marriage, and Jane allows herself to be drawn into a romantic affair to force Leonard to address the issues around their marriage and more importantly to help her make decisions about her own life's direction.
Though shot in colour, the film is presented in black-and-white, which helps give the film a timeless quality and draws attention to the striking locations in a very different way. Kate Bosworth is strikingly good as Jane, with the film dwelling on her haunted sad beauty (her face and posture is also perfect for black-and-white), and providing a nicely complex role for her.
As for the two men in her life, this is when the story resorts to rather tired cliché when it perhaps could have been more interesting… handsome but plodding Brit Leonard cannot express his emotions while free-spirit Caleb offers up youthful holiday affair potential. Both Iddo Goldberg and Blackley do a good job with their roles, but in truth this film is about Jane and her life decisions.
That is not to say the film isn't intensely watchable and strikingly well put together, rather that the central drama doesn't completely convince. But Bosworth's performance keeps the film nicely on track and there is something oddly magical about black-and-white tortured romance set against the beautiful backdrop of Naples and the Amalfi Coast.
Production companies: 1821 Pictures, Dead Serious Films
International sales: WME Entertainment, www.wmeentertainment.com
Producer: Lauren Bratman, Kat Coiro
Executive producers: Terry Douglas, Paris Kasidokostas Latsis
Cinematography: Doug Chamberlain
Editor: Adam Catino
Music: Mateo Messina
Main cast: Kate Bosworth, Iddo Goldberg, Jamie Blackley, Claire Bloom