Deng Chao stars as a detective charged with finding a fiendish serial killer in this Chinese procedural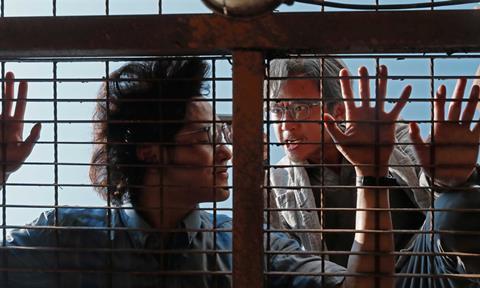 Dir: Xu Zihou. China. 2017. 124 mins
Since its 1990s peak, the serial killer sub-genre has largely migrated from the big screen to television, but in China, it's getting another stab at being a multiplex staple. Based on a novel in Lei Mi's 'Profiler' series, The Liquidator pits a brilliant criminal psychologist against a calculating murderer whose modus operandi is to target those acquitted in widely publicised trials. Capably anchored by reliable local box office draw Deng Chao, this slick procedural should prove to be a solid hit domestically. Last minute rescheduling from a planned domestic release date of October 1 when the film's content was deemed too sensitive in advance of the much-vaunted 19th National Congress of the Communist Party may pique further interest. Internationally, exposure at genre-orientated festivals should lead to moderate ancillary sales.
A thriller that toes the line in every respect
The master of deduction here is Fang Mu (Deng), who is called on by forensics expert Mi Nan (Cecilia Liu) to assist with the bizarre case of a schoolteacher who has been murdered in his classroom. When a further killing involving a fire at an apartment block is committed, it becomes apparent that these crimes are part of a vigilante crusade since both victims had recently avoid jail time through legal loopholes. Touting himself as the 'Light of the City', the murderer becomes an online sensation, with netizens disillusioned with China's court system taking to message boards to praise his straightforward brand of justice.
Anticipating the killer's next move, Fang Mu lays a trap involving a contemptible lawyer, but it's a gambit that fails to pay off. The investigation subsequently takes a more personal turn when he gets reacquainted with old high school classmate Jiang Ya (Ethan Juan), who leads a seemingly quiet life as a fish shop proprietor while caring for his comatose wife but may have something to hide.
This is actually Fang Mu's second big screen outing of 2017 following Li Yifeng's take on the character in Guilty of Mind, while Chen Ruo Xuan previously played the profiler in two seasons of the web series Evil Minds (2015/2016). Sporting grey hair and glasses, Deng's iteration is older but no less restless when on the case. The star's biggest hits have come from such comedies as The Breakup Guru (2014) and The Mermaid (2016) but, aside from a sly introductory scene that sees Fang Mu prove that a suspect is faking schizophrenia, Deng plays it straight here, nailing the obsessive behavior and curt manner that are de rigueur for a maverick investigator.
Sadly, though, Deng's concentrated effort to add a serious protagonist with franchise potential to his repertoire is hindered by writer-director Xu Zihou's adaptation, which flaunts its protagonist's genius but provides little sense of what really makes Fang Mu tick beyond Mi Nan's observation that, "his eyes only come alive when he's at a crime scene."
With regards to the surface details, though, Xu has obviously done his genre homework with an emphasis on rain-drenched crime scenes, dank subterranean spaces, and a creepy visit to the killer's childhood home. The murders escalate in audacity with the killer's sadistic habit of giving his victims a short time window to escape their grisly predicament before a deadly device is activated, pushing the machinations towards the torture horror territory of Saw (2004). In other areas, greater fluency is sorely needed. Hurried editing sacrifices suspense to cram in a succession of twists, while the 'pulse pounding' electronic score is so standardised that it ends up doing the exact opposite, and several CGI explosions are laughably cheap looking.
Still, the high stakes game that develops between Fang Mu and his quarry is sufficiently diverting that most viewers will want to see how it plays out, while the notion that perceived failings of the legal system can give rise to independent action gives the proceedings a topical edge. Using montages and flashy graphics, Xu shows how news goes viral in today's China, with people glued to their screens and the Internet serving as a court of public opinion. Yet for all their digital fury, China's netizens become an anonymous mass that is all too easily swayed, whether by the indignant 'Light of the City' or later by the moralizsng Fang Mu.
Since this is a serial killer thriller with Chinese characteristics, The Liquidator uses final reel contrivances to eschew a shock ending in favor of a sincere tribute to those who police the nation's streets, making that change of release date seem like an unnecessary way of policing a thriller that toes the line in every respect.
Production companies: Edko Beijing Films, Orange Image, Shanghai Film Group
Producers: William Kong, Ren Zhonlun
Executive producers: Lee Chiu Wah
Screenplay: Xu Jizhou, based on the novel Evil Minds: City Light by Mi Lei
Main Cast: Deng Chao, Ethan Juan, Cecilia Liu, Guo Jingfei, Vicky Chen